Long Week-end North Norfolk
Outdoor Events
Thursday to Sunday 2 to 5 February 2017, Long Weekend in North Norfolk
This is a late winter trip to one of the very best bird watching areas in the country. At this time of the year we should see large numbers of ducks and geese, together with raptors and passerines which may well include Twite, Snow Bunting and Shore Lark. We should also see divers and grebes on the sea. A very impressive 'trip list' will be on the cards.
Not all members will want to come for the whole four days, so we will have prearranged meeting places on the first two days so that members who only come for two or three days can join us as required. Likewise, as with our usual long weekend practice, we will have set places to meet up in the evenings to eat to really make the most of the trip. Members will need to organise their own accommodation. As we will in essence be based in the Cley/Blakeney area, accommodation near there will be most convenient, but members will doubtless have their own preferences.
The leader will be Granville Pictor; (tel 01722 325408, mobile 07767 731650, e mail This email address is being protected from spambots. You need JavaScript enabled to view it.), and if those planning to go could contact him in good time, he will send members an itinerary of places to be visited and meeting places.
Telephone
Tel 01722 325408, mobile 07767 731650
Email
This email address is being protected from spambots. You need JavaScript enabled to view it.
Information about WOS
Wiltshire Ornithological Society was formed on November 30th, 1974, and has grown in recent years to more than 500 members.
Our mission is to encourage and pursue the study, recording and conservation of birds in Wiltshire
Portraits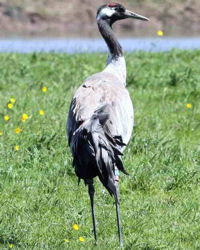 Latest News

In early June, three peregrine chicks were rescued from a nest in Shro...

New Incumbents At the WOS AGM on 5th April, Matt Prior was elected as...