You are here:  

Ieuan Evans "Unravelling the Mysteries of Migration" 5th April 2017
Latest News
Article Details
Matt Prior, WOS Conservation Officer is a driving force behind a flagship campaign run by the farmers of the Marlborough Downs Nature Improvement Area (MDNIA) which is having a positive impact on endangered Tree Sparrows.
The MDNIA was set up by a group of local farmers who in 2012 won funding under the government's three year pilot scheme to encourage bio-diversity and wildlife-friendly farming methods – and get more people into the countryside.
It covers just over 25,000 acres south of Swindon down towards Marlborough on one side and Avebury on the other.
Their Tree Sparrow campaign involves planting suitable trees, providing nest boxes and food. Marlborough News Online has been seeing how two generations of young people have been helping the tree sparrows.
Recent event involving students from Royal Agricultural College, Cirencester and Swindon schoolchildren involved Matt Prior coordinating tree-planting, demonstrating bird-feeders and assembling nest-boxes.
With thanks on behalf of everyone at WOS to Matt Prior, more information can be found at Marlborough News Online via this link:
http://www.marlboroughnewsonline.co.uk/features/general/2809-marlborough-downs-farmers-are-bringing-tree-sparrows-back-from-catastrophic-decline-with-some-enthusiastic-helpers
Article Details
Work to complete a hide and nesting bank for Sand Martins has been completed at Attenborough Nature Reserve in Nottinghamshire.
It is believed to be the first of its kind, incorporating an artificial nesting bank made of clay pipes and breeze blocks and a hide.
Cameras inside the 150 nesting tunnels will transmit images into the hide.
Here's link for more information:
http://www.bbc.co.uk/news/uk-england-nottinghamshire-26684497
Article Details
The Wildfowl and Wetlands Trust has created free access to the entire catalogue of papers published by WWT in its scientific journal, Wildfowl.
The new online resource is the culmination of months of work by volunteers to digitise printed copies of Wildfowl dating back to 1947, when it first appeared as the Annual Report of the Severn Wildfowl Trust.
WWT hopes that budding researchers and waterbird enthusiasts will be encouraged by opening the vaults on some of the most significant moments in ornithological history.
Wildfowl online is fully searchable, giving the work of contributing scientists a far greater reach and influence. Here is a link for more information:
http://www.wwt.org.uk/news/news/2014/02/wwt-news/available-to-all-wwts-entire-history-of-scientific-publishing/
Many thanks to WOS member, Shane Faulkner for this news story.
Article Details
The first winter Red-flanked Bluetail, discovered on the afternoon of 3rd February, as well as being a remarkable sight, has become a remarkable multiple record holder. Not only is the stunning bird the first for Wilts and South Gloucs by obligingly hopping to and fro across the border each day, but also the first UK record in February and from 16th February, it has represented Britain's longest-staying individual.
The story of John Barnett's discovery of the bird can be seen via this link.
http://www.birdguides.com/webzine/article.asp?a=42
Information about WOS
Wiltshire Ornithological Society was formed on November 30th, 1974, and has grown in recent years to more than 500 members.
Our mission is to encourage and pursue the study, recording and conservation of birds in Wiltshire
Portraits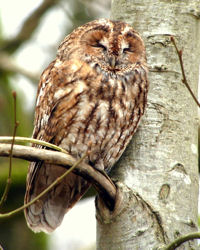 Latest News

A new Atlas section has been added to the web site. This shows distrib...

The two peregrine chicks being raised on Salisbury Cathedral have fled...