You are here:  

Wiltshire Recorders' Forum 22nd February 2017
Latest News
Article Details
The first winter Red-flanked Bluetail, discovered on the afternoon of 3rd February, as well as being a remarkable sight, has become a remarkable multiple record holder. Not only is the stunning bird the first for Wilts and South Gloucs by obligingly hopping to and fro across the border each day, but also the first UK record in February and from 16th February, it has represented Britain's longest-staying individual.
The story of John Barnett's discovery of the bird can be seen via this link.
http://www.birdguides.com/webzine/article.asp?a=42
Article Details
Three birds from The Great Crane Project are a regular sighting at Slimbridge WWT at the moment, and dramatically for warden James Lees, the birds came very close to the hide at The Lake to have a close look inside. The film starts with loud calling of the birds, but it's worth keeping the sound on to hear them tapping the glass!
Follow this link to the short film:
Article Details
2013 was a poor season for stone-curlew as recent RSPB report has shown.
A remarkable good news story that occurred in August was that of a young stone-curlew found by a member of the public just behind his house next to Lidl supermarket in Devizes! He rescued the bird and took it to a vets practice, who contacted Wiltshire Wildlife Hospital. They identified it as a stone-curlew and contacted the RSPB. The bird appeared healthy and was feeding well. It remained in captivity for over a week and was then released into an autumn roost flock at an RSPB site, and was observed with the flock several days later. This story made local and national press, including the Times and the Telegraph, largely sold off the back of the bird apparently being found 'wandering the aisles of a supermarket'!
Here's one of the local stories:
Although a final report on the year is yet to be written up, the population fell and productivity was low. The final population was about 25% lower than in 2012, at around 128 pairs. This is likely to be linked to a very cold spring which caused adult mortality and resulted in many adults taking significantly longer to reach breeding condition than usual. It may also have reduced invertebrate abundance for adults that did breed, and consequently chick survival was reduced.
Thanks to Nick Tomalin, RSPB Wessex Farmlands Project Manager, for this story and for this picture of 'Lidl' after being ringed by Nick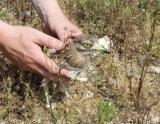 Information about WOS
Wiltshire Ornithological Society was formed on November 30th, 1974, and has grown in recent years to more than 500 members.
Our mission is to encourage and pursue the study, recording and conservation of birds in Wiltshire
Portraits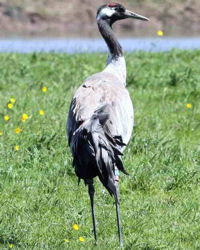 Latest News

WOS AGM commences at 7.30 pm on 5th April at the Corn Exchange, Devize...

We are very sorry to have to announce that James Ferguson-Lees, Presid...