You are here:  

New Incumbents
Latest News
Article Details
'Through The Wire' tells the story of the British POWs who survived incarceration in German camps in World War Two by studying the birds that flew freely all around them.
While some of their fellow prisoners plotted escape and dug tunnels, men like John Buxton, Peter Conder and George Waterston looked hard at the birds that flew overhead on migration and also at those that chose to fly through the camp wire, like redstarts and goldfinches, and breed amongst the prisoners and their guards. With days, even years, to spare but without any binoculars or other equipment, the birdmen turned watching into their way of getting through the war.
Article Details
Based on real data (latitude, longitude and height) from the University of Amsterdam the animation initially shows the tracks of 12 birds, but then concentrates on a pair - male and female, as they migrate south in Autumn 2010 from the Veluwe forest in the Netherlands to warmer weather on the African coast (Liberia, Ghana and Cameroon). After wintering in Africa, in Spring 2011 the birds fly back. But en route we see the female lose her way - possibly due to unfavourable winds. After a long journey the male arrives back in the Veluwe forest and waits for her.
Follow this link to watch the animation:
http://vimeopro.com/south422/animal-gps-track-animation/video/85808414
Article Details
Over the past few weeks BirdWatch Ireland HQ has been receiving lots of phone calls and emails about strange birds with bright orange heads that have been visiting gardens around Ireland. They tend to flock with Starlings and House Sparrows and can be quite numerous in some areas, though they can't be found in any field guides. This is something that BirdWatch Ireland have become used to at this time of year, but for some reason this summer the number of reports has been absolutely unprecedented.
Rather than being some exotic new visitor, these in fact ARE Starlings and House Sparrows that have been feeding on a plant called New Zealand Flax (Phormium tenax). Though native to New Zealand, where it is often known by its Maori name of Harakeke, this species has been planted commonly in gardens around the country and has even become naturalised in the wild in many areas. We are used to plants being pollinated by insects and even by the wind, but New Zealand Flax uses another method: it is pollinated by birds.
For more information, follow this link: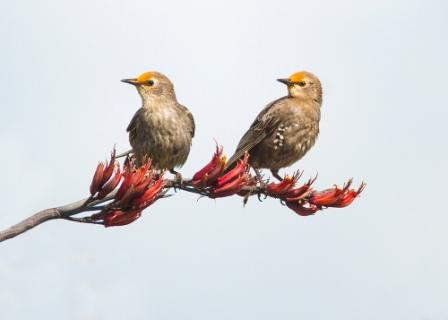 Article Details
A new four-winged dinosaur has been discovered, with exceptionally long feathers on its tail and "hindwings".
Changyuraptor yangi was a gliding predator which lived in the Cretaceous period in what is now Liaoning, China.
Its remarkable tail feathers - measuring up to 30cm - are the longest in any non-avian dinosaur.
For more information, click on the following link:
Information about WOS
Wiltshire Ornithological Society was formed on November 30th, 1974, and has grown in recent years to more than 500 members.
Our mission is to encourage and pursue the study, recording and conservation of birds in Wiltshire
Portraits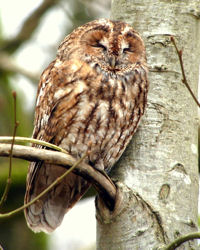 Latest News

In early June, three peregrine chicks were rescued from a nest in Shro...

New Incumbents At the WOS AGM on 5th April, Matt Prior was elected as...