You are here:  

Ieuan Evans "Unravelling the Mysteries of Migration" 5th April 2017
Latest News
Published: Thursday, 03 December 2015 14:45
Birds of Conservation Concern 4, compiled by a coalition of conservation and monitoring organisations, has just been published. Species which occur regularly in the UK are assessed for inclusion on one of three lists, Red, Amber, Green with birds on the Red List being of highest conservation concern.
There are now 67 species on the Red List, 96 on the Amber List and 81 on the Green List.
Since 2009 when BoCC 3 was issued 20 species have been added to the Red List including upland breeders, curlew, dotterel, grey wagtail, merlin & whinchat; woodland birds, nightingale, pied flycatcher and woodcock; seabirds, kittiwake, puffin and shag. There is some good news in that bittern, nightjar and dunlin have moved from red to amber. Two of these species have received help in terms of habitat restoration proving that properly funded and targeted conservation can work.
The status of farmland birds continues to be of major concern. Twelve farmland species remain on the Red List with turtle dove continuing to decline hugely.
If you would like to read more visit http://www.bto.org/science/monitoring/psob
Information about WOS
Wiltshire Ornithological Society was formed on November 30th, 1974, and has grown in recent years to more than 500 members.
Our mission is to encourage and pursue the study, recording and conservation of birds in Wiltshire
Portraits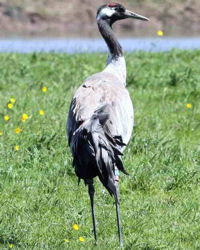 Latest News

A new Atlas section has been added to the web site. This shows distrib...

The two peregrine chicks being raised on Salisbury Cathedral have fled...