You are here:  

Marlborough Downs Open Farm Sunday
Latest News
Published: Monday, 07 November 2016 16:34
Ringing in Ravensroost Woods with Simon Tucker
Simon Tucker demonstrates the art of bird ringing – a wide range of woodland birds should be seen in close up. At this time of year there may be flocks of titmice and finches and possibly some of Ravenroost's winter visitors, such as redwing, lesser redpoll and, if we're lucky, siskin.
Meet: Will be advised on booking
Cost: £3. Booking essential
Contact: Robin Griffiths (01793) 751081
This is an event organised by the Wiltshire Wildlife Trust, Swindon Supporters Group.
Information about WOS
Wiltshire Ornithological Society was formed on November 30th, 1974, and has grown in recent years to more than 500 members.
Our mission is to encourage and pursue the study, recording and conservation of birds in Wiltshire
Portraits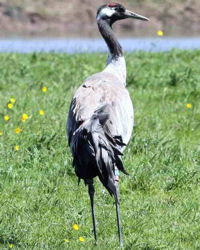 Latest News

At the WOS AGM on 5th April, Matt Prior was elected as Chairman, Marti...

WOS AGM commences at 7.30 pm on 5th April at the Corn Exchange, Devize...