West Wilts Group
Blakehill Farm: Wednesday, 25th January 2017
We had planned on ringing at Ravensroost this morning but, as Ellie informed me that there was going to be a large work party there today, she thought we might do a session at Blakehill instead. I thought that we would have a go for Snipe and Redwing, as there are plenty of both around. Having had a chat with a few other ringers about the best way to catch Snipe, we set a few nets around the ponds close to the Whitworth Centre. Close to the marshy edges of the pond, close to grassy tussocks, as advised by those who catch them regularly. However, we made one mistake. The weather forecast had been for the weather not to freeze and for the freezing fog to have moved on. So Tuesday evening found Jonny and myself setting nets at dusk, furling them, ready to open them before dawn today. We saw a couple of Snipe fly off as we approached the ponds: boding well for the morrow, we hoped. Whilst setting the Redwing nets, I was lucky enough to get great views of a dog Fox. It was trotting around the field, barking quite regularly, He wandered off around the ponds for a while before coming back into the field. He eventually noticed me working and sat and watched me work for few minutes before going on his way. Clearly unconcerned at my presence.
Anyway, our mistake was believing the forecast. Jonny and myself arrived on site at 6:30, ready to open the nets, only to find them frozen together. It took an hour or so to open them but then the fog froze those elements that were not already rimed with frost. Despite those nets being incredibly visible, we did manage to catch a couple of Blackbirds and three Redwing that were clearly not looking where they were going. It was a shame we caught so few Redwing: there were good sized flocks moving around but they were clearly seeing the nets. Absolutely no sign of Snipe.
Ellie joined us at 7:30 and we set a few more nets, along the hedgerow / tree-line opposite the Whitworth Centre. These also became rimed quite quickly: but not before we caught our first Stonechat of the year After 11:30, the fog lifted, the nets thawed and dried out quite quickly and we caught a few more birds. The list was: Blue Tit 1; Stonechat 1; Robin 3; Redwing 3; Blackbird 2; Goldcrest 1; Bullfinch 5. Only 16 birds from seven species but an interesting catch nonetheless.
We took advantage of the proximity of the Whitworth Centre to set up our ringing station indoors, out of the cold and fog. We shared the building with the over-50's Wellbeing Group, who were fascinated with what we were doing and welcomed the opportunity to get a close up look at the birds. When they were offered the chance to be taught how to safely hold a bird and release it, we think (know) it really made their day. They were busy making rustic Wellington boot racks, so that you can hang up your wellies and not tread mud all over the place. I used it. Only one downside: the boot goes on upside down, so your hands get dirty.
Ironically, as I was walking across the field opposite the Whitworth Centre to start taking down the nets, I put up a Snipe: which flew off and narrowly missed the edge of the net I was neading towards. We will persevere. ST/JC/EJ
Tedworth House: Wednesday, 18th January 2017
Following on from my talk about Tedworth House at the WOS indoor meeting last Tuesday, I did my first session of the year there this morning. I mentioned as part of my talk that, despite the small catches (average 13.6 birds per session), this small woodland punches above its weight in the variety of the catch compared to some much larger woodlands. The Firs, Webb's Wood and Red Lodge have produced 24 species each; Somerford Common 27; Ravensroost, Lower Moor Farm and Blakehill Farm have produced 34 species and, until today, Tedworth had produced 30 species caught. As of this morning it has increased to 31 - and I do wish it had been 32.
Species number 31 was a Grey Wagtail. I have been trying to catch one of these beauties ever since I started ringing there in September 2013. We have tried baiting the pond area with mealworms, which have been gratefully received, right up to the point when we set out the walk-in traps. Today, one turned up at the frozen pond and managed to fly into my net:
This is the first I have ringed for five years, ever since I last had the chance to ring at Marlborough Sewage Works, on the 15th January 2012. It was a juvenile enduring its first winter. I was able to share the experience with a few members of the Tedworth team, who were fascinated with the yellow colouration of the belly and under-tail coverts and wanted to know why it wasn't a Yellow Wagtail. Explanation duly given.
Species 32, the one that got away, was a Black Redstart. It has been hanging around the house for about a week now. Unfortunately, I only found out about it when I arrived on site, so had none of the necessary equipment to attempt a catch, so I consoled myself with a couple of glimpses of it as it patrolled the roof area. The catch for the day was: Blue Tit 1(4); Great Tit 1(1); Coal Tit (3); Wren 1; Dunnock (1); Grey Wagtail 1; Robin (1); Song Thrush 1; Blackbird 4. Totals; nine birds ringed from six species; 10 retraps from five species, making 19 processed from nine species. ST
Pitsea Landfill Site: Saturday, 14th January 2017
Every now and again it is refreshing to have a major change to your ringing routine. Over the last couple of years I have had several trips out with the Wash Wader Group, a couple with the Wildfowl and Wetlands Trust and several with the North Thames Gull Group. They all catch their birds primarily using cannon nets. They probably should be called "mortar nets" as the net is propelled by four mortars. Today, Jonny and I went on the 275 mile round trip to the Pitsea Landfill Site to work with the NTGG. We arrived at 7:30 and were on the site by 8:30, with the cannon nets ready to fire soon afterwards. As you can see from the photograph below, the immediate landscape is pretty bleak, but it overlooks the Thames Estuary, which is somewhat nicer to look at
The gulls have become habituated to following the heavy machinery that compacts the rubbish into the landfill and then staying around to feed on the newly compacted rubbish. A truck load of rubbish is emptied in front of the net and the compacting machine runs backwards and forwards over it, which piques the gulls' interest. It then moves away and the gull settle down to pick through the rubbish for edible scraps. Usually we wait for an hour or more before there are suitable numbers of birds to warrant firing the net. Today, it was ten minutes.
The first catch was just under 100 birds: mainly Black-headed Gulls, but including a good number of Common and Herring Gulls, plus a couple of Great Black-Backed and one Lesser Black-backed Gull. All birds processed were identified and aged, fitted with a BTO metal ring on the right leg and a numbered colour ring on the left, and their maximum primary length and their head and bill length measured. Jonny got to ring his first Common, Great Black-backed and Herring Gull - so I suspect he thought it worthwhile.
We had reset the cannon net before starting to process the first catch: and it was fired for a second time just as the last couple of birds were being processed. This was a much bigger catch: approximately 250 birds. This time we had the same mix as before, but with no Great Black-backed, but with one intriguing bird: a potential Herring x Caspian Gull hybrid, shown below.
This was a cause for considerable debate amongst the highly knowledgeable regular team but I would not profess to be any sort of expert, and certainly don't have an opinion on it. However, the whole Herring Gull / Lesser Black-backed Gull ring species seems to be being split on a regular basis: 20 years ago would anybody have actually considered the provenance?
We had hoped to go for a third firing but the birds just disappeared. However, it was certainly the most compact and effective gull ringing session I have been on. Gulls are facing a considerable pressure these days: from compost. So much food waste is now being composted that there is much less food in the rubbish dumped in the landfill. Therefore, there is much less food for the gulls. This is reducing the number of birds on the tip and, clearly, stressing the gull populations. One result is, possibly, resulting in their moving more into towns and cities more often: where human feeding habits and discarding of same offers better feeding opportunities. ST/JC
Webb's Wood: Wednesday, 11th January 2017
We had hoped to have a session at Blakehill Farm on Wednesday, but the weather forecast was for strong winds gusting to over 30mph, so I changed the venue to Webb's Wood. I was joined for the session by Jonny and Ellie. I wasn't expecting there to be a large catch: I have been out of the country working and unable to top up the feeding stations for a couple of weeks. In the event, we had a reasonable catch and, in some ways, a very decent one. The list was: Great Spotted Woodpecker 1; Blue Tit 6(5); Great Tit 6(3); Coal Tit 1(1); Marsh Tit 1(3); Robin 3; Redwing 1; Goldcrest 2; Lesser Redpoll 3. Totals: 24 birds ringed from nine species; 12 birds retrapped from four species, making 36 birds processed from nine species.
It is always good to catch Lesser Redpoll in the Forest, but the stars of the day were the Marsh Tits. After last year's good showing of them, 19 ringed and a total of 30 individual birds processed in the Forest, we had our best ever catch of them in Webb's Wood. One bird was ringed on the first session in Webb's Wood, in February 2013. It was subsequently caught in the Firs in October 2016 and then recaptured back in Webb's Wood on this occasion. Although the Firs is adjacent to Webb's Wood, the distance between the two capture sites is over 700m. For a bird that is exceedingly sedentary, this represents quite an unusual movement.
ST/JC/EJ
Lower Moor Farm: Saturday, 7th January 2017
Our first session of the new year was at Lower Moor Farm. By way of a change from our usual CES site, we set up close to the visitor centre and in the wildlife education area. Apart from Jonny, I had a fairly inexperienced team out with me: Annie is just starting with extracting birds; Steph started processing on this session and David came along for his second session and is just getting used to handling wild birds. In the event, we had a good, manageable catch, with plenty of opportunity for the team to work without pressure.
The list for the session was: Blue Tit 14(3); Great Tit 5(3); Long-tailed Tit (2); Wren (3); Dunnock 3(1); Robin 1(2); Blackbird 5; Chiffchaff 1; Chaffinch (1); Bullfinch 2; Reed Bunting (1). Totals: 31 birds ringed from seven species; 16 birds retrapped from eight species, making 47 birds processed from 11 species.
There was a large work party of teenagers on site, with Chelsie and Ed from the Wildlife Trust so, once again, I took the opportunity to give a quick impromptu ringing demonstration and explanation of what it is all about. ST/JC/AH/SB/DW
Somerford Common: Saturday, 31st December 2016
It has been a couple of months since we have managed a session at Somerford Common. My usual ringing site is undergoing significant work: the Forestry Commission are instituting a coppice regime in the fenced off paddock area, which is where I usually set my winter feeding station. This year I have set it up in the bridleway that runs parallel to, and 150 metres south of, Queen Street. The only problem with this particular part of the site is the mud. The subsoil is so churned up by horses and, unfortunately, trail bikes, it is very difficult terrain. Given the 100th anniversary of this particular battle in 2016, I think they should rename it: Sommerford Common.
There was a good team turn out, with Jonny, Charlie, Ellie and Neil joining me for the day. With the improving skills of the team we will be setting more net next year, to make sure everybody gets plenty of opportunity to continue their development. The forecast for the day was for it to be dull, grey, misty and mild. We set the nets and carried out the first round: and then the rain started. We closed the nets and for the next hour drank coffee, until the rain stopped. There is nothing more galling than looking at the weather app on your phone telling you that it isn't raining whilst the rain is drumming on the roof of the car. About 9:45 the rain stopped and we reopened and shook the water off the nets and continued to catch birds.
The list for the day was: Great Spotted Woodpecker 1; Nuthatch 1; Blue Tit 6; Great Tit 7(1); Coal Tit 5(4); Marsh Tit 2(1); Long-tailed Tit 1; Wren 1; Dunnock 1; Robin 3(3); Blackbird 2(1); Goldcrest 6. Totals: 36 birds ringed from 12 species; 10 birds retrapped from four species, making 46 birds processed from 12 species.
Ellie got to ring her first Great Spotted Woodpecker, which was good experience for her (even if it was still my blood that got shed, holding the bird so she could photograph it, for her records). More importantly, the two Marsh Tits ringed, and the one retrapped, made this the best year for the bird in the Braydon Forest since I started my project in late 2012. There have been 19 new birds ringed this year: a significant improvement on the 12 last year. Of those 19, at least 12 were juveniles (it has been impossible to reliably age the birds caught in the last few months, as adults and juveniles share the same plumage and are showing similar levels of wear). 28 retrapped birds, representing 17 different individuals, is also the best rate of recapture at any time. The combination of records represented 30 individual birds processed within the Forest (20 in 2015; 24 in 2014; 19 in 2013). Hopefully, there is a real, if gradual, increase in the number of Marsh Tits in the Forest and good survival rates. ST/JC/CS?NS/EJ
Blakehill Farm: 17th December 2016
Ellie, Jonny and I had a quiet session at Blakehill on Saturday. It was quiet because there were very few small Passerines flying around. To be honest, apart from a few Skylarks, there was virtually nothing out on the plateau's edge: no sign of Meadow Pipits or Linnets. I don't know if there is less seed out there this year, or if it was the mist.
That is not to say we didn't have a good time: Ellie got to ring her first Stonechat and Starling and Redwing are always great to handle. One day we are going to catch one that was ringed in Scandinavia! The list for the day was: Blue Tit 1(1); Great Tit (1); Wren 1; Robin (1); Stonechat 1; Redwing 19; Blackbird 2(2); Chiffchaff 1; Chaffinch 1; Starling 1. Totals: 27 birds ringed from eight species, five birds retrapped from four species.
The highlights were the eighth Stonechat of the year at Blakehill. To put that into perspective: in 2015 we caught just one, the first on my rings. To catch eight on one site (that isn't Salisbury Plain) in one year in Wiltshire is exceptional. In the whole of Wiltshire in 2015 only 14 were ringed, in 2014 only eight and seven in 2013. Also, catching an over-wintering Chiffchaff at Blakehill was unusual. They tend to be found at the Water Park but infrequently elsewhere in the winter. This was only the second we have caught in December, the previous one being at Lower Moor Farm in December 2014.
ST/JC/EJ
Red Lodge Woods: Sunday, 11th December 2016
With Saturday's session being rained off, Sunday saw us in Red Lodge woods. I was joined for the session by Jonny and, for his first taster session, David Williams. The track at Red Lodge is virtually impassable for a length of 50 metres, even in a reasonable 4x4; so it is a bit of a trek to get to the optimum ringing area. With the three of us, we decided to carry everything we would need for both the nets and the ringing station along the track. It was a sensible trade off: cutting several miles off the session norm for this site, for a bit of extra effort at the start.
Because we were ringing around the feeding station that I set up on Monday of this week and topped up on Friday, we only set 4 nets. I was looking for a catch of about 50 birds, which would give me plenty of time to spend with David. In the event, we nearly doubled that, and added a new species to the list for the wood.
The list for the session was: Nuthatch 3: Blue Tit 27(14); Great Tit 12(12); Coal Tit 3(2); Marsh Tit (2); Long-tailed Tit 3; Robin (1); Redwing 3; Blackbird 1(2); Chaffinch 4; Lesser Redpoll 6. Totals: 62 ringed from 9 species; 33 retrapped from 6 species, making 95 processed from 11 species. This is the second largest ever catch at the site.
The Lesser Redpoll were the new species for the site. This might well be a result of the thinning process, as that is the only change that I can see to the structure of the wood in the last four years. The catch of four Chaffinch was also the largest for this species at Red Lodge - and the first catch of them there since June 2014. Is it a coincidence? Who knows? Three Nuthatch were also a nice catch.
David survived his session and is pretty convinced that he would like to become a trainee ringer. The more the merrier. ST/JC/DW
Information about WOS
Wiltshire Ornithological Society was formed on November 30th, 1974, and has grown in recent years to more than 500 members.
Our mission is to encourage and pursue the study, recording and conservation of birds in Wiltshire
Portraits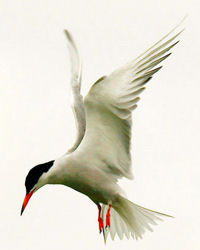 Latest News

A new Atlas section has been added to the web site. This shows distrib...

The two peregrine chicks being raised on Salisbury Cathedral have fled...