West Wilts Group
The Firs: Wednesday, 7th December 2016
I seem to be doing a lot of ringing demonstrations at the moment. Because the weather was due to be fairly windy, and I had another group from the Wildlife Trust's well-being team scheduled to attend, I returned to the Firs somewhat sooner than I would normally do so. As I was working solo, I knew I could set just a few nets and catch a reasonable number to make the session worthwhile for the attendees. The result was that we caught a high proportion of retrapped birds - but that is where the science is. The catch was somewhat less varied than the previous but the crew that attended the demonstration were more than happy with what they got to see.
The list for the morning was: Blue Tit 9(9); Great Tit 5(7); Coal Tit 2(3); Marsh Tit (2); Wren 1; Robin 1(3); Redwing 5; Goldcrest (2). Totals: 23 ringed from 6 species; 26 retrapped from 6 species, making 49 processed from 8 species.
As I was working alone, the group got a chance to see the whole process, from extraction through measurement and recording, to release. In the course of the work several of them were taught how to safely hold and release birds back into their environment, From the tweets that surfaced subsequently, I can be confident that the session was a success with the group. ST
Lower Moor Farm: 24th & 26th November 2016
A very interesting week this week: the top news is Jonny Cooper being awarded his C-permit. It is well deserved: he has worked hard, is totally reliable and has made sure to take advantage of all of the opportunities that have come his way: working with the Wildfowl & Wetlands Trust, ringing wildfowl and waders all over the country; going to Iceland to ring seabirds (and Red-necked Phalaropes (not jealous, at all)) and then spending a session with the team at Spurn for some additional, independent assessment.
I did a talk on Thursday and a ringing demonstration on Saturday. Thursday's talk was for the Wiltshire Wildlife Trust's Well-Being team. One of their projects is working with children who have either been excluded from school or who have other issues around being at school. The aim is to get them involved in nature and I was asked to give a "motivational and inspirational" talk on bird ringing (not my words). I was a little apprehensive about it: how do you enthuse teenagers these days? It has been a long time since my children were teenagers and, obviously, lost in the mists of time since I was. I decided to make it a little bit interactive: a short quiz to start and I took in a couple of different traps to show them how they worked and an MP3 player with the Latvian Redwing lure loaded. In the event, I needn't have worried. Two of the teens were just "too cool for school" but the rest were totally receptive. Being a cussed individual, I made sure that I continually directed questions and comments at the two most obviously disaffected youngsters and, by the end of the session, they were drawing my attention to some of the birds hopping around the hedgerow outside the window and asking about their identification. After the talk, they borrowed the MP3 player and were delighted when, playing it outside the Visitor Centre, half-a-dozen Redwing flew into the trees adjacent. The session was scheduled to be an hour long but, after the questions and chatting, it went for nearly two hours. I have also been asked by one of the others how they get involved in ringing. He has been invited for a couple of taster sessions and, if he wants to, can join my little team of trainees.
This morning's session was for the Trust's Watch group. This is their young members' group and we had 13 children, with accompanying parents, in attendance plus three members of the Trust staff to manage the audience. The weather was fabulous: little wind, which our nets were completely sheltered from, and a clear blue sky and continuous sunshine. I had Jonny to help me, and it was just as well as the first round catch was relatively large. As some of these children are quite young (6 years old, the youngest) I decided to save their legs and set my nets along the hedgerow opposite the Visitor Centre and another couple in the Wildlife Education Area. We had a really good catch, so I might have to try these positions again. The list was: Blue Tit 16(3); Great Tit 5(3); Wren 6; Dunnock 1; Robin 6(2); Redwing 6; Blackbird (1); Blackcap 1; Goldcrest 2(1); Lesser Redpoll 2; Bullfinch 1; House Sparrow 1; Reed Bunting 2. Totals: 49 ringed from 13 species; 10 retrapped from five species, making 59 birds processed from 13 species. Because the children were not arriving until 9:00, we didn't open the nets until 8:45. It would be interesting to try it again, with a few more nets and the nets open from first light: I would think it could yield close to 100 birds.
To say that the children, and their parents, had a good time would be an understatement. They were so enthused to see the birds close up, but also to see so many different species: a few of which they (and their parents) had never heard of. Jonny, bravely, was happy for them to go in small groups to watch him extract birds from the nets. We had a super couple of hours and some additional birding yielded Buzzard, Kestrel, Pied Wagtail and Raven. It was a lovely morning. Hopefully it will have given the children a real enthusiasm for birds, and we finished it off drinking coffee and eating jaffa cakes with the Trust team. Thanks to Chelsie and her team for inviting us to do it and for organising everything so well. ST / JC
The Firs: Wednesday, 23rd November 2016
I have been ringing at the Firs nature reserve ever since I got my C-permit just over 4 years ago and it has always been a bit hit and miss, rarely producing large quantities of birds. The lowest point was setting 8 nets and catching two birds in three hours (both Blue Tits, one I could ring, the other a retrap). However, the Wiltshire Wildlife Trust have been slowly developing the site over those years: opening a glade through the middle of the wood, to encourage butterflies, and adding two ponds (the ponds were my suggestion) back in 2013. I was joined for the session by Ellie Jones and Andrew Bray.
Slowly the nature of the site is beginning to change and the catches are improving in number and variety. Earlier this year, as readers of the blog will know, we caught two Spotted Flycatchers in the wood - a first for any of my sites in the Braydon Forest. Today we caught our first Lesser Redpoll in this wood, in a catch of 59 birds. We catch Lesser Redpoll everywhere else in the Braydon Forest, it is good to know that they are also coming into the Firs now.
The catch also included two new Marsh Tits, making this the best year for this species in the Braydon Forest since I started my project in autumn 2012. Having Ellie, who is responsible for the Trust reserves in the north of the county, as a trainee is very helpful, as it gives me the chance to get my ten penn'orth in on the Trust's plans for my ringing sites. Not that I ever have to worry, their plans are usually spot on. For example, further plans by the Trust to thin parts of the wood, and replant with better, Marsh Tit friendly, under-storey trees, should help the continued development of the woodland and support for the Marsh Tits.
The list for the day was Nuthatch 2(2); Blue Tit 16(2); Great Tit 10(8); Coal Tit 1(6); Marsh Tit 2; Robin (2); Redwing 1; Blackbird 5; Lesser Redpoll 2. Totals: 39 ringed from eight species; 20 retrapped from five species, making 59 birds processed from nine species. The oldest bird caught this morning was a Great Tit, ringed as an adult male in December 2012, on my first ever visit to the Firs, making the bird at least five years old. There was also a venerable Blue Tit, ringed as a second year bird in February 2013, making it over four years old. ST/EJ/AB
Blakehill Farm: Saturday, 19th November 2016
Taking advantage of a weather forecast which suggested a lull in the windy weather; Jonny, Charlie, Neil and I had a session at Blakehill Farm this morning. It was a heavy ground frost and flat calm until 11:00. We had a line of 6 nets along the hedgerow of the perimeter track and four nets set between the bushes on the edge of the central plateau. The plateau nets caught the Reed Buntings; the hedgerow nets caught the Redwings and the tits. Whilst setting the nets we were treated, for the second session running, to a Barn Owl hunting in the fields between the perimeter track and the industrial estate.
Although we set 3 net rides (each of 2 x 18m nets) along the perimeter fence, the vast majority of the catch was in the furthest net ride, set between the one tree in the field the other side of the perimeter path from the hedgerow opposite. It acted as a magnet for the Redwing, helped by the use of the Latvian lure, and gave us our largest ever catch of this species in a single session. The hedgerow also provided us with a lovely catch of nine Long-tailed Tits. They have been pretty scarce in our catches so far this year, with few caught outside of the breeding season and nearly 100 fewer than caught in 2015.
The plateau edge never fails to provide some interesting birds. This time the field nets delivered an additional four Reed Buntings and our seventh Stonechat of the year. Prior to this year we had only caught one Stonechat, in 2015. Blakehill is the only site I have that is likely to produce them We are also seeing encouraging signs with Reed Buntings: from two caught in 2014, to 26 in 2015 and, so far, 52 in 2016. This increase has coincided with the Wildlife Trust's decision to leave the plateau unmown for the last two years, with the increase in seeds available for winter feeding. As you can tell from the picture below, of a female Reed Bunting with her plumage fluffed up, it was cold.
The list for the day was: Great Tit 1(1); Long-tailed Tit 9; Wren (1); Stonechat 1; Robin 1(2); Song Thrush 2; Redwing 39; Blackbird 3; Greenfinch 1; Reed Bunting 4. Totals: 61 ringed from nine species; four retrapped from three species, making 65 birds processed from 10 species.
We decided to start taking down at 11:30, just as the weather turned, the wind got up and a degree of showery, squally rain drifted in and over the site. Just time to take the final five Redwing out of the end nets before leaving site at 12:30. I have to make a special mention for Jonny. He had the misfortune to have his car skid off the road in the icy conditions. We couldn't get purchase to push it out of the ditch it was in so we left him shivering by the side of his car but, once the RAC pulled him out and checked the car was okay, he turned up on site to do his stint. That's dedication. ST/JC/CS/NS
Ravensroost Wood: Sunday, 13th November 2016
With the postponement of yesterday's planned ringing demonstration because of the poor weather, we reconvened, for those who could make it, on Sunday morning. Jonny and Annie were my help for the session, with Annie doing a great job as the scribe. As the public were not due until 9:00, we started out at 7:30, knowing it would mean we were unlikely to catch roosting Redwing as they were likely to have dispersed before we opened the nets. It didn't stop us setting a net for them though. We only set four nets in the main ride, with one large mesh net a distance away to see if we could catch any laggard Redwing. (We did: two of them.)
We were joined by half-a-dozen visitors, two young lads, Aaron and Leo who, with their mum Catherine, seem to attend all of our ringing demonstrations, kept up their record - this time announcing that they want to take up ringing. Their enthusiasm is wonderful. If they are still interested in a couple of years, they will be welcome.
The catch had quite a few highlights for the visitors, three Nuthatch (one a retrap); two Redwing; five Lesser Redpoll and 12 Chaffinch (three retraps) were the main ones. Chaffinch have been few and far between in the wood over the last few years, and this was the largest catch since 13 in January 2013, i.e. nearly four years ago. We did catch a thirteenth Chaffinch, but it was suffering with the Fringilla Papilloma Virus and so Jonny extracted and released it (and then used alcohol rub to sterilise his hands - with the number of Chaffinch in the catch we weren't going to risk and possibility of our playing a part in its transmission. Two of the retrapped birds were ringed as full adults in February 2013, making them at least five-and-a-half years old. Ironically, both were originally ringed on the same date and retrapped on the same date, but neither has been caught in the intervening period. They weren't the oldest birds caught today, however. That was a Marsh Tit, only the second to be colour-ringed in the wood, ringed on my first independent visit to Ravensroost as an adult in October 2012. Mind, if it is going to set a longevity record it will need to survive another six years. There was also a Great Tit ringed at that same session, retrapped today.
The list for the day was: Nuthatch 2(1); Blue Tit 7(12): Great Tit 12(10); Coal Tit 2(5); Marsh Tit (2); Dunnock (1); Robin (1); Redwing 2; Goldcrest 1; Chaffinch 9(3); Lesser Redpoll 5. Totals: 40 birds ringed from eight species; 35 retrapped from eight species, totalling 75 birds processed from 11 species.
ST/JC/AH
Webb's Wood: Saturday, 5th November 2016
The first genuinely cold session of the winter (I know, it is still technically autumn) was quiet, but that was a good thing as I was joined by Neil, Charlie and a welcome back to Annie Hatt. Charlie is extracting well, but Annie and Neil need a few sessions to reaquaint themselves with handling birds before they start extracting again. It gave me the chance to go through the methods with Annie and Neil, to set them up for next time, whilst Charlie got on with developing his skills.
The list for the session was: Blue Tit 3(1); Great Tit 1; Coal Tit 2; Long-tailed Tit 5(8); Wren 2; Robin 2; Redwing 1; Goldcrest 5(2); Lesser Redpoll 2. Totals: 23 birds ringed from nine species; 11 retrapped from 3 species, making 34 birds processed from nine species.
The star birds were our first two Lesser Redpoll of the winter. One was a lovely juvenile male:
ST/CS/AH/NS
Blakehill Farm: Friday, 28th October 2016
It has been quite a week. After the Goldfinch fest in my garden on Tuesday, followed by the awesome Yellow-browed Warbler on Wednesday, I was hoping that we might have another good experience at Blakehill Farm today. The team comprised Jonny Cooper and, proudly clutching his new C-permit, Andrew Bray (congratulations, well deserved). Because the weather forecast had changed from when I first proposed the visit on Monday, with the wind forecast to be much stronger than originally, I had contemplated changing the venue. Fortunately, I decided that, with the wind coming from the west, the hedgerow would act as a windbreak, which it did quite admirably.
We set two nets on the edge of the plateau, gambling on the initial absence of cattle staying that way. Then we set four nets along the leeward side of the hedgerow, on the perimeter track. Whilst we were putting these nets up, we had excellent views of a hunting Barn Owl, as it flew along the tree line on the edge of the reserve about 100m away from us. It was the first of several good sightings of birds of prey we had during the day: Kestrel being mobbed by Corvids as it flew across the plateau; Sparrowhawk bouncing out of our net and then it, or another, seen later finding a thermal and spiralling up into the sky, whilst a Carrion Crow tried to get above it. It was a fine day for birding, let alone ringing.
In the meantime, we were regularly catching birds. A decent range of species and a good number of birds. Our first round delivered up two Stonechats from the plateau, and our third round delivered another from the same net. Previously my team had only caught a single Stonechat, also at Blakehill Farm. The third bird was a stunning adult male:
The run of Reed Buntings caught at the site continued, with three new birds and four retraps. However, three of the four retraps were not birds of this parish, sporting a ring series that indicated they came from the same location, just not Blakehill Farm. I suspect they will have come from CWP but it will be good to find out. Along with these farmland birds, we had a reasonable catch of Meadow Pipits, but probably only one percent of what was flying around the plateau. The only thing missing were the Linnets. We have seen good numbers on the site, but not today, and they are almost totally missing from our catches at Blakehill this year. There was a decent catch of Redwing, and quite a few flying around. We also saw, but did not manage to catch, a couple of small flocks of Fieldfare.
Amongst the other memorable birds caught were a pair of Magpies. Personally, I love these birds and hate the way they are maligned for behaving naturally (I know people, who should know a lot better, who think they have the right to destroy their nests) and it is always a pleasure to catch them, especially if you can get someone else to extract and process them! They do have sharp claws and beaks but are beautiful birds: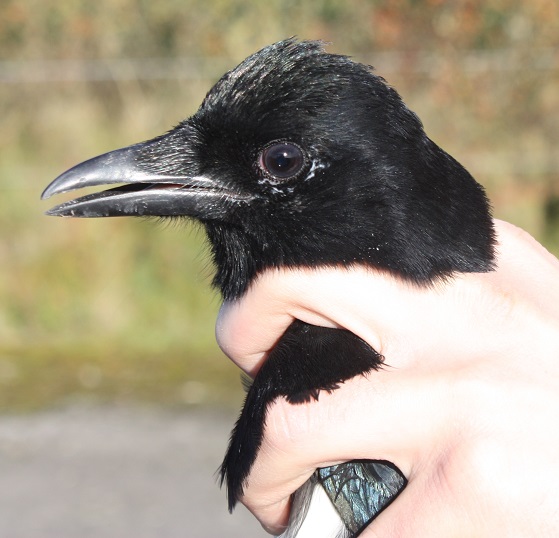 Whilst Andrew and Jonny were extracting the Magpies, I was extracting the first Greenfinches caught on the site: three of them. Jonny then came back with his first ever Starling. I had caught one before, in the garden of Purley farmhouse next door to the site, but it was the first for Blakehill proper. In the next round I extracted another two. So, that is three new species ringed on the site in the last two sessions. It really was a varied and interesting day and catch. Ellie, in her work role, arrived at about 11:00 to remind the others that she was with me when we caught the Yellow-browed Warbler. They took it in the right way - grown men shouldn't cry without a very good reason.
The list for the session was: Magpie 2; Blue Tit 1; Meadow Pipit 8; Wren 4; Stonechat 3; Robin 2; Redwing 13; Blackbird 2; Goldcrest 3; Chaffinch 1; Greenfinch 3; Starling 3; Reed Bunting 3(4). Totals: 48 ringed from 13 species; four retrapped from one species, making 52 birds processed from 13 species. As the number of birds died off significantly after 11:00, we took down and were off site by about 12:30. It was a fine end to an excellent week's bird ringing. ST/JC/AB
*Update*: John Wells kindly confirmed that the three controlled Reed Buntings were originally ringed at Waterhay in 2015. Jonny and I had a short session back at Blakehill today (Wednesday, 2nd November) and added the following to the list: Blue Tit 1; Great Tit 1; Long-tailed Tit (1); Meadow Pipit 5; Stonechat 1(2); Robin 1(1); Redwing 8; Song Thrush (1); Reed Bunting 5. Totals: 22 ringed from seven species; five retrapped from four species, making 27 processed from nine species. ST
Yellow-browed Warbler, Lower Moor Farm: Wednesday 26th October 2016
A brilliant morning at Lower Moor Farm, crowned by ringing my first Yellow-browed Warbler. Everybody knows that the numbers of them have been very high this autumn - but that is in coastal regions: there haven't been anything like as many records inland. With the easterly winds that have been blowing on and off for the last few weeks I had been hopeful that one might turn up. Jonny Cooper, one of my ringing trainees, saw one at Morgan's Hill on the 12th October but, despite using lures to try and attract one in, we hadn't seen hide nor feather of them at any of my ringing sites.
This morning's session was just myself and Ellie Jones (it is so helpful having the reserve manager as one of your ringing trainees), and we decided to focus our efforts on the wildlife refuge area and try out some different net positions from our standard CES positions. We did erect two of the usual rides and three new net rides. Immediately upon completing the net set, we noticed that there were four birds in one of the usual net rides. As I got to the ride I noticed what looked like a Chiffchaff: and then I saw the wing bars. I couldn't believe it: Yellow-browed Warbler in the net, no lure, no expectations and a stunning looking bird.
If that wasn't enough, we had a nicely productive morning and did a couple of impromptu ringing demonstrations to families visiting the reserve. Ellie taught the children how to identify the sex of Goldcrests, and then got them to sex the birds for us. They were very good. Hopefully she has sown a seed of interest for the future.
The list for the day was: Treecreeper (2); Blue Tit 5(3); Great Tit 2; Long-tailed Tit 9(7); Wren 1; Dunnock (1); Robin 1(1); Blackcap 1; Chiffchaff 3; Yellow-browed Warbler 1; Goldcrest 7(2); Goldfinch 1; Bullfinch (1). Totals: 31 ringed from 10 species; 17 retrapped from 7 species, making 48 processed from 13 species. Unfortunately, the wind got up at about 11:00 and so we had to curtail the session a bit earlier than I had planned. Ellie had to leave for a meeting (the inconvenience of having a job) just as we finished taking down the main net rides. I had just one net left to take down (along the lake-side in the picnic area) where, as is par for the course when you think you have finished for the day, there were 10 Long-tailed Tits and one Blue Tit in the top shelf of the net. Still, with the dearth of all species of Tit caught this year so far, I am not really complaining. ST/EJ
Information about WOS
Wiltshire Ornithological Society was formed on November 30th, 1974, and has grown in recent years to more than 500 members.
Our mission is to encourage and pursue the study, recording and conservation of birds in Wiltshire
Portraits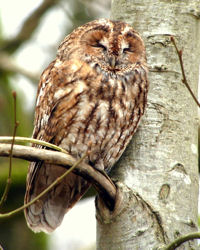 Latest News

A new Atlas section has been added to the web site. This shows distrib...

The two peregrine chicks being raised on Salisbury Cathedral have fled...