West Wilts Group
Iceland: 15th to the 24th July 2016
The following is a brief account by Jonny Cooper of his recent trip to Iceland. As a trainee ringer, he is certainly packing a lot of high quality experience through his contacts within the various conservation organisations for which he volunteers - especially the Wildfowl & Wetlands Trust.
I had the pleasure of spending 10 days undertaking fieldwork in Iceland from 15th – 24 July. The base for the trip was the island of Flatey in the Breiðafjörður in north-west of the country. Representatives from the Icelandic Institute of Natural History have been undertaking annual trips to Flatey to survey, monitor and ring the seabirds and waders in the area.
The central focus of the trip this year was satellite tagging of Kittiwakes to investigate their foraging habits. Over the first two days 16 birds were fitted with tags and marked to allow easy identification within the colony. The tags were left on for 3 – 5 days and then attempts were made to retrieve them, 13 tags were retrieved. The data revealed all but one of the birds foraging much further to the south, outside of the Breiðafjörður area. This is the third year of such tagging and a picture is being built up of how these declining birds use their habitat, as can be seen from the graphic below:
Other species surveyed and ringed included: Fulmar, Arctic Tern, Ringed Plover, Shag, Puffin, Snipe and Oystercatcher. In addition to this on the final day we had a session flick netting Red-necked Phalarope which congregate in large numbers in the tidal bays around the island. It is amazing to think these tiny birds will spend the winter on the beaches of South America.
My personal totals for the trip were: Ringed (Retrapped) [Pulli]: Kittiwkake 5(5)[139]; Puffin 1(3)[3]; Shag [22]; Arctic Tern 8[33], Ringed Plover [5], Black Guillemot [9]; Snipe 1(1), Oystercatcher 1; Fulmar 3[1], Red-necked Phalarope 20.
Puffin: Red-necked Phalarope:
CES 8: Lower Moor Farm, Friday, 22nd July 2016
This hot weather seems to be having an impact on bird activity or, at least, it is on my ringing sites. With Tuesday's session at Tedworth House yielding a mere five birds in five hours, with some singing and very little movement, I was interested to see what we might catch at Lower Moor Farm today. I was joined for the session by Ellie (at her flagship reserve). The morning started fantastically: as I was setting my first net I noticed movement on Mallard Lake. I had excellent views as an otter swam from the bank in the wildlife refuge and headed directly towards me, only diving under the surface when about ten metres away from me. It is only the second time I have seen them there. Now, if I can only find the beaver that is sculpting the landscape in the refuge area, I will be delighted.
We had a good session: only 46 birds, which is a considerable drop on the 103 birds we caught in the equivalent session last year, but almost all of that can be put down to much smaller numbers of Blackcap, Blue and Great Tits and the complete absence of Long-tailed Tits from today's catch. Our list for the day was as follows: Blue Tit 2(5); Great Tit 2; Wren 7(3); Dunnock 2; Robin 2(1); Cetti's Warbler 1; Reed Warbler 1; Lesser Whitethroat 1; Blackcap 2(1); Chiffchaff 12; Willow Warbler 3; Greenfinch 1. Totals: 36 birds ringed from 12 species and 10 retraps from 4 species, making a total of 46 birds processed from 12 species.
As usual at this time of year, the majority of the birds caught were juveniles. Given my concern after the last CES session, it was a real pleasure to catch a newly fledged Cetti's Warbler. Perhaps they have just moved over the border into Gloucestershire. Amongst the warblers, we also had newly fledged juveniles of Reed Warbler, Lesser Whitethroat, Chiffchaff and Willow Warbler, plus some tremendous wing moult going on in two adult Willow Warblers and one of the Blue Tits.
Cetti's Warbler Reed Warbler
Brown's Farm, Wednesday, 13th July 2016
Whilst doing the second Breeding Bird Survey visit to Brown's Farm at the end of June, I noticed there was a significant amount of activity along the metalled track from the farm to the area of the disused railway line. With the forecast for Wednesday being for low wind speeds until about 10:00a.m. Jonny and I went for a session to see what we could catch along a part of that track. In the event we had a good, varied set of birds. Jonny got to ring his first Woodpigeon and we ringed our first Swallow of the "summer". Next time we will try a different area of the track, nearer to the farmyard, to see what the difference in the catch might be.
The list for the day was: Woodpigeon 1; Swallow 1; Blue Tit 5; Great Tit 3; Wren 1; Dunnock 7(1); Robin 3: Blackcap 3; Whitethroat 3; Chaffinch 1; Linnet 8; House Sparrow 1; Yellowhammer 1. Totals: 38 birds ringed from 13 species and 1 bird, a Dunnock, retrapped. The retrapped Dunnock is a Control. It will be interesting to see where it was originally ringed, given that there are several ringing sites within the local area.
As is now becoming the norm, the majority of the birds were juveniles: 23 of the 39 caught. The Woodpigeon, Whitethroats, Chaffinch, four of the Dunnocks and Linnets, and the Yellowhammer were adult birds, the rest were juveniles. One of the Linnets was a stunning male, his photo is below, alongside that of a juvenile. The male is looking a bit "punky" - the wind was getting up by then and rearranged his crown feathers.
Somerford Common, Saturday, 9th July 2016
A quiet session (I seem to be saying that a lot recently) which turned out to be advantageous as, unfortunately, my team cried off with illnesses at the last minute, and Charlie Stockley came on his second taster session. It gave me a chance to work closely with him, so that he could make his decision. I am pleased to say that he has decided he would like to train to become a ringer. As he is under sixteen, both he and his family can look forward to some early mornings in future. Fortunately, his father, Neil, has a similarly eclectic taste in music to mine, so we had plenty to talk about in the quieter moments.
The catch was: Blue Tit 2(2); Great Tit 1; Marsh Tit (1); Robin 3: Song Thrush 1; Blackbird 2(1); Blackcap 1(1); Garden Warbler 1; Chiffchaff 2(3). Totals: 12 ringed from 8 species, 8 retrapped from 5 species, making 20 processed from 9 species. Unlike recent catches elsewhere, the proportion of fledglings was 13 to 7 in favour of adult birds. The juveniles were of the Blue and Great Tits, the Garden Warbler, Song Thrush and one of the Blackbirds.
The juvenile Blackbird highlights what a difficult breeding season it has been. As you can see from the photograph below, the tail has sheared off quite high up. It looks almost as if the feather shafts have been snipped with scissors. This will have been where a fault bar developed when feeding proved difficult, at the time of high feather growth in the tail. It was already regrowing the tail feathers, so it had presumably broken off a while ago.
ST/CS
CES 7: Lower Moor Farm, Wednesday, 6th July 2016
With the recent (seeming) arrival of summer, it was encouraging to see the arrival of good numbers of newly fledged birds during the session at Lower Moor Farm today. Jonny, Ellie and I met at 4:30 and had the nets open by 5:30 and we started catching straight away. The catch turned out to be nearly twice the size of last year's equivalent session, and we finally caught a reasonable number of young Blue Tits. My bird of the day was a juvenile Sedge Warbler (photograph below). Having had a single adult ringed on the site in 2013, the same bird retrapped in spring 2014 and 2015 (with 2 additional birds in 2015: one adult in spring and a juvenile on autumn passage), so far this year we have caught four new Sedge Warblers, two of which, including today's, were newly fledged youngsters. Early days, but hopefully this is the start of regular breeding on the site. However, I am only cautiously optimistic, as the Cetti's Warblers that arrived and bred successfully last year disappeared from the site by the end of May this year, with no sign of breeding. We heard a brief call during our session today, but it wasn't located or trapped.
The list for the session was: Treecreeper 4; Blue Tit 9(1); Great Tit 1; Long-tailed Tit 3; Wren 5(2); Dunnock (2); Robin 4(1); Song Thrush 1(1); Blackbird 1; Sedge Warbler 1; Blackcap 6(3); Garden Warbler 3; Lesser Whitethroat 2; Chiffchaff 18; Willow Warbler 1(1); Goldcrest 1; Bullfinch 2(2). Totals: 62 ringed from 16 species and 13 retrapped from 8 species, making a total of 75 birds processed from 17 species. Of this catch, the only adults were the retrapped birds (except one of the Dunnocks, which was a juvenile ringed last session), and from the newly ringed birds: three Blackcaps, the two new Bullfinches, the Willow Warbler and one of the many Chiffchaffs, making 19 adults from 7 species and 56 newly fledged juveniles from 14 species.
The young Blue Tits have arrived at last but, in pure number terms, the 17 juvenile Chiffchaffs were an excellent catch. Catching newly fledged youngsters from six warbler species is also extremely encouraging. We were joined briefly by a group from Natural England, doing a survey of Mallard Lake and the surrounding vegetation: presumably related to the SSSI status of the lake. ST/EJ/JC
Red Lodge, Saturday, 2nd July 2016
We were scheduled for a session in Red Lodge today and, with the weather forecast for the day being dry but breezy, a woodland site was certainly the best option. I was joined for the session by Jonny and Ellie and Annie Hatt came along for her second taster session. With the continuing low numbers of juvenile Blue and Great Tits in other sites I was interested to see whether the situation was any different in Red Lodge. The short answer, for Blue Tits, is "No". We caught one adult and no juveniles. It is impossible to compare with last year, because the site underwent significant thinning operations throughout the whole of last Spring and Summer and access was limited. Great Tit numbers were similar to 2014 levels, with six juveniles ringed. The acid test will be in August, when both species had 20+ individual juveniles in 2014.
There was a complete absence of Long-tailed Tits, compared with 16 at the same time in 2014. However, on the bright side, we caught two juvenile Marsh Tits, showing once again the consistency of breeding efforts in the Braydon Forest for this threatened species. This makes four new Marsh Tit ringed at Red Lodge this year so far, which compares well with one in 2015 and five in the entirety of 2014.
The list for the session was: Blue Tit 1; Great Tit 6(2); Marsh Tit 2; Wren 2; Robin 4(1); Song Thrush 1; Blackbird 2(1); Blackcap 6; Chiffchaff 3(1); Bullfinch 1. Totals: 28 ringed from 10 species, 5 retrapped from 4 species, making a total of 33 processed from 10 species. All of the retrapped birds were adults; all of the ringed birds, except the Blackcaps, Bullfinch and Blue Tit, were juveniles.
Ellie had to leave at 10:30 to get to Blakehill Farm for their "Magnificent Meadows" event, as she was scheduled to be chief barbeque cook for the afternoon (proving that equality has reached the last bastions of male dominance). This meant that she missed the 10 minute downpour that marred an, otherwise, sunny Summer's day. Annie enjoyed her second session and is now going to join the team as a trainee ringer. ST/JC/EJ/AH
CES 6: Lower Moor Farm, Thursday, 30th June 2016
With yesterday's weather forecast being for the wind to get up and the rain to be heavy by 10:00 am, I decided to postpone CES visit 6 until today. Yesterday, instead, I did my second breeding bird survey (BBS) visit to Brown's Farm (loads of Yellowhammer, Linnet, Skylark and House Sparrow in the hedgerows and over 20 Hares in the fields, unfortunately no Quail this year, yet - I love the place). The BBS takes me about 2 hours to complete and, with a 6:00 start, I was leaving at about 8:00. The forecast was 100% accurate: by the time I got home (about 8:30) it was spitting with rain and it grew steadily worse. Today, by contrast, was calm, dry and reasonably warm. Fortunately, Jonny was able to rearrange his schedule and join me and we had a very comfortable ringing session.
Catches are still down on last year: everything is a week or so late and the absence of titmice is noticeable. For example, in the corresponding visit last year we caught 17 juvenile Blue Tits, this year 1; 8 juvenile Great Tits, this year 2. This seems to be the story of 2016 so far: a terrible year for titmice. Nonetheless, we had a good and varied catch, as follows: Kingfisher 1; Blue Tit 1; Great Tit 2(1); Wren 1(1); Dunnock 1(2); Robin 3; Song Thrush (1); Blackbird 2(4); Sedge Warbler 1; Blackcap 9(1); Garden Warbler 5(1); Whitethroat 2; Lesser Whitethroat 1; Chiffchaff 7(2); Willow Warbler 1(3); Chaffinch 1; Greenfinch 2; Bullfinch (1). Totals: 40 birds ringed from 16 species; 17 birds retrapped from 10 species, making a total of 57 birds processed from 18 species.
This catch delivered our first juvenile Wren, Garden Warblers, Whitethroat, Lesser Whitethroat, Chaffinch and Greenfinch and second juvenile Kingfisher of the year. Of the 57 birds processed, 34 of them were juveniles. One of the juvenile Blackcaps had a very dark crown. It hadn't started its post-juvenile moult, so it was clearly born with the feathers with this colour. I have seen dark-crowned juveniles before but this one seems particularly dark.
We caught an adult female Willow Warbler who had already started her post-breeding moult, with 5 of her old primaries already replaced by newly growing feathers, and her tail completely gone and in the early stages of regeneration (we checked - there were no tail feathers in or around the net, nor in the holding bag).
The juvenile Whitethroat hadn't yet started its post-juvenile moult: whereas the juvenile Lesser Whitethroat, Sedge Warbler, Chaffinch, Greenfinch and a couple of the Willow Warblers, Garden Warblers and Blackcaps were well into post-fledging moult. We are having a decent year for Kingfishers, with another juvenile caught today, bringing the total ringed this year to 4 (the same as last year, only these have been caught in singles and last year three were caught in one session). The downside so far this year is the absence of Cetti's Warbler: they are around the site but seem to have moved away from our ringing area.
With the breeze getting up and rain threatening, we ended the catching at 11:00 and were packed up and leaving site 45 minutes later. ST / JC
Lower Moor Farm Bio-Blitz, Saturday, 25th June 2016
Every year the Wiltshire Wildlife Trust hold a Bio-Blitz at one of their nature reserves, bringing people and their families into touch with all aspects of the wildlife (flora and fauna) on the chosen reserve. Last year it was at Blakehill Farm, this year it was at the Lower Moor Farm complex (Lower Moor, Sandpool and Clattinger Farms). I was joined for the session by Annie Hatt. Annie came to one of my ringing demonstrations at Ravensroost and decided that she would like to find out more about it, so today she came along for a taste of what it is all about. Because the Bio-Blitz didn't officially start until 10:00 we didn't start too early: getting the nets open for about 8:30. As a result, we didn't catch a large number of birds, but we managed to have enough to show to the people who came through, and it gave me an opportunity to give Annie time to get used to handling the birds and do some ringing and processing of the birds. By far and away, my biggest challenge of the morning was extracting the numerous Black-tailed Skimmers and Emperor dragonflies that decided they would like to get tangled in my nets. Fortunately, I have developed a strategy for extracting them that helps them keep their heads: pushing them through the net rather than trying to pull them out (dragonfly heads have seriously thin necks to attach them to the thorax). It works well, except for the occasions when they have decided to try and eat the net. These were the main culprits:
Male & Female Black-tailed Skimmer:
Male Emperor:
The bird list for the day was: Blue Tit 1(1); Great Tit 1; Dunnock 1(1); Robin (2); Blackbird 1; Blackcap 3(1); Garden Warbler (1); Chiffchaff 1; Willow Warbler (2); Reed Bunting 1. Totals: 9 ringed from 7 species and 8 retrapped from 6 species, making a total of 17 birds processed from 10 species. The birding highlight of the day were the first juvenile Blackcaps of the year. Chatting to Robin Griffiths during the morning, he had noted his first family of Blackcaps during the week, so perhaps this is the start of the rush. What was clear was the unusually high number of fault bars on the tails, indicating just how difficult the early season breeding has been.
The wind got up at about noon, and dark clouds started rolling in, the nets were billowing too much for it to be safe for the birds, who had stopped finding the nets by then anyway, so we packed up and were away before the rain came in. ST/AH
Information about WOS
Wiltshire Ornithological Society was formed on November 30th, 1974, and has grown in recent years to more than 500 members.
Our mission is to encourage and pursue the study, recording and conservation of birds in Wiltshire
Portraits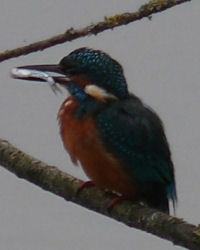 Latest News

In early June, three peregrine chicks were rescued from a nest in Shro...

New Incumbents At the WOS AGM on 5th April, Matt Prior was elected as...