West Wilts Group
The Firs: Wednesday, 3rd August 2016
With the forecast for Wednesday being for dry but windy weather, I decided to cancel the trip to Brown's Farm, as the farmland is too exposed, and head for the Firs. With the wind coming from the WSW, the trees at the Firs are ideally aligned to act as a wind break for the central glade. The problem with the Firs is that it is very hit and miss on numbers. I was joined for the day by Jonny Cooper and Andrew Bray: who had both been warned that the site might deliver 6 or 60 birds and any number in between. Well, the site delivered only 24 birds: but the first bird out of the nets was a Spotted Flycatcher and the penultimate bird out of the nets (and the last ringed for the session) was another. To put that into perspective: a total of 9 fledged birds were ringed in Wiltshire in 2015; 10 in 2014 and 5 in 2013. More excitingly for me: these were the first ringed by my team in Wiltshire; only the second I have ringed and the first that Jonny has ringed. We know that they nest in Ravensroost, and several have been seen there this year. As well as catching the two we ringed, we saw there were at least three in the wood and had excellent views, as they were hawking from insects in the oak trees adjacent to our ringing station for a good ten minutes..
The list for the session was as follows: Treecreeper 2; Great Tit (1); Wren 4; Robin 9(1); Spotted Flycatcher 2; Blackcap 3; Goldcrest 2. All of the birds, except the Great Tit, the retrapped Robin and one of the Treecreepers, were juveniles. Totals caught were: 22 ringed from 6 species and 2 retrapped from 2 species. Not the busiest session, but one of the more satisfying given the quality of the catch. ST/JC/AB
Ravensroost Wood: project session 4: 23rd & 31st July 2016
I try to do my Ravensroost project sessions on consecutive days but, unfortunately, it wasn't possible this month. Equally unfortunately, I did both sessions solo. It was hard work and a lot of ground covered as a result (but I need the exercise).
The list for the sessions was: Great Tit (1); Marsh Tit 1(1); Wren 1; Dunnock 2(2); Robin 12(5); Song Thrush (1); Blackbird 1(2); Blackcap 2(1); Chiffchaff 4(2); Bullfinch 1(1). Totals: 24 ringed from 8 species; 16 retrapped from 9 species, making a total of 40 birds processed from 10 species. This is actually a higher figure than for the corresponding session in 2015.
Any session that delivers a new Marsh Tit and the retrapping of another is a good session. ST
CES 9: Lower Moor Farm, Friday, 29th July 2016
With Jonny back from making me jealous in Iceland, he joined me to run CES 9 this Friday. The weather was weird. Although the forecast was for it to be dry all morning, with rain setting in at lunchtime, we arrived to damp conditions, which barely lifted all morning. It wasn't raining, as such, otherwise we would not have opened the nets, it was more like the water was in suspension in the atmosphere. Every now and again the sun poked its way through and, when the breeze got up about 10:30, it became clear and dry. Apart from the dampness, they were almost perfect conditions for ringing. The rain never arrived.
The session was pleasantly busy, with regular small catches of birds throughout the morning. Our list was: Kingfisher 1; Treecreeper 2(1); Blue Tit 3(3); Great Tit 3(2); Long-tailed Tit (1); Wren 2(1); Dunnock 1(1); Robin 1; Blackbird 7; Reed Warbler 2; Sedge Warbler 2; Blackcap 8(2); Whitethroat 1; Lesser Whitethroat 1; Chiffchaff 7(2); Willow Warbler 6; Goldfinch 2; Bullfinch (1). Totals: 49 ringed from 16 species; 14 retrapped from 9 species; making 63 processed from 18 species. The only adult birds caught this session were one each of Great Tit, Long-tailed Tit, Reed Warbler and Bullfinch; two each of Blackbird and Goldfinch and four Blackcaps. All others were juveniles. This catch was 11 birds fewer than the equivalent session last year. The primary difference seems to be, apart from the missing titmice, that the Garden Warblers have already left the site.
There were several highlights: not least a brood of four newly fledged Blackbirds and the male parent, all caught in the same net within 15 minutes of each other. The first was much less well-developed than the others, with its primaries all clearly still in pin at the base, and being some 20mm shorter than his nest mates and father. How can I be sure it was his father? Whilst the youngster was in the net this male, with a distinctive bald patch around the eye, was hopping around the willow carr calling to the youngster. Once I had extracted the fledgling and taken it away for processing, I returned it to the area where it was caught, so that it was in familiar territory. What was clearly the same male, with the three other fledglings, were sitting in the net ready for extracting and processing, so I am pretty confident that they were a family group. The juvenile male Kingfisher was our fifth one ringed this year, which is one more than in the whole of last year. Always a pleasure and, as we had an audience when Jonny brought it back to the ringing station, a great bird to encourage people to listen to and understand the value of ringing. Catching more Sedge and Reed Warblers, particularly juveniles, was very encouraging: not to mention the juvenile Whitethroat, Lesser Whitethroat and six juvenile Willow Warblers.
Willow Warbler:
Of course, rearing young is an energetic and costly process for the birds involved, as the following photograph of an adult male Great Tit shows:
It is perfectly healthy, just well into its post-breeding moult, and not looking his best. ST / JC
Iceland: 15th to the 24th July 2016
The following is a brief account by Jonny Cooper of his recent trip to Iceland. As a trainee ringer, he is certainly packing a lot of high quality experience through his contacts within the various conservation organisations for which he volunteers - especially the Wildfowl & Wetlands Trust.
I had the pleasure of spending 10 days undertaking fieldwork in Iceland from 15th – 24 July. The base for the trip was the island of Flatey in the Breiðafjörður in north-west of the country. Representatives from the Icelandic Institute of Natural History have been undertaking annual trips to Flatey to survey, monitor and ring the seabirds and waders in the area.
The central focus of the trip this year was satellite tagging of Kittiwakes to investigate their foraging habits. Over the first two days 16 birds were fitted with tags and marked to allow easy identification within the colony. The tags were left on for 3 – 5 days and then attempts were made to retrieve them, 13 tags were retrieved. The data revealed all but one of the birds foraging much further to the south, outside of the Breiðafjörður area. This is the third year of such tagging and a picture is being built up of how these declining birds use their habitat, as can be seen from the graphic below:
Other species surveyed and ringed included: Fulmar, Arctic Tern, Ringed Plover, Shag, Puffin, Snipe and Oystercatcher. In addition to this on the final day we had a session flick netting Red-necked Phalarope which congregate in large numbers in the tidal bays around the island. It is amazing to think these tiny birds will spend the winter on the beaches of South America.
My personal totals for the trip were: Ringed (Retrapped) [Pulli]: Kittiwkake 5(5)[139]; Puffin 1(3)[3]; Shag [22]; Arctic Tern 8[33], Ringed Plover [5], Black Guillemot [9]; Snipe 1(1), Oystercatcher 1; Fulmar 3[1], Red-necked Phalarope 20.
Puffin: Red-necked Phalarope:
CES 8: Lower Moor Farm, Friday, 22nd July 2016
This hot weather seems to be having an impact on bird activity or, at least, it is on my ringing sites. With Tuesday's session at Tedworth House yielding a mere five birds in five hours, with some singing and very little movement, I was interested to see what we might catch at Lower Moor Farm today. I was joined for the session by Ellie (at her flagship reserve). The morning started fantastically: as I was setting my first net I noticed movement on Mallard Lake. I had excellent views as an otter swam from the bank in the wildlife refuge and headed directly towards me, only diving under the surface when about ten metres away from me. It is only the second time I have seen them there. Now, if I can only find the beaver that is sculpting the landscape in the refuge area, I will be delighted.
We had a good session: only 46 birds, which is a considerable drop on the 103 birds we caught in the equivalent session last year, but almost all of that can be put down to much smaller numbers of Blackcap, Blue and Great Tits and the complete absence of Long-tailed Tits from today's catch. Our list for the day was as follows: Blue Tit 2(5); Great Tit 2; Wren 7(3); Dunnock 2; Robin 2(1); Cetti's Warbler 1; Reed Warbler 1; Lesser Whitethroat 1; Blackcap 2(1); Chiffchaff 12; Willow Warbler 3; Greenfinch 1. Totals: 36 birds ringed from 12 species and 10 retraps from 4 species, making a total of 46 birds processed from 12 species.
As usual at this time of year, the majority of the birds caught were juveniles. Given my concern after the last CES session, it was a real pleasure to catch a newly fledged Cetti's Warbler. Perhaps they have just moved over the border into Gloucestershire. Amongst the warblers, we also had newly fledged juveniles of Reed Warbler, Lesser Whitethroat, Chiffchaff and Willow Warbler, plus some tremendous wing moult going on in two adult Willow Warblers and one of the Blue Tits.
Cetti's Warbler Reed Warbler
Brown's Farm, Wednesday, 13th July 2016
Whilst doing the second Breeding Bird Survey visit to Brown's Farm at the end of June, I noticed there was a significant amount of activity along the metalled track from the farm to the area of the disused railway line. With the forecast for Wednesday being for low wind speeds until about 10:00a.m. Jonny and I went for a session to see what we could catch along a part of that track. In the event we had a good, varied set of birds. Jonny got to ring his first Woodpigeon and we ringed our first Swallow of the "summer". Next time we will try a different area of the track, nearer to the farmyard, to see what the difference in the catch might be.
The list for the day was: Woodpigeon 1; Swallow 1; Blue Tit 5; Great Tit 3; Wren 1; Dunnock 7(1); Robin 3: Blackcap 3; Whitethroat 3; Chaffinch 1; Linnet 8; House Sparrow 1; Yellowhammer 1. Totals: 38 birds ringed from 13 species and 1 bird, a Dunnock, retrapped. The retrapped Dunnock is a Control. It will be interesting to see where it was originally ringed, given that there are several ringing sites within the local area.
As is now becoming the norm, the majority of the birds were juveniles: 23 of the 39 caught. The Woodpigeon, Whitethroats, Chaffinch, four of the Dunnocks and Linnets, and the Yellowhammer were adult birds, the rest were juveniles. One of the Linnets was a stunning male, his photo is below, alongside that of a juvenile. The male is looking a bit "punky" - the wind was getting up by then and rearranged his crown feathers.
Somerford Common, Saturday, 9th July 2016
A quiet session (I seem to be saying that a lot recently) which turned out to be advantageous as, unfortunately, my team cried off with illnesses at the last minute, and Charlie Stockley came on his second taster session. It gave me a chance to work closely with him, so that he could make his decision. I am pleased to say that he has decided he would like to train to become a ringer. As he is under sixteen, both he and his family can look forward to some early mornings in future. Fortunately, his father, Neil, has a similarly eclectic taste in music to mine, so we had plenty to talk about in the quieter moments.
The catch was: Blue Tit 2(2); Great Tit 1; Marsh Tit (1); Robin 3: Song Thrush 1; Blackbird 2(1); Blackcap 1(1); Garden Warbler 1; Chiffchaff 2(3). Totals: 12 ringed from 8 species, 8 retrapped from 5 species, making 20 processed from 9 species. Unlike recent catches elsewhere, the proportion of fledglings was 13 to 7 in favour of adult birds. The juveniles were of the Blue and Great Tits, the Garden Warbler, Song Thrush and one of the Blackbirds.
The juvenile Blackbird highlights what a difficult breeding season it has been. As you can see from the photograph below, the tail has sheared off quite high up. It looks almost as if the feather shafts have been snipped with scissors. This will have been where a fault bar developed when feeding proved difficult, at the time of high feather growth in the tail. It was already regrowing the tail feathers, so it had presumably broken off a while ago.
ST/CS
CES 7: Lower Moor Farm, Wednesday, 6th July 2016
With the recent (seeming) arrival of summer, it was encouraging to see the arrival of good numbers of newly fledged birds during the session at Lower Moor Farm today. Jonny, Ellie and I met at 4:30 and had the nets open by 5:30 and we started catching straight away. The catch turned out to be nearly twice the size of last year's equivalent session, and we finally caught a reasonable number of young Blue Tits. My bird of the day was a juvenile Sedge Warbler (photograph below). Having had a single adult ringed on the site in 2013, the same bird retrapped in spring 2014 and 2015 (with 2 additional birds in 2015: one adult in spring and a juvenile on autumn passage), so far this year we have caught four new Sedge Warblers, two of which, including today's, were newly fledged youngsters. Early days, but hopefully this is the start of regular breeding on the site. However, I am only cautiously optimistic, as the Cetti's Warblers that arrived and bred successfully last year disappeared from the site by the end of May this year, with no sign of breeding. We heard a brief call during our session today, but it wasn't located or trapped.
The list for the session was: Treecreeper 4; Blue Tit 9(1); Great Tit 1; Long-tailed Tit 3; Wren 5(2); Dunnock (2); Robin 4(1); Song Thrush 1(1); Blackbird 1; Sedge Warbler 1; Blackcap 6(3); Garden Warbler 3; Lesser Whitethroat 2; Chiffchaff 18; Willow Warbler 1(1); Goldcrest 1; Bullfinch 2(2). Totals: 62 ringed from 16 species and 13 retrapped from 8 species, making a total of 75 birds processed from 17 species. Of this catch, the only adults were the retrapped birds (except one of the Dunnocks, which was a juvenile ringed last session), and from the newly ringed birds: three Blackcaps, the two new Bullfinches, the Willow Warbler and one of the many Chiffchaffs, making 19 adults from 7 species and 56 newly fledged juveniles from 14 species.
The young Blue Tits have arrived at last but, in pure number terms, the 17 juvenile Chiffchaffs were an excellent catch. Catching newly fledged youngsters from six warbler species is also extremely encouraging. We were joined briefly by a group from Natural England, doing a survey of Mallard Lake and the surrounding vegetation: presumably related to the SSSI status of the lake. ST/EJ/JC
Information about WOS
Wiltshire Ornithological Society was formed on November 30th, 1974, and has grown in recent years to more than 500 members.
Our mission is to encourage and pursue the study, recording and conservation of birds in Wiltshire
Portraits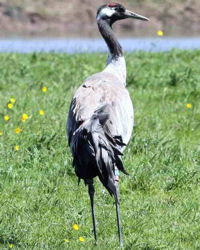 Latest News

A new Atlas section has been added to the web site. This shows distrib...

The two peregrine chicks being raised on Salisbury Cathedral have fled...