West Wilts Group
Somerford Common, Saturday, 9th April 2016
With the weather forecast for the day being a bit hit and miss, we went for a session at Somerford Common. I was joined by Ellie and Jonny. We kept it simple, in case we needed to take down quickly, with a run of nets either side of the path, up the hill. There were quite a few birds around but we didn't manage to lure too many of them in. However, there were a couple of highlights: our first Blackcap of the year and a returning Chiffchaff ringed as a juvenile in August 2014.
The list for the day was: Great Tit (2); Long-tailed Tit 1; Wren 1; Dunnock 1; Robin 3; Blackcap 1; Chiffchaff 2(2); Goldcrest 3(1). Totals: 12 new from 7 species and 5 retraps from 3 species.
We decided to start packing up at about 11:30 and, just as we finished, a few drops of rain started to fall. Unfortunately, some idiot had indulged in a bit of pointless vandalism, smashing the pole gate to the site. Pointless because the entrance is already blocked with large granite rocks preventing access (and making my life considerably harder as I now have to lug my gear to the top of the hill for my normal summer / autumn catching area). The Forestry Commission really had no choice, as vandals were continually breaking the gates and thieves were then using the easy access to steal timber. Possibly they were the same people. Coincidentally, Somerford Common is also the only site I winter feed where I have had bird feeders stolen. What is it about some of the people that go there? ST/EJ/JC
Langford Lakes, Wednesday, 30th March 2016
This Wednesday session was part of a family day organised between the Wiltshire Wildlife Trust and Help4Heroes, to mark the repair of existing, and production of two new, tern rafts for the Lakes reserve. Volunteers at Help4Heroes had undertaken to help the Trust staff with the work to benefit the Terns and this was organised by way of a "Thank you". With Mike and Rob unavailable I agreed to run the ringing demonstration at the day. I was helped by Ian Grier, Jonny Cooper and Andy Palmer for the session: my thanks to them.
One of the issues with ringing demonstrations is always the start time. When we are ringing normally, we set the nets before sunrise and the most active catching time is usually the first couple of hours after dawn. This session started at 10:00, so we set the nets and opened them at about quarter to the hour. Under the circumstances, we had a reasonable catch: Treecreeper 1; Blue Tit 1; Great Tit 2(1); Long-tailed Tit (1); Wren 1(1); Blackbird 2(2); Chiffchaff 2; Goldcrest 1; Goldfinch 1. Totals: 11 new from 8 species and 5 retrapped birds from 4 species.
The catch was spread out across the entire session, and the children (and their parents) got the opportunity to get very close to a good number of bird species.
They had a day of making things and seeing things they hadn't done or seen before. Felting, making and launching their own small rafts, helping launch the new tern rafts - and with a first class barbecue lunch to fuel the experience. ST/IG/JC/AP
Ravensroost Woods, Friday, 25th March 2016
With the forecast for the Easter weekend being the norm for a bank holiday, I took advantage of the fabulous weather today to get out and run a session in Ravensroost Woods. Unlike the last session in the meadows, this session did not yield a single Blue, Great or Coal Tit. I was working solo and, with the rain this week, some of the rides were extremely muddy, so it was pretty hard work. The catch was fairly small, but interesting nonetheless: Nuthatch 1; Marsh Tit (1); Long-tailed Tit (2); Wren 2(4); Robin 1(1); Song Thrush 1; Blackbird 2; Chiffchaff 4(1); Goldcrest 1(1). Totals: 12 new from 7 species and 10 retraps from 6 species.
Many of the birds are coming into breeding condition. Of the Chiffchaffs, those that could be sexed were males. This is normal: the males arrive and set up their territories before the females arrive on site. As well as the Chiffchaffs, the new Goldcrest, the Long-tailed Tits, Marsh Tit, Song Thrush, retrapped Robin and two of the retrapped Wrens were showing as males. Both of the Blackbirds and the Nuthatch were females and were already developing a brood patch, whereas the new Goldcrest, a female, was not yet showing any sign of defeathering.
There was a lot of birdsong in the air: a lot more than I managed to catch, but it was a delightful morning in a lovely spot with plenty of birding to do in the quiet periods. A male Sparrowhawk hunting was a highlight. There were half-a-dozen Brimstone and one Peacock butterfly gliding along the main ride and a few bees looking for early flowers. ST
Wood Lane, Wednesday, 23rd March 2016
The landowner of my Wood Lane site contacted me to let me know that there were still good numbers of Siskin and Lesser Redpoll coming to the feeders in her garden. With a good weather forecast for the day, Jonny Cooper and I set up to test the situation. The site is fed all year round with peanuts and nyjer seed and, as a result, it has a large resident population of titmice. To avoid being inundated with titmice, we initially set our nets close to the nyjer seed feeders and between two newish copses (trees about 3m tall) 150m from the feeding station.
About 10:00, as the numbers of other birds decreased at the other nets, we set a couple of nets close to the peanut feeders: instantly we had our hands full with Blue, Great and Coal Tits. We emptied the nets and closed them again - we weren't looking for that much hard work!
The list for the session was as follows: Treecreeper 1; Blue Tit 22(5); Great Tit 4(1); Coal Tit 5; Long-tailed Tit (1); Wren 1(1); Dunnock 1; Robin 3; Blackbird (1); Goldcrest 4(1); Chaffinch 4; Goldfinch 11(1); Lesser Redpoll 3(1); Siskin 9(1); Greenfinch 1. Totals: 69 new from 13 species and 13 retrapped birds from 9 species.
As the list shows, we had both Siskin and Lesser Redpoll in the catch: particularly good numbers of Siskin. The retrapped bird was one we ringed in Webb's Wood in February: not a long distance and, with the site backing onto the wood, not really surprising. However, we also retrapped a Goldfinch that is not fitted with one of my rings. Z731223 - I shall look forward to finding out where it has come from.
A fair proportion of the birds are showing signs of coming into breeding condition: particularly the males. No doubt the need to establish territories and increasing day length has boosted their testosterone levels, prompting the early development of the cloacal protuberance. However, a couple of the female Siskin were starting to defeather their bellies: a necessary precursor for brooding eggs and young.
Male & Female Siskin:
Male Lesser Redpoll:
ST / JC
Lower Moor Farm, Monday, 21st March 2016
With a fine forecast for this morning, and with Jonny being on holiday from UWE (the joys of being a student: like being retired but with more energy and less money), we went for a session at Lower Moor Farm. It was a good session: we had our first Chiffchaffs of the year, two Kingfishers: one new plus a retrapped adult male ringed last year and a pair of Nuthatch.
The list for the day was as follows: Kingfisher 1(1); Nuthatch 2; Treecreeper (1); Blue Tit (2); Great Tit 1; Long-tailed Tit 2(2); Wren 1(2); Dunnock 1(2); Robin 1(2); Song Thrush 1(1); Blackbird 2; Chiffchaff 6; Goldcrest 1. Totals: 19 ringed from 11 species and 13 retrapped from 8 species. The retrapped Kingfisher was a first for me: we have ringed 7 at Lower Moor Farm since August 2014: 2 adult males and 5 juveniles but this is the first one to be recovered.
The only slight disappointment was that we set a triangular net set with a lure to target Meadow Pipits. It worked, inasmuch as two of them turned up. One sat on the string at the top of one of the nets, another sat atop one of the poles: neither dropped in to visit. You can't win them all! ST / JC
Red Lodge, Saturday, 19th March 2016
It has been a long time since I have been ringing at the Forestry Commisssion's Red Lodge Plantation. Throughout 2015 contractors were on site thinning / harvesting the Beech woods and they were out of bounds whilst the work was ongoing. On my last visit the birds had clearly been disturbed by the activity and were giving the area a wide berth. This time round it was a good catch - even if it was almost exclusively birds with the last name Tit.
Whilst setting up the ringing station I was delighted to hear the call of a Lesser Spotted Woodpecker. I saw it in the top of one of the trees that surround the pond. When I heard one again from a different part of the wood a little later, I just assumed that it was the same individual. However, when the bird started drumming and got an answer from a different section of the wood I recognised that there must have been two birds. When a third started up I couldn't quite believe it. Last year they were heard and seen all over the Braydon Forest - and a family party was seen by Andrew Denley on the edge of Ravensroost Woods. Hopefully, with these mild winters, we might be gaining a decent sized Braydon Forest population.
Later in the morning, at about 10:00, a flock of 50 or more Redwing flew through the wood from the fields between Red Lodge and White Lodge. Unfortunately, I had thought they had started their migration north, so did not have the appropriate lure to attract them down.
The list for the day was fairly limited in species but worthwhile all the same: Blue Tit 15(4); Great Tit 10(1); Coal Tit 1; Marsh Tit 2(2); Long-tailed Tit 3(3); Wren 1; Robin (1); Blackbird 4; Goldcrest 2. Totals: 38 new from 8 species and 11 retraps from 5 species.
The key value of the catch were the 4 Marsh Tits: 2 new birds, and a retrapped fledgling and adult ringed last year. As often happens, I spent a considerable amount of time chatting, and explaining / showing what I do when ringing, with various people who passed by. One of the passers-by lived in one of the houses on the edge of the wood and was happy to share that he had seen one of my colour-ringed Marsh Tits on the feeders in his garden this winter. The bird in question was originally ringed as an adult in late December 2012, making it likely more than 4 years old - a reasonable age for a Marsh Tit which, according to the BTO's Bird facts, lives for only 2 years on average (although the oldest recorded lived over 10 years). ST
Tedworth House, Wednesday, 16th March 2016
Another cracking session at Tedworth House today. As usual, not many birds caught but a star species not often caught: Mistle Thrush. At first I was little disappointed to find that the bird I extracted was the Mistle Thrush caught and ringed in our session last May. However, that changed when about 30 minutes later I extracted another from the same net, in virtually the same position as the first. This bird was a bird that fledged last year which, on closer inspection, was showing a clear cloacal protuberance, i.e. it was a male. The exciting thing (apart from the novelty of ringing my second Mistle Thrush, the third on my rings (I gave the aforementioned retrapped bird to Andrew Bray to ring when we first trapped it last May, as he had never previously processed one)) is that we have a male and a female Mistle Thrush inhabiting the same patch of woodland. The female from last year already had a developing brood patch. Hopefully they will nest and successfully raise a brood. It is a declining species, being red listed because of its reducing numbers and contracting range in the UK, so any potential breeding is very welcome. Very few have been ringed in Wiltshire over the years: only 5 adults and 2 juveniles between 2007 and 2014 (on-line records from the BTO web-site) and no retrapped individuals. Had I known that retrapped Mistle Thrushes are non-existent over those years (I don't have access to the 2015 data yet), I would have been even more excited by the catches made.
Dave Turner was leading a work party from the Amey Pathfinder group and they were delighted to make the close acquaintance of a Mistle Thrush and, contrastingly, a Goldcrest. The list for the day was: Blue Tit 2; Coal Tit (3); Long-tailed Tit 2; Wren 1; Robin 1; Blackbird 1(1); Mistle Thrush 1(1); Goldcrest 1(1). Totals: 9 new from 7 species and 6 retraps from 4 species.
Jack Daw is a stalwart of the BTO's nest record scheme, spending hours every year monitoring breeding birds on Salisbury Plain and ringing nestlings. He is working at Tedworth House these days, and is going to take on the task of finding and monitoring the nests at this site. There is a large number of bird boxes that have been put up around the wood but, of course, many species of bird do not use boxes, and Jack has the skills to find and monitor these other nests. This will add tremendous value to the information about the birdlife at Tedworth.
Thanks to Dave and Jack for helping me set up the nets this morning - and an extra thank you to Dave for the very welcome bacon sandwich at 9:15 this morning. ST
Brown's Farm, Saturday, 12th March 2016
For a number of reasons, beyond the control of all parties, this was our first session on Brown's Farm since September of last year. I was joined by Jonny Cooper and we had a quiet, but enjoyable, session. It looks like a lot of the finch flocks have broken up to pair for breeding already. We do not feed the site during the winter, as it is out of bounds due to the pheasant / partridge shoot business the farmer runs, so we are dependent on the birds taking advantage of the game cover and feed - most of which has already been removed, with the new borders starting to grow but not yet productive.
The list for the day was: Treecreeper 1; Blue Tit 2; Long-tailed Tit 1; Wren 1; Dunnock 4(1); Song Thrush 1; Blackbird 3; Linnet 1; Yellowhammer 5. Totals: 19 new birds from 9 species and 1 retrap.
The most surprising bird of the morning was the Treecreeper. We caught it in a net set along the hedgerow bordering the track (the red one on the photograph below) a long way from any woodland. It was a juvenile, presumably looking for a territory of its own.
The Linnet was an adult female:
One of the Blackbirds was developing an overgrown bill tip:
Bill problems are quite common in Blackbirds. This is a very mild one but, if we retrap the bird later, it will be interesting to see whether it has overgrown further. ST / JC
Information about WOS
Wiltshire Ornithological Society was formed on November 30th, 1974, and has grown in recent years to more than 500 members.
Our mission is to encourage and pursue the study, recording and conservation of birds in Wiltshire
Portraits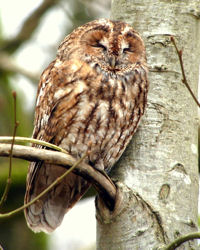 Latest News

WOS AGM commences at 7.30 pm on 5th April at the Corn Exchange, Devize...

We are very sorry to have to announce that James Ferguson-Lees, Presid...