West Wilts Group
Tedworth House: Wednesday, 16th August 2017
A reasonable session at Tedworth House in terms of numbers for the site but really interesting for other reasons. Dave Turner and Gemma Clinch from the Wildlife Trust were running their first session of their new forest skills group: training some of the people being helped by H4H in traditional woodland skills and appreciation. Our first catch was, basically, Blue Tits. The second catch was a lovely group of Green and Goldfinches, which attracted a large audience of staff and the forest skills group. I am always delighted by the responses that I get from the people at Tedworth.
The catch for the day was: Nuthatch 1; Blue Tit 6(1); Coal Tit 1; Wren 1; Dunnock 1(1); Robin 1; Blackbird 1; Blackcap 1; Chiffchaff 1; Goldfinch 3; Greenfinch 2. Totals: 19 birds ringed from 11 species; two retrapped from two species, making 21 processed from 11 species. Of the 21 birds caught, 17 were birds that have fledged this year: the adults were the two Greenfinches, one of the Goldfinches and one of the Blue Tits. Interestingly, and coincidentally, we have only caught Goldfinches and Greenfinches once before at Tedworth: both on the 13th May 2015. It seems they come together or not at all. ST
Red Lodge: Saturday, 12th August 2017
The inglorious twelfth started with the disappointment of not being able to ring at Brown's Farm. The forecast was for fairly high gusts of wind alongside a reasonably low base wind speed. We have spent far too much time extracting and repairing nets caught in hedgerows to risk it, so we decided to do one of the woodland sites. Red Lodge was the next due for a visit and it turned out to be a pretty decent session for the team. For the first time for a couple of months, we had a good sized team out with Ellie, Jonny, Annie and David joining me. We put up 11 x 18m nets along the cross paths and by the ponds in the north-west section of the wood.
The session started well with two new Marsh Tits ringed from our first round. We finally ended up with four of them ringed and two others retrapped. Definitely our best ever catch of this red-listed species,.and we are confident of eclipsing our previous best annual totals for these birds this year. Our four newly-ringed birds were all juveniles, and the two retrapped birds were ringed as juveniles last year. As far as the catch went there was only one disappointment: a female Sparrowhawk had chased a Blue Tit into the net and got a little entangled. Unfortunately, it managed to untangle itself about 10 seconds after I spotted it was there and before I could get close enough to get a hold on her. She was a beautiful specimen and I had lovely views as she flew away.
The list for the session was: Nuthatch 2; Treecreeper 2(2); Blue Tit 18; Great Tit 20(2); Coal Tit 4; Marsh Tit 4(2); Wren 6; Robin 9; Blackbird 4; Blackcap 5; Goldcrest 4; Bullfinch (1). Totals: 78 birds ringed from 11 species, seven birds retrapped from four species, making a total of 85 birds processed from 12 species. Only 11 of these birds (all of the retraps, three of the Blackcap and one of the ringed Treecreeper) were adult birds. One of the Nuthatch could not be aged as it had completed its moult, whereas one of them was still clearly a juvenile in the last stages of post-fledging moult.
After last year's dearth, it is pleasing to be catching decent numbers of Blue, Great and Coal Tits - but Long-tailed Tits are remarkable by their absence. Many people, including me, have seen flocks of them in gardens but we are still catching very few of them. I mentioned in my last post about mortality rates. Well, one of our Blue Tits after extracting, decided to die on us. It went very floppy and closed its eyes and I was cursing myself for having tempted fate. However, I cupped it in my hands and blew onto it, massaged its chest a bit, blew on it again and was shocked as it opened its eyes and coughed a few times. As it still looked a bit floppy, I put it in a bag, on the basis that it was safer there than being placed in a bush to recover (especially with a female Sparrowhawk on the hunt, and the cries of a hungry juvenile being heard quite regularly from nearby). We returned to the ringing station and processed the extracted birds. Once we had finished the others, I opened the bag and was delighted to find the Blue Tit had fully recovered, biting me several times, as they do, as I took it out of the bag, and flying off strongly once processed.
On another theme touched upon in the last post: unnecessarily interfering people. It seems the local who objects to my having a bird table in the wood has returned and uprooted the table. We will have to get the cameras out again and catch this individual, to avoid a repeat of last winter's thefts and vandalism. ST/JC/EJ/AH/DW
Lower Moor Farm: Thursday, 10th July 2017: CES10
With Wednesday being rained off, we took advantage of a cracking day's weather forecast to run CES 10 on Thursday. Fortunately, both Jonny and David were available to help out. You cannot start a session better than to catch a Sparrowhawk before you have even finished opening the net ride in which you caught it (okay, catching a Yellow-browed Warbler in that particular net ride last autumn is a bit better). Jonny identified it straightaway: Woodpigeon he shouted, as he ran to extract it. Unfortunately for him, he went to the wrong side of the net and I actually extracted the bird. That is our second of the year, after a barren year in 2016.
We had a smaller catch than for the same session last year but it was a decent haul, with a good variety. The catch was; Sparrowhawk 1; Treecreeper (1); Blue Tit 3(2); Great Tit 1; Wren 3(1); Dunnock 5(1); Robin 1(1); Song Thrush (1); Blackbird 1(2); Blackcap 4(3); Garden Warbler 3; Chiffchaff 4(1); Willow Warbler 2; Goldcrest (1); Bullfinch 1(2). Totals: 29 birds ringed from 12 species; 16 birds retrapped from 11 species, making 45 birds processed from 15 species.
As is par for the course, the majority of the catch were juveniles: 36 of them. The Sparrowhawk was a juvenile male bird. We certainly catch males rather than females (4 to 1, currently). This could have something to do with the difference in size: the smaller males getting caught in the pockets of the nets, the females being that much larger they tend to bounce off. We were slightly disappointed not to catch any Sedge Warblers: it has been a blank year so far, but there was plenty of their chattering going on in the bushes alongside the boundary stream, but they never got close to our nets.
We had a lot of interaction with interested members of the public: particularly, we did a brief ringing demonstration to the children of the Wildlife Splash group, led by Dean and Rachel from the Wildlife Trust. It is always great fun to see how children relate to close encounters with our birds. There was also one slightly worrying interaction: we exchanged pleasantries with a couple walking their dog. About 30 minutes later Neil, the Reserves Manager, arrived to ask us how many dead Wrens we had in the nets that session. The answer was none. Apparently, these two had gone to the visitor centre and complained that there was a dead Wren in our nets and they have been unable to find us to tell us. How do you explain that? We checked with the staff members involved so we are confident that it was the couple we had a friendly exchange with. You know how, in the social media age, that sort of misinformation spreads in attempts to bring activities like ours into disrepute, so why do people do it? For the record, natural mortality of juvenile birds is 70% to 80% by the end of their first winter and 40% to 50% per annum for those that survive beyond that. Less than one bird in one thousand dies as a result of our ringing activities and, as a result of the information our ringing provides, many more birds survive that might otherwise not. ST/JC/DW
Webb's Wood: Sunday, 6th August 2017
I spent Thursday and Friday of this week working on the BTO's stand at Countryfile Live. It was a very interesting couple of days. If anybody reading this attended and noticed the absence of the RSPB from the Wildlife Zone, you might be interested in a couple of snippets I managed to extract from their people at the show. Their stand could not have been further from the Wildlife Zone. It was, ironically, alongside the BASC stand and their gundog arena. I was told by a couple of RSPB staff members that they had deliberately chosen not to be associated with the Wildlife Trusts, Bug Life, WWT, the BTO and all of the other organisations in the Wildlife Zone, as they wish to draw a distinction between themselves and the ordinary wildlife charities: whatever that means. Another thing you might not be aware of (as a member of 40 years, a fellow for 20+ of those, I certainly wasn't) is that they have changed their charter at the Charities Commission so that they are now, officially, a charity for all wildlife and the environment, to reflect their "Nature's Home" advertising. However, they do not wish to discard 100 years of branding by renaming themselves. I would have thought that a membership organisation should have had a consultation process prior to making such a fundamental change. Certainly, I didn't see any such consultation paper. I suppose they are now the Royal Society for the Protection of Biodiversity!
Anyway, with rain, thunder and lightning forecast for Saturday, I moved the weekend's ringing session at Webb's Wood to the Sunday. This meant that I lost my scheduled help for the day and did this session solo. At the start, it was one of those days when you thought: "Did I really get up at 4:00 am for this?" as I extracted and processed a mere 12 birds between 5:00 and 10:00. One of those birds was a controlled Willow Warbler, in the most beautiful and pristine condition. Assigning an age to it was very difficult, as there was no sign of any moult or feather wear anywhere. Although it wasn't one of my rings, I was using rings of that vintage back in 2014 / 2015 but fresh wings and tail made it very difficult. Logging it with the BTO's on-line recording system revealed it to be a three year old bird. So, it has completed its breeding and post-breeding moult close to the end of July. Failed breeder? One of the good things about the slow start to the morning was having the time to expand the biometric measurements that we normally take: adding in fat and pectoral muscle scores. This was, no doubt, the impact of working alongside the BTO's Lee Barber, who was carrying out ringing demonstrations at the Countryfile event.
From 10:00 onwards things improved rapidly, with another 29 birds processed in the next two hours. The list for the morning was: Jay 1; Blue Tit 1; Great Tit 11(1); Coal Tit 3; Marsh Tit 1(1); Long-tailed Tit 3; Wren 1; Robin 9; Blackbird (1); Willow Warbler (1); Goldcrest 2; Bullfinch 5. Totals: 37 birds ringed from 10 species, four birds retrapped from four species, making 41 birds processed from 12 species. As usual, youngsters were in the majority, with 27 of them being birds fledged this year. The two Goldcrests and Wren were both very newly fledged, with no sign of post-fledging moult.
Another juvenile Marsh Tit keeps adding to the good total building up for 2017 and a retrapped bird from October 2015 was a nice catch. This bird has been recorded on a total of five occasions since it was ringed. My favourite bird of the day was an adult Jay. Beautiful plumage, and this one was extremely docile: happy to hold a pencil in its claws rather than spearing my fingers. ST
Ravensroost Woods: Saturday, 29th July & Monday, 31st July 2017
With most of my team away, or whatever other excuse they had for not turning up, I had to split this project session into two parts so I could manage the nets effectively. I was joined by Steph and Lillie to help on Saturday. We weren't swamped with birds, so I could spend some time helping Lillie to ring and measure her first birds, at age seven. Catch them young (birds and potential ringers). On Monday, I worked solo, but spent a very pleasant hour with the Well Being team that were on site to continue repairs to the shooting hut and to build some Tawny Owl boxes for the wood.
Funnily enough, on the equivalent project session last year we caught 39 birds: this session we caught 39 birds. The list for the session was: Treecreeper 2; Blue Tit 1; Great Tit 1(1); Marsh Tit 2(2); Wren 3(1); Dunnock 1; Robin 7(2); Song Thrush 1; Blackcap 1; Garden Warbler 2; Chiffchaff 7(2); Bullfinch 2(1). Totals: 30 ringed from 12 species, nine retrapped from six species, making 39 birds processed from 12 species.
The majority of birds were juveniles but both Garden Warblers, the Bullfinches, two of the Chiffchaffs, the Dunnock, one each of the Robins and Treecreepers and the retrapped Wren, Great Tit and Marsh Tits, were adults. 10 adults and 29 juveniles. Garden Warblers are doing better in Ravensroost this year than last: in 2016 we ringed a total of five, all adults, all caught before the end of June. So far this year, we have ringed eight, two of which are juveniles. We have also retrapped two individual adults in Ravensroost this year, against none last year.
It continues to be a good year for Marsh Tits: another two new, juvenile birds ringed on Saturday brings the total to six ringed in Ravensroost this year, compared to five in the whole of last year; 13 ringed in the Braydon Forest, against eight by the end of July in 2016. We have also retrapped six individual birds in the wood so far this year: the same number as in the whole of last year. Across the entire forest we have retrapped 16 individual birds so far this year, compared with 18 last year.
The Well Being team were very interested in what I was doing. Whilst I have met all of the staff before, I had met only one of the volunteer group before, and none of them had seen the process. They took lots of photographs and asked plenty of intelligent questions and offered me a cup of coffee: so we all had a good time. ST/SB/LB
Lower Moor Farm: Thursday, 27th July 2017 CES9
I was joined for the session by Ellie and Jonny. We had to move Wednesday's session to Thursday because of the persistent rain but, fortunately, both were able to reschedule to Thursday. The forecast wasn't much better for today, but it was scheduled for light rain showers between 8:00 and 9:00, with heavy showers moving in from 11:00. In the event, there was a bit of very light drizzle at 8:00, which stopped at 8:30, and then we had a short, sharp shower at about 9:00, which lasted just long enough for Ellie to close half the nets before reopening them. Fortunately, the rain did not arrive again at 11:00 and we managed a full session.
Our catch was: Green Woodpecker 1; Blue Tit 1(1); Wren 1(3); Dunnock 1; Robin 2(1); Blackbird 1(2); Reed Warbler 3; Blackcap 15(2); Garden Warbler 5(2); Lesser Whitethroat 3; Chiffchaff 9; Willow Warbler 3; Bullfinch 3(1). Totals: 48 ringed from 13 species, 12 retrapped from seven species, making 60 birds processed from 13 species.
The catch compared favourably numerically with the equivalent catch last year: 60 birds processed (48 ringed, 50 juveniles) compared to 63 birds processed in 2016 (49 ringed, 49 juveniles). However, this catch had only two juvenile Blue Tits (6), no juvenile Great Tits (4), Blackbirds (5), Treecreepers (3) or Willow Warblers (6). (2016 values in parentheses.) Our catch today was much more warbler oriented, with the following juveniles: Blackcap 16; Chiffchaff 9; Garden Warbler 7; Lesser Whitethroat and Reed Warbler 3 each.
We were joined, briefly, by the Lower Moor Farm Watch Group: about 20 children, who arrived just as I was taking three juvenile Bullfinch from one of the net rides. They were delighted to get close to the birds and interested in the whole ringing process. We also spent a little time with a couple of photographers from Wootton Bassett, who we managed to help identify a couple of birds they had photographed but were unfamiliar with.
Our highlight was the fourth Green Woodpecker of the year caught at Lower Moor Farm: three ringed and one retrapped from August 2016. This was a juvenile male: fresh from the nest hole by the looks of its plumage. ST/JC/EJ
Somerford Common: Saturday, 22nd July 2017
It seems recently that every time we arranged a session at Somerford Common the weather would get in the way. The weather, having turned particularly capricious this week, saw Jonny and myself finally managing the session this morning. With rain forecast for early afternoon, and the possibility of showers in between, we took the risk and started setting up at 5:00. We were joined by Heather Woodhams. We bumped into Heather at the end of a session in Ravensroost, where she was looking to photograph butterflies and, when she saw what we were about, asked if she could join us for a session. This was the session. It did not start too auspiciously for her: the front off-side tyre of her car deflated as she pulled into the car park. Things got better (worse): having phoned the RAC to get someone out to change the wheel, they kept Heather on hold for so long that her phone ran out of credit. I suspect that they didn't have many staff on the help desk at 6:00. To be helpful, I loaned Heather my mobile: which ran out of battery whilst she was trying to get the man from the RAC to understand exactly where Somerford Common is. Thank goodness that Jonny is efficient: a fully charged and fully funded phone finally enabled proper contact to be made and all explanations given on how to find the car, and an hour later the RAC arrived.
To the birds: our foray to Somerford Common in July last year yielded just 21 birds, so this year's expedition was much more successful, with 43 birds caught: 34 ringed and 9 retrapped. As well as the increased number, the catch was decidedly more exciting this year. Delighted to say that we caught a juvenile Spotted Flycatcher. Following on from the juveniles caught in the Firs and Red Lodge last year, and the sightings in Ravensroost Woods over the last couple of years, this gives some hope for a possible breeding population in the Braydon Forest area. With the coppicing of the enclosure area, hopefully this will make the habitat even more attractive to these declining birds.
The list for the day was: Blue Tit (2); Marsh Tit 1; Long-tailed Tit (1); Wren 5; Dunnock 1(1); Robin 11(1); Spotted Flycatcher 1; Blackbird 2(1); Blackcap 4; Garden Warbler 2; Chiffchaff 5; Willow Warbler 1; Bullfinch 1(3). Totals: 34 birds ringed from 11 species, nine birds retrapped from six species, making 43 birds processed from 13 species.
Whilst there weren't as many juveniles as a proportion of the catch as we have been getting elsewhere, all of the Wrens were juveniles, ten of the Robins; the two Garden Warblers and two of the Blackbirds, plus one each of Marsh Tit, Dunnock, Blackcap and the aforementioned Spotted Flycatcher were juveniles. Another juvenile Marsh Tit is always welcome, bringing us to 7 juveniles out of 11 ringed for the year. This is looking better then last year when, by the end of July, we had ringed eight, of which four were juveniles.
A few words on Robins: their population seems to have been on a continuous upward trend for the last four years. Our team has ringed a regularly increasing number of them, as follows: 116 in 2013; 170 in 2014; 187 in 2015 and 204 in 2016 - with 101 already this year boding well for another excellent breeding season. Why this should be, I have no idea: perhaps they have started breeding earlier, with the mild winters and springs, and are getting more broods in the year; maybe the mild winters since 2012 are enabling more to survive and, therefore, increasing the potential breeding pool. Population trends are always interesting and the factors many and complex.
At about 11:00 a short, sharp shower, presaging worse to come, made it an easy decision to take down the nets. As the shower came out of nowhere, we had left the ringing table ready for operation. Thankfully, Heather, who was waiting for the RAC, had her brolly handy and managed to cover the record sheets and prevent them getting too wet, whilst we were closing the nets. I know Heather enjoyed her morning: getting the chance to get close to the birds and get some good photographs. She was taught how to handle and release the birds safely and was shown how to put a ring on a bird, how to measure a wing-length and to weigh it (not as simple as you might think). We are always heppy to welcome interested people.
We managed to get the nets down and everything packed away before the rains came. ST/JC
Lower Moor Farm: Friday 14th July 2017, CES 8
Jonny and I carried out CES 8 on Friday. It was a bit breezy but otherwise the weather was fine: with initial cloud cover, breaking up as the morning wore on with the sun breaking through at about 10:30. The catch was an improvement on last year with 73 birds caught compared with 47 in 2016's equivalent session but well down on the session in 2015 (103 birds caught).
The list for the morning was: Green Woodpecker 1; Treecreeper 1(2); Blue Tit 11(2); Great Tit 3(2); Wren 2(1); Dunnock 2(1); Robin 2; Song Thrush (1); Blackbird 2; Blackcap 7(2); Garden Warbler 2; Chiffchaff 18(1); Willow Warbler 4; Goldcrest 1; Greenfinch 2; Bullfinch (2); Reed Bunting 1. Totals: 59 ringed from 15 species, 14 retrapped from nine species, making 73 birds processed from 17 species.
The star bird of the session was the Green Woodpecker. It was a female, fledged last year, still with a red, veined brood patch: evidence that it was still brooding young. This is our third of the year (one was a retrap), which is already the best total we have had as a team.
Once again the catch was primarily youngsters, including a number of the retrapped birds, with 59 of the 74 being birds fledged this year. All of the Blue and Great Tits, all bar two of the Chiffchaffs and one of the Blackcaps were juveniles, as were three Treecreepers and Willow Warblers, two Wrens, Dunnocks, Robins, Garden Warblers, the Goldcrest and one of the Bullfinches. The continued presence of breeding Willow Warblers is particularly pleasing, as the evidenced northerly move of the UK population is likely to make this a rarer event. ST / JC
Information about WOS
Wiltshire Ornithological Society was formed on November 30th, 1974, and has grown in recent years to more than 500 members.
Our mission is to encourage and pursue the study, recording and conservation of birds in Wiltshire
Portraits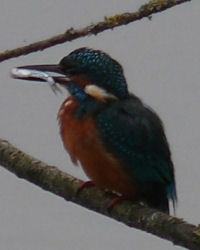 Latest News

A new Atlas section has been added to the web site. This shows distrib...

The two peregrine chicks being raised on Salisbury Cathedral have fled...