West Wilts Group
New location for the West Wilts Ringing Group
Future reports from the West Wilts Ringing Group can now be found at www.westwiltsringing.club.
Ravensroost Meadows: Saturday, 2nd September 2017
This summer has been a bit of a nightmare for getting out to our more open sites: with three visits to Brown's Farm and two to Blakehill being scuppered by the weather. It seems that we have managed to get hit by rain or high winds whenever such a visit is scheduled. Today we were scheduled for a session at Ravensroost Meadows, specifically the meadow pond and its surroundings. It is an excellent place at this time of year, as you never know what will drop in. The nets were set around the edge of the pond area. The red lines are the hedgerow nets, the blue lines are the nets over the causeway and along the spit on the eastern end of the pond.
Fortunately, the weather forecast was completely accurate, with a completely dry day and the wind speed never getting above 2mph. I had a team of Jonny, David, Steph and Lillie with me. At the equivalent session last year Jonny and I had a good catch of 92 birds, and we were hoping for something similar this time. The first round delivered a respectable 30 birds, including four Swallows caught in the causeway net. This was followed by a second round of 37 birds. It then settled down to a pretty regular 10 birds or so per round, which gave everybody a chance to ring some new species, and have the time to discover about ageing them at this difficult time of year.
Difficult because in many species, like Chiffchaff, adult and juvenile plumage is very similar. Immediately post-fledging, the youngsters have very fresh plumage, they then undergo their post-fledging moult, replacing poor quality body feathers adequate in the nest with better quality feathers for life on the wing. Whilst this is going on, their wing and tail feathers wear from foraging and their daily activities. At the same time, many of the adults have completed their post-breeding moult and now have fresh wing and tail feathers, like the youngsters but with slightly less wear. To compound the issue, we are still catching newly-fledged youngsters in full juvenile plumage, and some that are only part way through their post-fledging moult.
The highlight was our first Sedge Warbler at the complex. We have caught Reed Warblers there on occasion, but this was a good first. There is a larger pond at the complex which, once upon a time, supported both Sedge and Reed Warblers. Unfortunately, it is now horribly overgrown and full of Typha and is not suitable habitat for breeding warblers. It will need a lot of work to clear it out and make it suitable again. Any volunteers for a work party? Waders essential.
The list for the day was: Great Spotted Woodpecker 1; Swallow 25; House Martin 3; Blue Tit 21(1); Great Tit 4; Marsh Tit (1); Wren 6; Dunnock 2(1); Meadow Pipit 2; Robin 4; Sedge Warbler 1; Blackcap 7; Garden Warbler 1; Whitethroat 4; Lesser Whitethroat 4; Chiffchaff 21(1); Willow Warbler 8; Chaffinch 1; Goldfinch 18; Bullfinch 2; Reed Bunting. Totals: 136 birds ringed from 20 species, four birds retrapped from four species, making 140 birds processed from 21 species. All of the birds were juveniles except for one adult each of Swallow, Great Tit, Robin, Blackcap, Lesser Whitethroat, Willow Warbler, Bullfinch and the Great Spotted Woodpecker.
In addition to the Sedge Warbler, we caught our third and fourth Meadow Pipits at the site. Previously we have caught singletons in September 2014 and 2015. The retrapped Marsh Tit was ringed inside the wood at the end of July this year. It is a juvenile, possibly on dispersal looking for a territory away from the natal area. ST/JC/DW/SB/LW
Lower Moor Farm: Friday, 1st September 2017 - CES12
Because of the rain on Wednesday, we had to move CES 12 to this Friday - the penultimate day on which we could carry it out. It is pleasing that we have been able to do a full twelve session CES for the third year running. Fortunately, the move to Friday did not prevent Andrew Bray and David Williams from joining me to help with the session. We had a slightly better catch than for the same session last year, with 51 birds, compared to 46 in 2016. The highlights of the day were: the team's first retrap of a Reed Warbler sporting a Lisbon, Portuguese ring and our only Sedge Warbler of the year.
The list for the day was: Treecreeper 1; Blue Tit (1); Great Tit 2; Long-tailed Tit (1); Wren 1(1); Dunnock 1(2); Robin 2(1); Song Thrush 1; Blackbird 2; Reed Warbler (1); Sedge Warbler 1; Blackcap 21(3); Chiffchaff 5(2); Bullfinch 1(1). Totals: 38 birds ringed from 11 species, 13 birds retrapped from nine species, making 51 birds processed from 14 species.
As David and I were leaving the site, a superb male Redstart flew across the track in front of us. This is becoming a habit - and high time I started catching some. ST/AB/DW
New Zealand Farm: Thursday, 24th August 2017
With migrating birds on the move through the county already, I suggested to Ian Grier and Andy Palmer that a session at New Zealand Farm might be rewarding. The habitat is primarily hawthorn scrub, with extensive blackberry bushes and some elder, surrounded by the nearly ubiquitous chalk grasslands. It offers a lot of food for birds fattening up for migration, plus plenty of shelter. They agreed, and so, on Thursday, we rendezvoused at site and set several net rides throughout the bushes and three two-shelf nets along the dirt track across the Plain. Ian and Andy had a close encounter with a Nightjar, sitting on the dirt track as they made their way to site. As Ian himself said, unfortunately they were too busy chatting to react quickly enough to dazzle the bird and catch it for ringing.
As we are now out of the breeding season, lures are allowable. Quite often, it is still just a matter of luck, but this morning I set a lure for Tree Pipit, and first round there were three Tree Pipits sitting in that net. The Swallow lure also worked, in that the three we caught were caught in that net ride, and the Linnets (plus the Goldfinch and Redstart) were caught in the net with the Linnet lure playing. If the other lures had worked this would be a much more exotic blog.
Rather like yesterday, the session went very well until 10:00, and then the birds, presumably too stuffed on blackberries to move, just disappeared. The catch for the session was: Swallow 3; Jay 1; Blue Tit 2; Great Tit 5; Wren 2(1); Dunnock 2; Tree Pipit 3; Redstart 1; Robin 3; Song Thrush 1; Blackbird 1; Reed Warbler 1; Blackcap 4; Whitethroat 18; Lesser Whitethroat 1; Chiffchaff 2; Willow Warbler 2; Goldfinch 1; Linnet 2. Totals: 55 birds ringed from 19 species and one retrap. It was an excellent variety for a single catch in a fairly uniform habitat, with nineteen species. The single retrapped bird was a Wren ringed last year at the same site. As with other catches, a huge proportion of these birds were juveniles: only nine were adults.
The Redstart, Goldfinch and two Linnets were caught in one of the two-shelf nets set along the track. These nets were set so that they ran alongside the large puddles in the track, which are the only source of water local to the site. After 10:00 the wind got up and, as New Zealand Farm is at the top of the Plain, it is quite exposed and the nets began billowing so, as the birds had also disappeared, we decided to take down and leave site. ST/IG/AP
Lower Moor Farm: Wednesday, 23rd August 2017 - CES11
After the solo effort on Saturday, it was a pleasure to have a team out with me on Wednesday: Andrew, Neil, Steph and Lillie turned up to help. Our penultimate CES session started well, with 65 birds caught and processed before 9:30 - and then died off very quickly. We ended up with just another seven birds between then and our pack up time at 11:30.
The list for the session was: Sparrowhawk (1); Treecreeper 1; Blue Tit 11(1); Great Tit 2(1); Wren 2(2); Robin 3(2); Blackbird 1; Reed Warbler 1; Blackcap 11(3); Garden Warbler 1; Chiffchaff 13(4); Willow Warbler 4; Goldcrest 1; Bullfinch 5(2). Totals: 56 birds ringed from 13 species; 16 birds retrapped from eight species, making 72 birds processed from 14 species. All bar two of the Chiffchaffs and one each of the Wrens and Willow Warblers were juveniles.
The retrapped Sparrowhawk was the same juvenile male caught at the last session, caught in the same net. Perhaps he has newly established himself in his own territory: unfortunately for him, it rather seems that includes our net ride. At least he will only have one other opportunity to get caught this season.
Photo by Andrew Bray
This is the third year of the CES sessions and the number of Garden Warblers have reduced year-on-year. In 2015 we ringed 47; 31 in 2016 and 23 so far in 2017 - so, unless we ring 8 in the last CES session there will be another decline this year. ST/AB/NS/SB/LW
Blakehill Farm "Festival of Flight": Saturday, 19th August 2017
Following the late cancellation of last year's event due to bad weather, it was great that the weather was considerably better for this year. Unfortunately, it was still very windy; however, the wind was coming from WSW and was largely blocked by the high hedges that edge the fields opposite the Whitworth Centre, where I set my nets. For the first time in the many years I have been going to Blakehill, the footpath that runs from the Whitworth Centre to the ponds has been cleared and opened up: it made a cracking net ride. It nearly produced the bird of the day: I was doing my first net round and as I approached the very last net a Spotted Flycatcher flew down and landed on the fence post to which my net was tethered. It then flew back towards the bushes and hit the net - but bounced out. A shame.
As it was a "Festival of Flight", it was a great shame that bad luck and the weather rather reduced the filight element to my bird ringing demonstration. Due to the engine failure on one of the Spitfires, necessitating the grounding of the entire flight whilst they were all checked and overhauled, the Battle of Britain Flight cancelled their fly past. Also, the wind was gusting up to 30mph, making it too dangerous for the static hot air balloon to be inflated (instead we were "treated" to the operator firing off the flame-throwers every thirty minutes or so). The wind meant that there were very few butterflies around (although I did seem to have quite a few Speckled Wood along my net rides - but they were no entry to the public). Robin Griffiths did find a Brown Hairstreak - but that was over on the Chelworth side of the reserve.
The problem with public ringing demonstrations usually boils down to one thing: the start time. This event was to run from 11:00 until 16:00. Usually at 11:00 the number of birds dies off and we make a decision on when to take the nets down, not when we start catching. I had arrived and set up early (not that early: first round at 7:30) but in fact the catch was pretty light first thing, and started to beef up as the morning progressed. My best catch of the day was an adult, male Swallow. None of my nets were set in what I would consider a Swallow-catching position, so it was a very pleasant surprise and my first Swallow of the year. Unfortunately, I caught it at 8:30, before the public had arrived. However, the ringing demonstrations went extremely well. Every round I had several birds to show to the public: and every time I returned with some birds to ring, a large crowd gathered to see what was going on. I always take the opportunity to show anyone interested how to safely hold and release a bird, particularly youngsters. Let's face it: far too many ringers are getting old - and enthusing young people to get involved is the way forward for the ringing scheme. With only four or five birds per round, it meant I could talk about the scheme, the biometrics we take, moult in birds and migration. People are always surprised when you show them an 8g Willow Warbler and tell them that this bird will spend the winter south of the Sahara desert, over 2,000 miles away. I got lots of positive feedback from members of the public and from the Trust. There was only one complaint: so many people were crowding round to see what was going on that not everybody could get as close as they wanted. Next time I will have to have a stage and a camera!
The list for the day was: Swallow 1; Blue Tit 17(2); Great Tit 12; Wren 2; Dunnock 2(1); Blackbird 2; Blackcap 1; Whitethroat 9; Lesser Whitethroat 1; Chiffchaff 5; Willow Warbler 4; Chaffinch 1; House Sparrow 1. Totals: 58 birds ringed from 13 species, three birds retrapped from two species, making 61 birds processed from 13 species. Again, a huge proportion of the birds were fledged this year. In fact the adults were the Swallow, the House Sparrow and Chaffinch; two of the Dunnocks and Whitethroats, one each of the Blackbirds, Chiffchaffs and Willow Warblers.
My final two rounds yielded mainly Blue and Great Tits, so I changed my spiel to "Who has the bottle to be bitten by a Blue / Great Tit?" Funnily enough, the children were somewhat less interested, which gave plenty of adults an opportunity to take the bird from me and release it. I will stress: no bird was held for longer than strictly necessary to process it, pass it to one other and release it, as I would do with any new trainee. All birds flew away strongly, with no issues.
The Trust must have been delighted at the turn out: over 1,000 people attended. Astonishingly in this day and age, there was no charge, just a request for donations and revenue from food sales. The field behind the Whitworth Centre held a number of displays: covering the transition of Blakehill from wartime aerodrome to the nature reserve it is today; a Trust stand selling their produce (apple juice and freezer packs of Hogget meat from their own flocks); a tethered falconry display; a BugLife display; a small theatre housing a jazz band and singers doing war-time (and some later) standards; the hot-air balloon display; a display of 1940's vintage cars and clothing modelled by the re-enactment team plus an astonishing number of the Trust's female staff dressed in land girl style, and did their hair in the 1940's fashion: goodness knows how much electricity was used curling those locks). The Whitworth Centre hosted a recreation of an RAF operations room from the Battle of Britain. Every now and again, to announce the start of their next talk / demonstration, the RAF reenactment team would crank up their air raid siren: the cattle in the adjacent field clearly felt some affinity with it, as they would join in the noise.
Unfortunately, none of my team were available to help at this event: so it was a hard day's work. I was fortunate that I wasn't inundated with birds, but it did make it a very long day: from 6:30 until 19:30, by the time I had finished. As I was leaving, just to rub it in to a somewhat tired and grumpy old ringer, I had lovely views of a couple of Redstart in the hedgerows along the perimeter track. They had successfully ignored my lure all day. ST
Tedworth House: Wednesday, 16th August 2017
A reasonable session at Tedworth House in terms of numbers for the site but really interesting for other reasons. Dave Turner and Gemma Clinch from the Wildlife Trust were running their first session of their new forest skills group: training some of the people being helped by H4H in traditional woodland skills and appreciation. Our first catch was, basically, Blue Tits. The second catch was a lovely group of Green and Goldfinches, which attracted a large audience of staff and the forest skills group. I am always delighted by the responses that I get from the people at Tedworth.
The catch for the day was: Nuthatch 1; Blue Tit 6(1); Coal Tit 1; Wren 1; Dunnock 1(1); Robin 1; Blackbird 1; Blackcap 1; Chiffchaff 1; Goldfinch 3; Greenfinch 2. Totals: 19 birds ringed from 11 species; two retrapped from two species, making 21 processed from 11 species. Of the 21 birds caught, 17 were birds that have fledged this year: the adults were the two Greenfinches, one of the Goldfinches and one of the Blue Tits. Interestingly, and coincidentally, we have only caught Goldfinches and Greenfinches once before at Tedworth: both on the 13th May 2015. It seems they come together or not at all. ST
Red Lodge: Saturday, 12th August 2017
The inglorious twelfth started with the disappointment of not being able to ring at Brown's Farm. The forecast was for fairly high gusts of wind alongside a reasonably low base wind speed. We have spent far too much time extracting and repairing nets caught in hedgerows to risk it, so we decided to do one of the woodland sites. Red Lodge was the next due for a visit and it turned out to be a pretty decent session for the team. For the first time for a couple of months, we had a good sized team out with Ellie, Jonny, Annie and David joining me. We put up 11 x 18m nets along the cross paths and by the ponds in the north-west section of the wood.
The session started well with two new Marsh Tits ringed from our first round. We finally ended up with four of them ringed and two others retrapped. Definitely our best ever catch of this red-listed species,.and we are confident of eclipsing our previous best annual totals for these birds this year. Our four newly-ringed birds were all juveniles, and the two retrapped birds were ringed as juveniles last year. As far as the catch went there was only one disappointment: a female Sparrowhawk had chased a Blue Tit into the net and got a little entangled. Unfortunately, it managed to untangle itself about 10 seconds after I spotted it was there and before I could get close enough to get a hold on her. She was a beautiful specimen and I had lovely views as she flew away.
The list for the session was: Nuthatch 2; Treecreeper 2(2); Blue Tit 18; Great Tit 20(2); Coal Tit 4; Marsh Tit 4(2); Wren 6; Robin 9; Blackbird 4; Blackcap 5; Goldcrest 4; Bullfinch (1). Totals: 78 birds ringed from 11 species, seven birds retrapped from four species, making a total of 85 birds processed from 12 species. Only 11 of these birds (all of the retraps, three of the Blackcap and one of the ringed Treecreeper) were adult birds. One of the Nuthatch could not be aged as it had completed its moult, whereas one of them was still clearly a juvenile in the last stages of post-fledging moult.
After last year's dearth, it is pleasing to be catching decent numbers of Blue, Great and Coal Tits - but Long-tailed Tits are remarkable by their absence. Many people, including me, have seen flocks of them in gardens but we are still catching very few of them. I mentioned in my last post about mortality rates. Well, one of our Blue Tits after extracting, decided to die on us. It went very floppy and closed its eyes and I was cursing myself for having tempted fate. However, I cupped it in my hands and blew onto it, massaged its chest a bit, blew on it again and was shocked as it opened its eyes and coughed a few times. As it still looked a bit floppy, I put it in a bag, on the basis that it was safer there than being placed in a bush to recover (especially with a female Sparrowhawk on the hunt, and the cries of a hungry juvenile being heard quite regularly from nearby). We returned to the ringing station and processed the extracted birds. Once we had finished the others, I opened the bag and was delighted to find the Blue Tit had fully recovered, biting me several times, as they do, as I took it out of the bag, and flying off strongly once processed.
On another theme touched upon in the last post: unnecessarily interfering people. It seems the local who objects to my having a bird table in the wood has returned and uprooted the table. We will have to get the cameras out again and catch this individual, to avoid a repeat of last winter's thefts and vandalism. ST/JC/EJ/AH/DW
Information about WOS
Wiltshire Ornithological Society was formed on November 30th, 1974, and has grown in recent years to more than 500 members.
Our mission is to encourage and pursue the study, recording and conservation of birds in Wiltshire
Portraits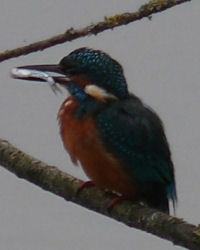 Latest News

CWP Coordinated Gull Roost Count The last coordinated count of gull roosts in the CWP was undertaken in winter 2005/06. In conjunction with the BTO Winter Gull Roost Count in 2003/2004 and a series o...

A new Atlas section has been added to the web site. This shows distribution and abundance maps for most of the birds that can be found in Wiltshire. To access the Atlas, select Atlas from the menu i...