North Wilts Group
28th October 2017 - Savernake area
This is the site where the Willow Tits nested in our box for the past two summers and I am keen to know who is nesting with who, how long they live and how Willow Tits disperse around the Kennet valley. I set up one small temporary feeding station and we only put up a couple of nets as a result.
The forecast was odd predicting sunny, calm at first and then wind later but the wind shouldn't affect us as the site is very sheltered. Just as we were taking birds out of the nets the sky went grey and a fine mist-like rain drifted in and just as I was thinking we should take down the sky went blue and it was lovely warm and sunny. Just as we were enjoying the weather, the wind did get up in the tree tops and leaves proceeded to fill our nets.
In the first round we did indeed catch two Willow Tits, one was an adult and one was a first year and as far as I was concerned that was the job done. We caught more birds than I had expected with Coal Tits again being the dominant species. We caught and ringed a Siskin which is an unusual catch for us.
Last action of the morning was a pleasant surprise with two Jays sat side by side in the net. Jay was a long overdue new bird for Paul to ring and he has waited four years for this, Phil on the other hand only had to wait a few months! MP, PW, TL, PDU
Willow Tit 2, Marsh Tit 1, Coal Tit 37, Blue Tit 24 (2), Great Tit 7, Goldcrest 17, Nuthatch 2, Treecreeper 4, Siskin 1, Chaffinch 7, Robin 4, Wren 1, Jay 2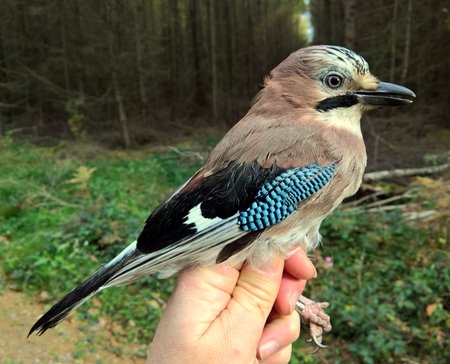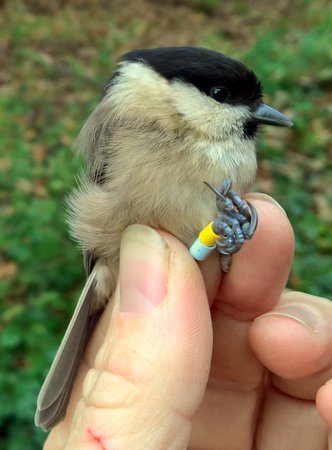 28th October 2017 - private woodland, Swindon
The landowner at this site is very interested to learn about the birds that use the woodland on their land and has sponsored the feeding of the birds and the gamekeeper fills the feeders for us. Our work within this wood is to provide the evidence base from which the landowner can make decisions about how to best manage the woodland.
This is a really simple site to ring with two feeders set up about 150 metres apart, each with two nets set around it in dog-legs and because there are a couple of patches of conifers we again set nets for crests.
I had primed the team advising them that it is a fairly limited site and not to expect too much but I needn't have worried as we were kept busy all morning. Overnight rain had made the ground really wet and it was a bit grey and breezy but this site is very sheltered and our nets were not touched by the wind. We first ringed this site last winter and it was good to see some retraps from last year. I quite fancy our chances of getting Firecrests in the conifers here but today we had to settle for a good number of Goldcrests instead, along with a bonus Blackcap.
We ringed a steady flow of typical woodland birds but the number of Long Tailed Tits was particularly notable. MP, AM, SW, TL, PDU
Goldcrest 34, Marsh Tit 3 (2), Coal Tit 11 (7), Blue Tit 30 (2), Long Tailed Tit 24, Nuthatch 3, Treecreeper 1, Great Tit 17, Robin 4, Dunnock 4, Chaffinch 5, Blackcap 1
15th October 2017 - Savernake area
We were back in this brilliant woodland for the first session of the autumn and we were well-prepared with a big team and I was really pleased to have Graham and my brother join us because this wood can tax the less experienced ringer. A massive area of the wood has been clear felled and I do think that this will ultimately lead to the demise of Willow Tits there which would be very sad indeed.
The first round was quiet but I need not have worried because there was a steady run of birds all morning until the last round when an enormous flock of over 70 birds went into one net set. Marsh Tits have obviously done very well and catching 11 in a morning is very good indeed. We ringed two new Willow Tits and best of all we retrapped one that we ringed in a nest box in the summer.
Goldcrests pass through in big numbers at this time of year and this is normally a big crest site and today proved no exception with one of our better days for them with 85 ringed though sadly they were not joined by any Firecrests. A few redpolls were calling overhead so we played a call for them and we ringed our first two of the autumn.The team worked very well together and the two new boys enjoyed some wonderful training from everyone else in the team. At the end of the day we did a count up and could not believe that we had processed over 300 birds because it really didn't feel like a 300 day. The truly phenomenal number of Coal Tits is completely unprecedented and it could be an effect of the large scale forestry work that has removed much of their habitat. MP, GD, PW, NW, TL, PDU, AP, TW
Willow Tit 2 (1), Marsh Tit 11, Coal Tt 120 (1), Blue Tit 32 (1), Great Tit 32 (1), Long Tailed Tit 3, Goldcrest 85, Treecreeper 8, Nuthatch 4, Wren 3, Robin 2 (1), Dunnock 2, Lesser Redpoll 2, Chaffinch 5, Great Spotted Woodpecker 1
14th October 2017 - Salisbury Plain (east)
It was just Paul and I today so we put up a small net set and as it was a bit breezy we didn't put the nets up that could catch the wind. It was predictably quiet for warblers but then out of the blue there was a Cettis Warbler in the net, this is quite a remarkable record because it is the first for the site but what is it doing on top of high chalk grassland? It follows the ringing of another at Westdown a few weeks earlier.
We caught another Stonechat, our twelfth of the year making it our joint best year for them. As often happens in October Goldcrests dominated the day and we ringed a very creditable 38 and even retrapped one that we ringed this time last year. I thought this would be a fairly quiet session and it was going quite sedately until the last round when a mixed flock of tits went in and I had to get cracking so that I could get to watch my son play rugby. MP, PW
Cettis Warbler 1, Stonechat 1, Goldcrest 38 (1), Chiffchaff 9, Blackcap 4, Meadow Pipit 4, Blackbird 1, Wren 7, Robin 0 (1), Great Tit 13, Blue Tit 16 (1), Coal Tit 6, Marsh Tit 1, Long Tailed Tit 7, Treecreeper 1 (1), Goldfinch 1, Bullfinch 2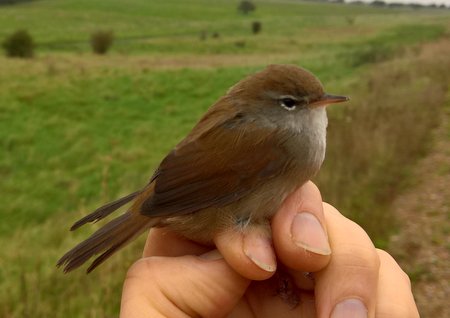 30th September 2017 - Swindon STW
I was supposed to be going away this weekend and hadn't planned on ringing but things worked out differently and so I thought that I would do a quiet little session at Swindon STW and maybe have a little go for Teal and Snipe along with a few passerine nets.
The wader nets worked instantly with 2 Snipe and a Teal gracing them, I love catching these species because they are characteristic species of the site and what we manage the wetlands for. I heard the first Water Rail of the winter, we will catch up with that one in a few weeks time.
I only put up six nets in two sets of a four and a two and it soon became apparent that there had been a fall of Chiffchaffs as they were moving all round the site in huge numbers. I ended up ringing 105 Chiffchaffs but I reckon there were at least 250 on site, they were absolutely everywhere. Our second Cettis Warbler of the Autumn was nice but it was another first year female so we now need a male to turn up.
With yet another catch of just over 200 birds this takes my September total past the 2000 mark which we have only ever done once before but falls short of our record September of 2015 when we ringed over 2300 birds. It isn't all bout numbers but by ringing this number of birds we generate recoveries so we can see where our birds are coming from and going to. Blackcaps and Chiffchaffs have relatively high recovery rates and we are starting to receive the details of our recoveries from this summer and it is amazing how we share some birds with certain ringing sites and at some point we will plot some of the movements for you folks. MP
Teal 1 (1), Snipe 2, Cettis Warbler 1, Sedge Warbler 1, Chiffchaff 105, Blackcap 87, Goldcrest 2, Wren 2, Long Tailed Tit 1, Reed Bunting 1, Song Thrush 1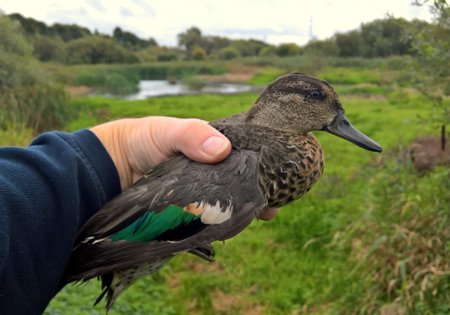 24th September 2017 - Swindon STW
It was only Noah, his dad and me today so we only set 6 nets as I wasn't feeling 100% so I wanted to be conservative but we were kept really quite busy although the catch was totally dominated by Blackcaps and our cunning little two-shelf dog-leg failed to catch the hoped-for Grey Wagtails.
Late on we ringed a Reed Warbler that was still in post juvenile moult and will really struggle to make it to the wintering grounds. There were at least four Green Sandpipers bashing around and Teal numbers are increasing and I can't wait to try for them soon.
A couple of the team are nearing their C permit and they are being held up by the requirement to ring birds that take large rings. The reason for this is two-fold, in that the ringer needs to be able to fit the more difficult larger ring sizes and also to ensure that the ringer is capable of handling a larger and potentially dangerous bird safely for the welfare of both the ringer and the bird. To this end, we have set up a whoosh net area and are keeping it baited to entice Moorhens, Coots, duck or gulls in. We set the net and kept checking on it and right at the end a Moorhen went into the area and I fired and we caught it, a new bird for Noah and a very good bit of experience as Moorhens can be very feisty and their claws are very sharp. MP, NW, TW
Moorhen 1, Blackcap 141 (1), Chiffchaff 21, Reed Warbler 1, Dunnock 3 (1), Robin 0 (3), Blue Tit 4, Blackbird 1, Cettis Warbler 0 (1)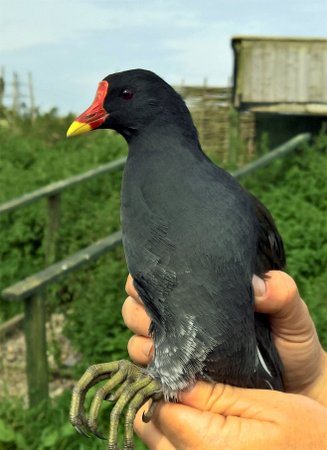 23rd September 2017 - SPTA east
With a week of southerlies I was not expecting a large catch and now we are into late September any migrant that is not a Chiffchaff or a Blackcap is notable. I set the same net set as last week quite confident that our team of three would be fine and so it proved.
The first net round did provide the usual flurry of Chiffchaffs and Blackcaps but also two Grasshopper Warblers that most unusually were caught in the top shelves of the nets. The interest didn't stop there as we ringed a couple of Stonechats, then a Whinchat and then a huge male Corn Bunting weighing in at 51 grams. An adult male Starling was a complete surprise as they are hard to catch in mist nets and they rarely go through our bushes.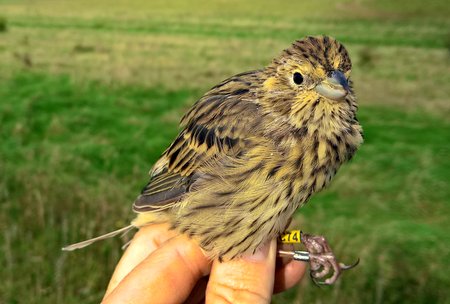 With the wind fixed stubbornly from the south there was very little passage of Meadow Pipits or hirundines overhead and we only caught a few Meadow Pipits. Singles of Whitethroat, Sedge Warbler and Reed Warbler were most welcome and I will be surprised if we catch all three species again this year. A control Chiffchaff was good as was a Goldcrest that we originally ringed last Autumn.
We were pretty satisfied with our efforts and everything was going well and we were nicely ahead of the game taking nets down in a timely organised manner and then the wind got up. As we got to the last net, we saw that a branch that I had guyed a pole to had snapped and all three nets in a row had fallen into a line of thorn bushes. It looked devastating but in fact with all three of us working together we managed to extract the nets without damage after 30 minutes. MP, PW, NP
Starling 1, Corn Bunting 1, Whinchat 1, Stonechat 4, Grasshopper Warbler 2, Reed Warbler 1, Sedge Warbler 1, Whitethroat 1, Blackcap 59, Chiffchaff 57 (1), Goldcrest 4 (1), Meadow Pipit 15, Goldfinch 9, Linnet 2, Reed Bunting 5, Yellowhammer 1, Robin 2, Dunnock 5, Wren 1, Great Tit 1, Blue Tit 5 (1)
17th September 2017 - Salisbury Plain (east)
After westerlies all week, it was interesting to see the wind switch round to the north and the skies to clear, at this time of year that means one thing, a big rush of migrants. Graham had ringed lots of Meadow Pipits the day before so we put up a Meadow Pipit triangle for the first time this year, the good thing with Meadow Pipits is that they start gaining momentum just as we have got through the early morning rush of Blackcaps.
The day started well with a Tawny Owl just as I was opening the nets. We had a strong team out today and I knew we would be able to safely manage any potential catch but today did push the team a little but I have to say that I was totally impressed with how good this team have become.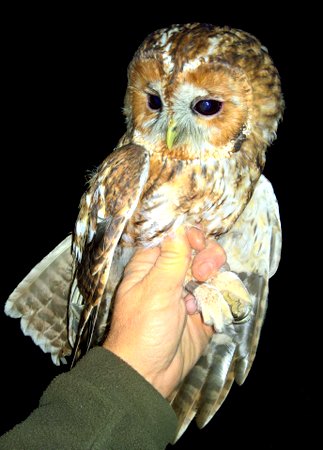 We ringed a lovely array of warblers and those Salisbury Plain specialities of Whinchat, Stonechat and Redstart and we even retrapped a Stonechat that we originally ringed at the start of August.
We always hope for control warblers and we did get two Blackcaps that had been ringed elsewhere.
On the Salisbury Plain there is always an early morning rush and then it quietens down so by 9am we are normally sat around drinking tea and eating cake but today just as it started quietening down the Meadow Pipits started going in the nets to keep us nicely occupied. As I walked along one net I looked down and saw a striking supercilium and knew immediately it was a Firecrest, a very rare catch for us and my favourite bird apart from Tree Sparrows.
A bit later, Swallows started moving but we rarely catch them and then House Martins came gliding in and they were getting lower and lower. I have often tried playing a call for them but it always proves to be the surest way to scare off every House Martin in the vicinity but I remember back to days on the coast where House Martins responded brilliantly. Today I played the call in the usual speculative manner and the martins immediately started descending towards me, we quickly put the player by the net and we caught 57 in very quick time but then one got out of the net, alarm called and they all disappeared as quickly as they came. This is the first time they have ever responded for me in Wiltshire and so the team had the rare pleasure of ringing a good number of these beautiful little birds and their amazing 'furry' feet. Best of all was that one was already ringed, control House Martins are very rare so we wait with eager anticipation as to the origins of this bird.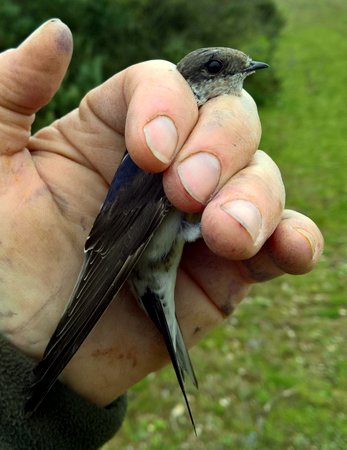 As I drove off the plain I was struck by just how many Meadow Pipits and Swallows were present across the whole of the area, they must really have been held up somewhere north all week. Sometimes 'The Plain' just amazes me with how good it is for birds and today was obviously just one of those special days. MP, AF, NW, AM, NP, TW
Tawny Owl 1, House Martin 56 (1), Swallow 8, Meadow Pipit 56, Firecrest 1, Redstart 1, Whinchat 2, Stonechat 2 (1), Blackcap 200, Garden Warbler 3, Whitethroat 7, Lesser Whitethroat 1, Sedge Warbler 6, Reed Warbler 3, Blackbird 1, Robin 3 (2), Dunnock 1, Blue Tit 1, Greenfinch 1, Goldfinch 4, Bullfinch 1, Reed Bunting 10 (1)
Information about WOS
Wiltshire Ornithological Society was formed on November 30th, 1974, and has grown in recent years to more than 500 members.
Our mission is to encourage and pursue the study, recording and conservation of birds in Wiltshire
Portraits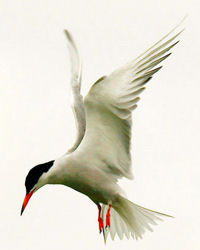 Latest News

CWP Coordinated Gull Roost Count The last coordinated count of gull roosts in the CWP was undertaken in winter 2005/06. In conjunction with the BTO Winter Gull Roost Count in 2003/2004 and a series o...

A new Atlas section has been added to the web site. This shows distribution and abundance maps for most of the birds that can be found in Wiltshire. To access the Atlas, select Atlas from the menu i...