9th July - Moulden Hill, Swindon
With the really good breeding season for Reed Warblers in the canal we were hoping that this session would give us lots of information about the Reed Warbler population along the canal, and so it proved. We ringed 20 new Reed Warblers of which 18 were adults and 2 were juveniles. The retraps included three of this years fledged nestlings, one ringed as a nestling last year, two ringed as nestlings in 2015 and one from 2014. We also had one that was ringed as a juvenile at nearby Swindon STW last July. These data show how important the site is for Reed Warblers and just how site faithful they are.
Once again we simply put a long line of nets adjacent to the towpath and the reeds to target the Reed Warblers.
I was joined by Gary, Jodie and Biff but we were also joined by two ladies who had seen me ringing the nestlings in the week and were keen to come and see us ringing the adults.
The day total of 134 really was superb and it was capped off with a lovely fresh juvenile Redstart that really cannot have nested that far away as it was so young. MP, AM, GH, JH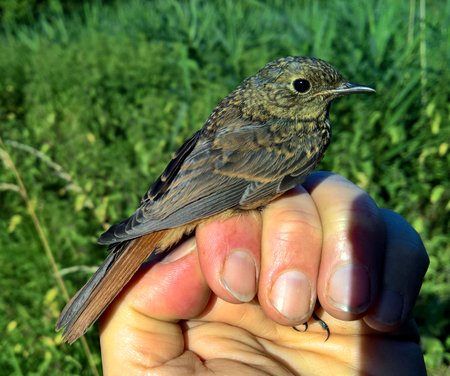 Reed Warbler 20 (12), Sedge Warbler 5 (1), Blackcap 8, Whitethroat 7 (1), Chiffchaff 11, Willow Warbler 2, Goldcrest 1, Dunnock 8 (2), Wren 11 (1), Robin 4, Redstart 1, Blackbird 4, Song Thrush 3, Blue Tit 17, Great Tit 5, Long Tailed Tit 5, Treecreeper 1, Bullfinch 3 (1)