5th November 2016 - Kennet Valley
We were back at our Willow Tit woodland and so we once again had a terrific turn out from the team and we were joined by Nigel Pleass who rings at the Cotswold Water Park.
We set nets at four feeding stations and also played sound lures to attract crests and also a bonus Redwing set at this site that really isn't a Redwing site. As we finished setting, we were excited with our prospects as we could hear Bramblings calling but sadly they didn't grace our nets. Crossbills once again flew overhead without coming anywhere near our nets. Goldcrests again dominated the catch but once again they weren't joined by anything unusual.
Tits and finches were around in reasonable numbers and the number of Long Tailed Tits were particularly noteworthy. We have been catching good numbers of Long Tailed Tits recently and we have just passed ringing a hundred for the year which makes it the second best year for them and we still have seven weeks to go so it could end up as a record year for them yet. This is remarkable when one considers that 2015 was amongst the worst years that we have ever had for them.
This site is unique in that we get the opportunity to compare Marsh Tits and Willow Tits in the hand and today didn't disappoint and this really is great for the team to be able to examine both species. The undoubted highlight of the morning was a retrap Willow Tit, especially when the ring number was read out to me. This bird was ringed as a nestling in a nest box that I put up especially for Willow Tits 2km away. This was the first nest box that I have put up that has been used by Willow Tits and this bird is the first recovery of a nestling Willow Tit that we have had away from its natal site. There is still so much to learn about this fantastic little bird and I just hope that we can learn enough about them before they go extinct in the county.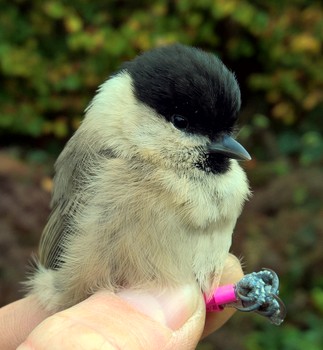 A couple of the team contributed bacon and bread and Noah showed us his cooking skills and once again we enjoyed a bacon sandwich, this is a really good habit that we are getting into! MP, AF, PW, NW, AM, GH, NJP, TW
Willow Tit 2 (1), Marsh Tit 1 (2), Goldcrest 56 (3), Coal Tit 11 (3), Treecreeper 2 (1), Blue Tit 9, Great Tit 10, Long Tailed Tit 14, Chaffinch 11, Bullfinch 4, Yellowhammer 1, Wren 6, Robin 6 (1), Dunnock 9 (1), Redwing 6, Blackbird 1, Great Spotted Woodpecker 1