16th September 2017 - Swindon STW
I was watching the weather like a hawk all week because there were spells of westerlies sweeping in carrying rain and then calm dry spells and it looked like today could be a gap in the weather.
As this is a private site I can set the nets the night before and the forecast for the evening was calm with the occasional brief shower so I was considering trying a Swallow roost. I played the tape for an hour but nothing appeared so I stopped it. I then set about putting the nets up and half way through I heard a dull, rather ominous 'whoom' sound, I looked up one minute and saw blue sky, the next minute I looked up and there it was, just about the heaviest rain storm I have been in, I was soaked to the skin in seconds, the rain drops were verging on hail, they were huge cold and hurt my head.
I woke up in the morning to a clear sky and zero wind which is perfect. We weren't the strongest team today so we had to limit the net set to a simple circuit of ten nets with no wader nets or bonus sets. This didn't matter too much as we were kept nicely occupied all morning with a steady stream of birds. We were joined by Steve Birt as scribe for the morning, Steve is a good scribe and good company and it is always a pleasure to have him join us. Highlight of the morning was a juvenile Cettis Warbler, this is a typical autumn appearance of a dispersing juvenile but sadly it is the first one that we have ringed this year. Without ringing we would not have known of the presence of this bird.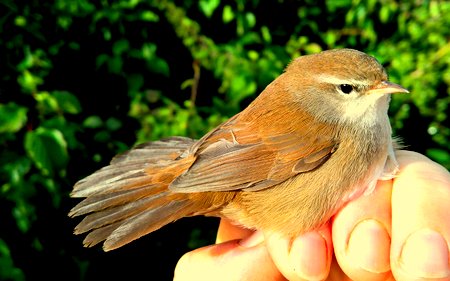 We ringed a decent selection of warblers and it was particularly nice to still catch Garden Warblers, I always think that any Garden Warbler after 10th September is notable. With no retrap warblers it appears that all of the summer visitors from the site have moved on and so we are now only seeing migrants. MP, PW, SW, TL, SB
Cettis Warbler 1, Blackcap 113, Whitethroat 4, Garden Warbler 1, Sedge Warbler 8, Reed Warbler 2, Chiffchaff 20, Willow Warbler 2, Robin 7 (2), Bullfinch 1, Blue Tit 4 (1), Great Tit 3, Long Tailed Tit 2, Wren 3, Dunnock 6, Great Spotted Woodpecker 1