North Wilts Group
27th August 2017 - Salisbury Plain (east)
Excitement was high again with the anticipation of ringing on the Salisbury Plain and we had a really good team out, joined by Nigel Pleass who himself is now a pretty decent ringer. I have been telling Nigel how good the plain is and he was really looking forward to seeing the spectacle. Blackcaps did their usual act of roaring through at dawn and Whitethroats were also very numerous. One of the most notable calls for me when I am in scrub on the plain is the call of Redstarts, it is a call easily missed but once you know it you realise how many there are on the plain and we ringed 5 today including one of the smartest I have ever seen.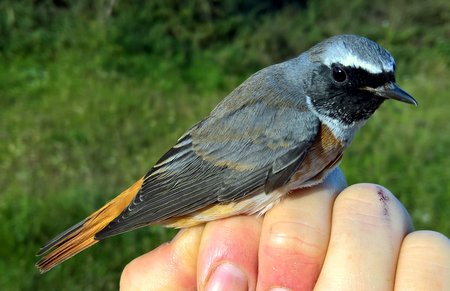 I really wanted to catch some Tree Pipits as I personally haven't ringed one for two years but it was not to be for me today as we did ring two but they were ringed by dad and daughter, Gary and Jodie. Whinchats are a bit low in number this year but we did ring 3 more today. The little brown jobs did us proud today as we ringed the most Grasshopper Warblers of the year with 11, then we processed control Reed and Sedge Warblers.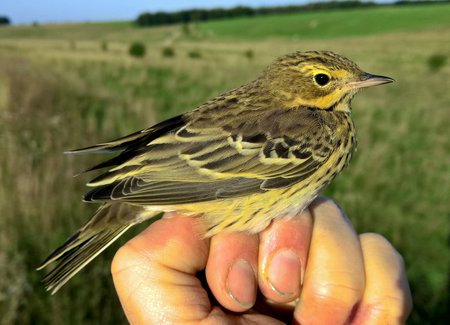 The flocks of Goldfinch and Linnets have dispersed now and we only ringed a handful of them. An immature male Sparrowhawk capped off a really wonderful morning in fine style. MP, OF, PW, NP, GH, JH
Sparrowhawk 1, Spotted Flycatcher 1, Redstart 5, Whinchat 3, Tree Pipit 2, Meadow Pipit 1, Blackcap 91 (1), Whitethroat 40 (1), Lesser Whitethroat 1, Grasshopper Warbler 11, Sedge Warbler 27 (1), Reed Warbler 9 (1), Chiffchaff 8, Willow Warbler 9, Linnet 3, Goldfinch 12, Dunnock 1, Wren 2, Robin 3, Great Tit 1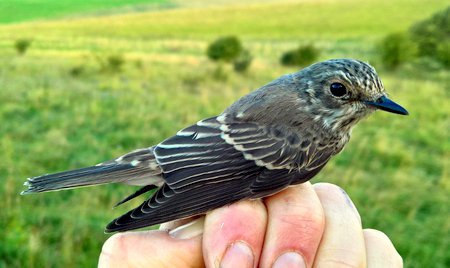 20th August 2017 - Salisbury Plain (east)
I was away ringing in Norway this time last year and so I was really excited about getting out and catching some migrants as they move through the Salisbury Plain. I was joined by Paul, Gary and Jodie all excited with the prospect of what was to come after a hard years CES ringing.
The day did not disappoint with a lovely array of species. We play calls to attract Whinchats to enable us to catch them and today we ringed four which is a treat but ringing these birds is important because the Salisbury Plain holds about 1.5% of the UK Whinchat population. This was the first day that Blackcaps really moved in good numbers and the Sedge Warblers were just everywhere. We also play for Grasshopper Warbler and we ringed a very creditable 7 today, the picture shows an adult, identified as such by the very worn wing and tail feathers. There were huge flocks of Linnets and Goldfinches present and though 16 Linnets seems good, it was nothing compared with the many hundreds that were present.
The amazing fact from today was that we did not catch any birds at all with rings on, it isn't much of a surprise that we didn't catch any resident birds because this area has very few breeding birds these days but we do expect to catch migrants that have been ringed elsewhere.
The one disappointment was that a few Tree Pipits flew over calling but they did not come down to our lures. Tree Pipits have declined drastically and this is our only chance to catch them and so realistically we only have 2-4 chances per year. MP, PW, GH, JH
Whinchat 4, Stonechat 1, Redstart 3, Meadow Pipit 2, Blackcap 76, Garden Warbler 10, Whitethroat 32, Lesser Whitethroat 2. Willow Warbler 11, Chiffchaff 2, Grasshopper Warbler 7, Sedge Warbler 48, Reed Warbler 6, Blue Tit 3, Great Tit 1, Linnet 16, Goldfinch 2, Wren 3, Robin 1, Dunnock 1, Yellowhammer 1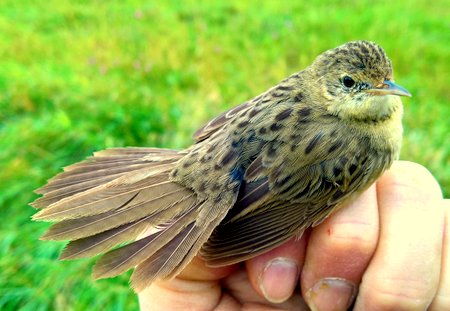 26th August 2017 - Swindon STW CES
After our last really lovely session on the Salisbury Plain we were back down to core conservation ringing with the last CES visit of the year. I was really quite frustrated that once again we couldn't put up any extra nets because we did not have enough experienced ringers.
49 ringed and 16 retraps made for a very sedate ringing session with a very notable absence of Reed Warbler and also that all of the Blackcaps were juveniles so nearly all of the adult summer warblers have now left. This session last year produced 70 birds and so it was pretty much the same as last year.
Just as we were taking the nets down. I took out the last bird of the CES season and it was a real highlight as Phil ringed his first Kingfisher. MP, SW, PDU, TL
, Kingfisher 1, Blackcap 25 (10), Whitethroat 5 (1), Garden Warbler 2 (1), Lesser Whitethroat 2, Chiffchaff 6, Sedge Warbler 1, Dunnock 1, Wren 4 (1), Robin 2 (1), Blackbird 0 (1), Song Thrush 0 (1)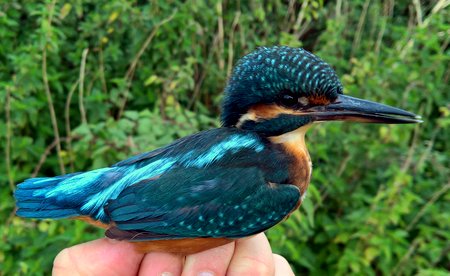 Swallow Roosts - Water Eaton
In previous years we have enjoyed considerable success ringing Swallows at roost in a maize field by the River Thames at Water Eaton. This year the farmer has moved the crops around and the maize field is now further away from the river.
Our first effort was on 21st August when we had a really good team out, joined by Olly Fox and so we were ready for a hoped-for big catch. Swallow numbers were building really nicely with over 450 present along with quite a few Sand Martins but then we were treated to a lovely display of aerobatics by a Hobby and then it went in the net and as I ran towards the net the Hobby rolled out of the net which is a real shame. When Hobbies appear it really panics the hirundines and they often disappear completely, tonight the flock dispersed but came back into roost right at dusk. We ringed 88 Swallows and a pretty impressive 16 Sand Martins and we thought it was a good start to the Swallow roost season.
On 24th August we had another really good team out and the Swallows once again were present in good numbers and things were looking good until another Hobby appeared and scattered the flock and so we only ringed 33 Swallows, 2 Sand Martins and a Reed Warbler.
On 28th August again we had a good team out and there were lots of Swallows but tonight two Hobbies came and caused havoc and we ended up ringing 36 Swallows and a Sand Martin.
On 30th August I was joined by Olly but very few Swallows appeared and then a Sparrowhawk did us the honour of popping into the net before we ringed 18 Swallows.
On 5th September I was joined by Gary and Graham and we sat around for a few hours having a really good chat but the Swallows pretty much failed to turn up and we only ringed five so I have called the Swallow roost season to a halt, it really just did not happen this year.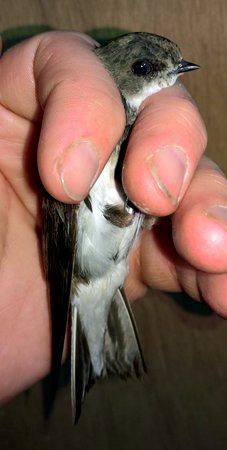 19th August 2017 - Swindon STW CES
This was a non-CES session so we were able to vary our net set away from the usual CES nets. We were joined by my brother so newbies Terry and Phil underwent intensive one on one training and so both made good steps forward with both extraction from mist nets and also ringing as they each ringed over twenty birds.
Blackcaps dominated the day but I was a bit disappointed with the low number of Reed Warblers. I was a bit low on energy after a late night the night before and when we were joined by my sister in law and niece I was delighted to see them but especially delighted that they had brought me a breakfast from a well known fast food chain.
Phil worked in the broadcasting industry and is a bit of a whizz with electronics and he has been a busy boy transforming my old defunct mini amplifiers into fully functioning speaker systems with much better sound quality and they will be essential for the forthcoming autumn. MP, PW, AP, PDU, TL
Reed Warbler 2 (3), Sedge Warbler 9, Blackcap 27 (6), Garden Warbler 3 (1), Whitethroat 5, Chiffchaff 15, Willow Warbler 3, Goldcrest 1, Dunnock 1 (2), Wren 9 (1), Robin 1, Blue Tit 2, Great Tit 1 (2), Long Tailed Tit 4, Bullfinch 0 (1)
13th August 2017 - Swindon STW CES
I was away for this session but I was really pleased that Anna took the lead for this session ably supported by Simon.
Unfortunately they had a very quiet session with one of our lowest CES catches ever. AF, SW
Reed Warbler 0 (1), Sedge Warbler 1, Whitethroat 4 (1), Blackcap 5 (3), Garden Warbler 2, Chiffchaff 1, Robin 2 (6), Wren 3, Blackbird 2 (1), Song Thrush 1, Blue Tit 1, Great Tit 1
6th August 2017 - Salisbury Plain (east)
The holiday season has hit in and sadly I was on my own today. It was a bit of a hard job clearing all the rides and setting everything up for the first time but it was very exciting to be back out on the plain and in perfect weather. This is peak passage time for Sedge Warblers and it is always amazing to see just how many of them pass through this dry grassland area. I could hear the Redstart calling before I caught it but it was still lovely to see such a beautiful bird. The other bonus birds of the session were a Grasshopper Warbler and a juvenile Stonechat.
There was an enormous flock of Linnets on site and it was almost a surprise to only catch 11, I reckon there must have been over 500 present. MP
Redstart 1, Stonechat 1, Sedge Warbler 39, Reed Warbler 11, Grasshopper Warbler 2, Whitethroat 41, Blackcap 2 (1), Garden Warbler 5, Lesser Whitethroat 1, Willow Warbler 10, Linnet 11, Yellowhammer 4, Dunnock 2, Robin 2, Wren 1 (1), Long Tailed Tit 8 (1)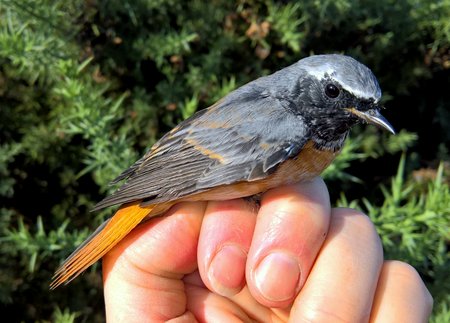 30th July 2017 - Mouldon Hill Canal, Swindon
With the dodgy weather we have missed the chance to do our first session of the autumn on the Salisbury Plain and so we opted instead for a session at Mouldon Hill which is very sheltered and closer to home so if we have to abort we haven't travelled too far. The overnight rain had cleared, leaving the vegetation very wet but the day soon became sunny. We had a large but reasonably inexperienced team out and we were joined for the first time by Phil Dunk who has been out on a couple of Tree Sparrow nesting safaris and is interested in becoming a trainee.
Our monitoring of the Reed Warblers in the area is now proving to be very effective with 14 of the 16 caught being retraps. Nine of the retraps were ringed as nestlings in the canal this summer and we also retrapped two that we originally ringed as nestlings in the canal in July 2015. Nine Sedge Warblers shows that they are starting to move now but the number of Wrens we caught was probably a record for us with 14 in one day. Recent catches are starting to suggest that Wrens have fared very well this breeding season. MP, NW, GH, JH, TL, PDU
Reed Warbler 2 (14), Sedge Warbler 9, Blackcap 3 (1), Chiffchaff 4, Willow Warbler 2, Dunnock 5 (1), Wren 13 (1), Robin 2, Blackbird 7, Sparrowhawk 1, Goldfinch 1, Bullfinch 1, Long Tailed Tit 3, Blue Tit 3 (4), Great Tit 2 (1), Treecreeper 1, Woodpigeon 1, Great Spotted Woodpecker 0 (1)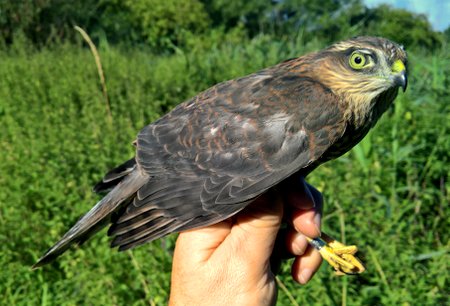 Information about WOS
Wiltshire Ornithological Society was formed on November 30th, 1974, and has grown in recent years to more than 500 members.
Our mission is to encourage and pursue the study, recording and conservation of birds in Wiltshire
Portraits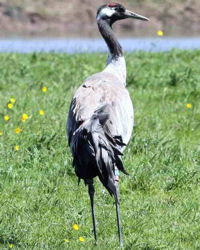 Latest News

A new Atlas section has been added to the web site. This shows distrib...

The two peregrine chicks being raised on Salisbury Cathedral have fled...