You are here:  

Cotswold Water Park
A to Z
Grid reference: ST8377 to ST80
The By Brook valley offers attractive scenery on the edge of the Cotswolds and is the best place in Wiltshire to see Dippers.
You can park in Box in the Cricket Ground car park north of the A4 near the junction with the A365 (ST825686) near the Selwyn Hall. The access to the car park is not far from the Queens Head pub.
From the car park, you can use footpaths following the By Brook northwards towards Castle Combe or southwestwards towards Bath. Several pairs of Dippers breed along the river which is also home to Grey Wagtail, Kingfisher and Reed Bunting. A good range of woodland and farmland species can also be found in the valley including Woodpeckers, Nuthatch, Treecreeper, Buzzard, Yellowhammer and Stock Dove. The riverside can be very muddy.
Information about WOS
Wiltshire Ornithological Society was formed on November 30th, 1974, and has grown in recent years to more than 500 members.
Our mission is to encourage and pursue the study, recording and conservation of birds in Wiltshire
Portraits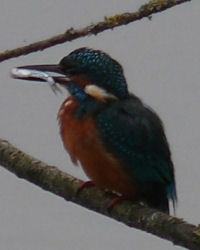 Latest News

A new Atlas section has been added to the web site. This shows distrib...

The two peregrine chicks being raised on Salisbury Cathedral have fled...