You are here:  

Cotswold Water Park
A to Z
Grid reference: ST9331
The lake was created by damming a tributary of the river Nadder. It is in the grounds of what was once Fonthill Abbey, built by the 18th century eccentric, William Beckford.
Various rarities have been recorded here. The usual waterfowl include Mandarin Duck, Mallard, Tufted Ducks, Pochard, Coot, Great Crested Grebe, Little Grebe. Also woodland species such as Chiffchaff, Robin, Chaffinch Nutchatch, Treecreeper.
Information about WOS
Wiltshire Ornithological Society was formed on November 30th, 1974, and has grown in recent years to more than 500 members.
Our mission is to encourage and pursue the study, recording and conservation of birds in Wiltshire
Portraits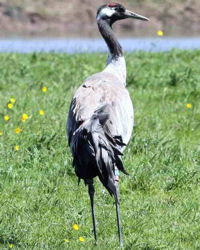 Latest News

In early June, three peregrine chicks were rescued from a nest in Shro...

New Incumbents At the WOS AGM on 5th April, Matt Prior was elected as...