You are here:  

Marlborough Downs
A to Z
Grid reference: SU1375 to SU1775
The Marlborough Downs offer spectacular scenery and are home to many species that are scarce elsewhere.
Walks 1 and 2. From Barbury Castle
You can park at Barbury Castle Country Park. The park has toilets and a cafe. The car park (SU157761) is accessed via a road running south from Wroughton. Remember to check the shrubby areas around the car park for Tree Sparrow and Yellowhammer.
Walk out of the car park onto the road and turn right, heading south-east past Upper Herdswick Farm with Smeathes Ridge on your left. You have a good chance of seeing Corn Bunting, as well as Northern Wheatear and Whinchat on migration. In winter, up to early April, you may spot a Merlin, Hen Harrier or Short-eared Owl hunting over the hillsides. At Four-mile Clump (SU165746) look for Linnet and Reed Bunting in the copse.
For a shorter walk, turn off right just before getting to the copse, head down to Ogbourne Maizey Down and then follow the gallops north past the race course back to Barbury Castle.
For a longer walk (seven miles), continue until you come to the road leading into Rockley (SU161718). After passing through the village, look for an old byway heading north-east and turn right onto it. At the next byway sign, turn left at the stile and head north-west. Grey and Red-legged Partridges may be skulking in the fields to your left. As you walk along the valley towards Hackpen Hill, scan the slopes above for raptors and Ravens andcheck the hedgerows for Tree Sparrow. From Hackpen, join the Ridgeway back to Barbury Castle.
Walk 3. Fyfield Down
Map of starting point provided by Streetmap
This walk takes you round the Fyfield Down National Nature Reserve, a wild area scattered by sarsen boulders. Migratory Ring Ouzel and Northern Wheatear and Whinchat forage among the stones and Barn Owls hunt over the area at dusk.
Park in Lower Fyfield, cross the A4 and follow the footpath north up to the reserve. On the Down, head west and pass by Wroughton Copse and Delling Copse, where Common Redstarts often stop on passage. Look for Green Woodpeckers fossicking in the grass for ants.
Just past Delling Copse, turn south and follow the path along the earthworks to Down Barn and then follow the Pickledean Valley back to Fyfield. You can expect to see European Stonechat, Skylark and Meadow Pipit. Corn Bunting and passage Northern Wheatears are possible. Raptors and Ravens are often seen (or heard) overhead and there is the chance of a Short-eared Owl in winter or early spring. Between Fyfield Down and Avebury, you may also see Little Owl and Tree Sparrow. Yellow Wagtails arrive in the area in late April.
Walk 4 Pewsey Downs
Parking is available at SU116633, just off the road between Alton Barnes and Lockeridge. From there, you can follow the White Horse Trail west towards Tan Hill or eastwards to Knap Hill. The trail follows the top of the escarpment and offers spectacular views and the chance to see birds such as Whinchat, Northern Wheatear and Merlin. Dotterel have been spotted here on migration.
Information about WOS
Wiltshire Ornithological Society was formed on November 30th, 1974, and has grown in recent years to more than 500 members.
Our mission is to encourage and pursue the study, recording and conservation of birds in Wiltshire
Portraits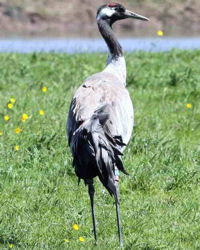 Latest News

A new Atlas section has been added to the web site. This shows distrib...

The two peregrine chicks being raised on Salisbury Cathedral have fled...