You are here:  

Cotswold Water Park
A to Z
The Ravensroost complex is centred on Ravensroost Woods and, as well as the wood, includes Ravensroost, Avis, Distillery and Warbler Meadows. The wood is a coppiced hazel wood with mature oak guard trees. Bird interest includes all of the usual woodland species plus Marsh Tit, Spotted Flycatcher and Lesser Spotted Woodpecker. It is a fine spot for butterflies with Silver-washed Fritillary, White Admiral, Brown and Purple Hairstreaks occurring every year. The ponds are home to all three species of newt and, if you are lucky, grass snakes can be seen hunting in the ponds. Dogs are welcome - but must be kept on a lead. There is parking at the south end of the wood. Grid reference SU0288.
Information about WOS
Wiltshire Ornithological Society was formed on November 30th, 1974, and has grown in recent years to more than 500 members.
Our mission is to encourage and pursue the study, recording and conservation of birds in Wiltshire
Portraits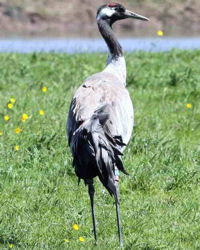 Latest News

A new Atlas section has been added to the web site. This shows distrib...

The two peregrine chicks being raised on Salisbury Cathedral have fled...