You are here:  

Marlborough Downs
A to Z
Webb's Wood has been managed as a commercial woodland by the Forestry Commission for decades but has a wide variety of habitats within its boundaries. There are large areas of broadleaved woodland, blocks of conifer and wide open areas where the trees have been felled. There are dry areas and boggy wet areas. The FC's plan is to return the entire site to native British woodland species as the commercial crops are harvested. It is a large area and holds a wide and interesting variety of birds at all times of the year. Paths are well defined through the wood but can get extremely muddy in places. It is an interesting site that promises to get better as the FC develop their plans. Grid Ref: SU045855.
Information about WOS
Wiltshire Ornithological Society was formed on November 30th, 1974, and has grown in recent years to more than 500 members.
Our mission is to encourage and pursue the study, recording and conservation of birds in Wiltshire
Portraits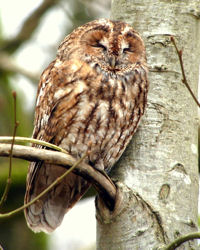 Latest News

A new Atlas section has been added to the web site. This shows distrib...

The two peregrine chicks being raised on Salisbury Cathedral have fled...