You are here:  

Cotswold Water Park
A to Z
Somerford and Milbourne Commons are a single complex divided north to south by a road (Stoppers Hill) and a byway. It is a Forestry Commission site with a wide number of habitats ranging from solid blocks of commercial conifer plantation to large broad-leafed areas and wide open spaces over an undulating landscape. It is home to large numbers of coal tit and goldcrest with lesser redpoll, siskin and regular occurence of crossbill in the winter. Curlew can often be heard in the Spring both in the complex and in the meadows around the edges. At the time of writing, the FC plan to create a large woodland pond in the north-west corner of the plot, which should increase the interest at the site. There is car parking in many of the gateway entrances and at the northern end of the byway. Grid Reference SU SU020860.
Information about WOS
Wiltshire Ornithological Society was formed on November 30th, 1974, and has grown in recent years to more than 500 members.
Our mission is to encourage and pursue the study, recording and conservation of birds in Wiltshire
Portraits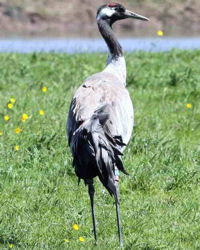 Latest News

In early June, three peregrine chicks were rescued from a nest in Shro...

New Incumbents At the WOS AGM on 5th April, Matt Prior was elected as...