North Wilts Group
19th March 2013 - Marlborough Downs
It was another beautiful, cold crisp day on the Marlborough Downs and we set our nets either side of a hedgerow where we have been feeding farmland birds every winter for twelve years. Mixed flocks of Yellowhammers, Chaffinches and Corn Buntings wheeled around with a minimum of 800 birds being present. Best birds of the day were retraps in the form of a Yellowhammer and a Dunnock that were both 6 years old, birds of this age are quite uncommon but vital for their populations. We controlled three Tree Sparrows that had been ringed as nestlings last summer with one of them moving 7 miles from its natal site on the Pewsey Downs. MP
Yellowhammer 45, Chaffinch 28, Dunnock 4, Tree Sparrow 2, Great Tit 1, Robin 1, Goldcrest 2, Reed Bunting 2
18th March 2013 - Liddington Hill
More farmland bird monitoring today, this time at Liddington Hill with the ground frozen and perfect ringing conditions of dead calm and overcast. There were a minimum of 150 Corn Buntings present but we only managed to catch and individually colour ring three. As usual there were good numbers of Yellowhammers present and we ringed 52 and retrapped one that was originally ringed in December 2010. Star bird of the day was the first year male Firecrest, proof that anything can turn up anywhere especially at a migration site such as Liddington Hill. MP
Yellowhammer – 52, Corn Bunting – 3, Goldfinch – 2, Reed Bunting – 4, Firecrest – 1, Chaffinch – 14, Linnet – 21, Dunnock – 3, Blackbird - 3, Great Tit – 4, Blue Tit – 3, Robin – 1
14th March 2013 - Coleshill
A good morning with the frost disappearing quickly in bright sunshine, with just 3
nets along garden edge. Good numbers with 65 new and 40 retraps. OF
Great Spotted Woodpecker 0(4), Blackbird 1(1)Great Tit 7(11), Blue Tit 11(14), Coal Tit 1(3), Chaffinch 6(3), Greenfinch 7(0), Goldfinch 21(4), Siskin 5(0), Lesser Redpoll 6(0). Also seen from the garden were 3 Buzzard, 2 Red Kite, 2 Raven, 2 Green Woodpecker and female Sparrowhawk.
14th March 2013 - Nightingale Wood
A very slow morning with only 14 new and 38 retraps caught. The only new birds of note were a Great Spotted Woodpecker and a Fieldfare. PD
14th March 2013 - Pewsey Downs
Weather conditions were calm, bright and cold and just about perfect for a morning at a particularly smelly farm on the Pewsey Downs. We ringed this site last week and saw a Little Owl, so upon arrival at 05:00 today we set a net and played Little Owl call and we were well rewarded with not one but two Little Owls. This is very interesting because we ringed one at the same site last winter and we presumed that one of these birds would have been the bird from last year but they weren't. There were over 250 Tree Sparrows present but most of them kept well away from our nets this morning. We colour ringed 6 Tree Sparrows, these are the first to be able to be individually identified by their colour rings as part of a Phd project by the Game and Wildlife Conservation Trust. The Tree Sparrow in the picture was originally ringed as a nestling in July 2008, so at four and a half years old is pretty old for a Tree Sparrow. MP
12th March 2013 - Recent Recoveries
Some nice recoveries in the latest batch from the BTO including one from Portugal. See the recoveries and controls page for more details;
Reed Bunting - Brimpton Gravel Pirs, Berks to Nightingale Wood
Robin - Westdown to East Stour, Dorset
Chiffchaff - Nightingale Wood to Forninhos, Portugal
Blackcap - Westown to Icklesham, East Sussex
Blackcap - Nightingale Wood to Ripon, North Yorkshire
2nd March 2013 - Nightingale Wood
First session out since getting back from the BTO ringing expedition to The Gambia. We were joined by Louise who enjoyed her Wood Pigeon, an unusual mist net catch for this site. Total catch was quite low with 31 new and 33 retraps. GD/PD
Wood Pigeon 1, Wren 1, Dunnock 1(3), Robin (4), Blackbird 2, Redwing 1, Long-tailed Tit 4(1), Blue Tit 5(10), Great Tit 1 (6), Chaffinch 6(4), Greenfinch 1, Bullfinch 2(3), Reed Bunting 6(1).
Gambia BTO Ringing Expedition
February - THE GAMBIA
Another successful ringing expedition to Kartong in The Gambia with over 1200 birds ringed including some 150 Western Palearctics caught including good numbers of Reed & Sedge Warbler's and lots of common waders. Too many highlights to include them all but below are photos of a Black Egret, White-crested Helmetshrike, Sengal Thick-knee, Purple Glossy Starling, Common Wattle-eye and Matt with an American Golden Plover, the first of this species to be ringed in Africa.

Information about WOS
Wiltshire Ornithological Society was formed on November 30th, 1974, and has grown in recent years to more than 500 members.
Our mission is to encourage and pursue the study, recording and conservation of birds in Wiltshire
Portraits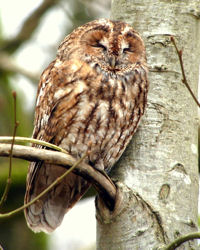 Latest News

At the WOS AGM on 5th April, Matt Prior was elected as Chairman, Marti...

WOS AGM commences at 7.30 pm on 5th April at the Corn Exchange, Devize...