North Wilts Group
27th April 2013 - Kennet Valley
Paul, Jack, Olly and I comprised a good team lined up for another great session in the beautiful Kennet Valley, as one of the team said 'it is a privilege just be here'. Nets were set with stunning efficiency and as day broke we were soon aware that the Redpoll flock was still present with many singing and they were hitting our feeders with fervour. Blackcaps, Willow Warblers and Chiffchaffs were all conspicuous and the team were kept busy all morning with some really good work being done on ageing and sexing Redpolls. Mandarins were whizzing up and down the river and we can consider ourselves a bit unlucky not to have caught one. A female Barn Owl flying around at dawn, plenty of Swallows and a Swift helped the birding side of the morning.
We retrapped a pair of Marsh Tits and the female had a brood patch so it is good to see them breeding, but the lone Willow Tit that we retrapped was showing no signs of breeding activity. The Redpoll flock yielded more same winter retraps but also a bird ringed last winter and another control (ringed elsewhere).
The totals of 75 ringed and 39 retrapped made for another superb 'spring' morning ringing experience.
We met the river keeper on his rounds and he is always good value for a chat about the countryside and we passed him a big bundle of tree cuttings so that he can create yet more excellent habitat.
Most ringing groups would then probably go home or the odd person might slope off to let the others do the work but this bunch; We proceeded to Swindon STW and met Simon and we set 12 nets ready for the morning.

MP/PA/JN/OF
Lesser Redpoll 31 (8), Chaffinch 12 (6), Siskin 1, Goldfinch 2, Blackcap 5, Willow Warbler 5 (2), Chiffchaff 2, Whitethroat 1, Great Tit 5 (9), Blue Tit 2 (2), Willow Tit (1), Marsh Tit (2), Coal Tit 1, Long Tailed Tit (3), Dunnock 1 (3), Blackbird 3, Nuthatch (1), Wren (1), Great Spotted Woodpecker (1)
25th April 2013 - Nightingale Wood.
A bonus mid-week session today with mostly the same net set as Sunday. While setting the nets a Grasshopper Warbler started singing and was quickly encoraged into becoming the first customer of the morning. The second bird of the morning, a control Blackcap Y477147 kept the good start going. Most of the Willow Warbler's that were around at the weekend appear to have moved on but there were still plenty of Blackcap's, with birds singing from almost every bush. Three Sedge Warbler's were singing from the reedbed, the first of the spring and two Lesser Whitethroat's were singing from the hedgerows. Not too many birds caught, but a nice easy paced morning of coffee and biscuits in the sunshine. GD/OF
Wren (2), Grasshopper Warbler 1, Sedge Warbler 1, Whitethroat 1(1), Blackcap 18(4), Chiffchaff (1), Willow Warbler 2(1), Long Tailed Tit 2, Blue Tit 1, Bullfinch 1(2)
23rd April 2013 - Castle Eaton
We all know that spring or summer is about two to three weeks behind and tonight further proved the point. Jack and I went to the rookery where we usually ring the rooks on about 10th April but because we know the breeding season is behind we left it later than ever before. We managed to get to 14 nests to record their contents and thus start off our nest recording for the year. Most nests had warm eggs but we did find a couple of newly hatched chicks but it will still be 2 weeks before they are ready to ring which will mean that for the first time ever our rooks will be ringed in May which looks like three weeks late.

MP/JN
22nd April 2013 - Salisbury Plain (east)
The 22nd April is normally the day when migrants really flood in and I often record my first Lesser Whitethroat on this day. Despite Grahams low number of migrants we set off for the Salisbury Plain at 3am. It soon became apparent that the site was virtually devoid of summer migrants but still we soldiered on to record a fairly meagre total of 31 new and 12 retraps. The highlight of the day was a Whitethroat that was ringed last summer. MP
Blackbird 0 (2), Robin 1, Dunnock 0 (4), Wren 1 (1), Treecreeper 1 ,Willow Warbler 2, Chiffchaff 2, Blackcap 2, Whitethroat 1 (1), Blue Tit 1, Great Tit 5, Coal Tit 1, Long Tailed Tit 2 (1), Chaffinch 4 (2), Bullfinch 3 (1), Yellowhammer 5
21st April 2013 - Nightingale Wood
By putting some nets up the night before meant an extra half hour sleep, but with the first bird of the morning being a Cuckoo calling in the pre-dawn gloom we wished we had got there earlier to set nets for it. By the time all the nets were open it was too light and the bird could see the nets. As we had set nets around the lake and in the willow plantations the catch was dominated by warblers with good numbers of Willow Warbler and Blackcap. There were quite a few were old friends with 2 Willow Warblers from 2011 and a Blackcap from 2010 the best of the retraps along with a Treecreeper from 2010. After packing up and while checking on the uptake of some of our nest boxes, a Redstart proved a nice find. A nice easy paced moringing with 37 new and 25 retraps. GD/PD/OF
Wren 1(4), Dunnock 1, Blackbird (1), Whitethroat 1, Blackcap 19(5), Chiffchaff 2(1), Willow Warbler 7(5), Long Tailed Tit (2), Great Tit (2), Treecreeper (1), Chaffinch 1, Goldfinch 2, Bullfinch 3(3), Reed Bunting (1)
20th April - Salisbury Plain (centre)
With lots of quality migrants being reported around the county and with Matt's large catch at Swindon STW yesterday hopes were high of taking a good catch of migrants today, so we put up 17 60's. The first net round produced a few warblers including a Grasshopper Warbler along with a retrap Nightingale, our target species, that was originally caught as a juvenile in August 2010. Unfortunately that proved to be the best of it as once again the fog came down down for 2 hours and by the time it cleared up, all the birds had cleared off. A singing Redstart managed to give us the run around in the sunshine by avoiding the cunning net we had set for it, and the other 5 singing Nightingale's decided not to contribute any data to science. The first Whitethroat's of the year added some cheer late on and two more Grasshopper Warbler's were caught at a favoured site as we drove off the Plain. In all 40 new and 21 retraps were processed, a disappointing total for the time of year. GD/PD/OF
Willow Warbler 5(2), Chiffchaff 3(5), Wren 1(1), Goldcrest 1, Long Tailed Tit 1(1), Blackcap 11(1), Chaffinch 1, Grasshopper Warbler 3, Dunnock 3(7), Robin 2, Blue Tit 1, Linnet 1, Whitethroat 4(1), Song Thrush 1(1), Blackbird 2(1), Nightingale (1)
19th April 2013 - Coleshill
3 nets up for a short afternoon session between 1200 and 1600 in the garden after the week's strong winds had abated as there were still a few Lesser Redpolls and Siskins around. Not many Chiffchaffs and Blackcaps around at this time of day but the first Redstart of the year was an unexpected bonus. OF
Great Spotted Woodpecker 0 (2), Redstart 1 (0) ,Blackcap 1 (0), Coal Tit 0 (2), Blue Tit 0 (6), Great Tit 1 (4), Chaffinch 2 (0), Greenfinch 4 (1), Goldfinch 5 (1), Lesser Redpoll 2 (1)
19th April 2013 - Swindon STW
After a few days of strong westerlies and southerlies the wind died overnight as forecast and I was hopeful of a run of migrants. Simon and I met bright and early at Swindon STW, with the first bird heard being a Grasshopper Warbler reeling strongly. Willow Warblers were immediately evident and we ended up with 21 ringed and a breeding male retrapped for its third consecutive year, this is the highest spring day total for this species for the site and it was noticeable that many were carrying fat and that there were both males and females so it is fair to assume that many of these were migrants on their way further north. The second net round produced a real site rarity and one of my favourite birds in the form of a first year female Firecrest which absolutely made our day. Sedge Warblers were singing but were not prepared to leave the cover of the reeds.
With the sudden increase in temperature during the last week, breeding activity has started for real with Dunnocks, Robin, Reed Bunting and Great Tits all having early stage brood patches. We finished with 41 new birds and 35 birds retrapped. As ever we learn a lot from the retrapped birds and the four Reed Buntings have only ever been trapped in the breeding season so where do they go in the winter? The oldest bird of the day was a Dunnock that was originally ringed as a freshly fledged juvenile on 1st June 2008 and so is just short of 5 years old.
On our way out of the site, Simon spotted a superb male Whinchat and we saw 10 Whitethroats that had cunningly evaded our nets, but there is always next week. MP/SW
Information about WOS
Wiltshire Ornithological Society was formed on November 30th, 1974, and has grown in recent years to more than 500 members.
Our mission is to encourage and pursue the study, recording and conservation of birds in Wiltshire
Portraits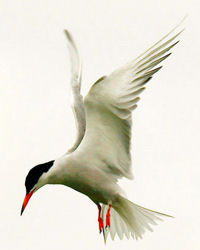 Latest News

In early June, three peregrine chicks were rescued from a nest in Shro...

New Incumbents At the WOS AGM on 5th April, Matt Prior was elected as...