North Wilts Group
10th June 2013 - Swindon STW & Nest Boxes
Simon and I set nets the night before and were quite excited to hear Grasshopper Warbler reeling briefly in the same spot where we ringed one much earlier in the spring. They are almost certainly breeding on site but they skulk so secretively and they don't move very far. We didn't retrap any on the morning but we did enjoy a very successful session that included two control Reed Warblers and ended with us ringing our first Reed Warbler nest of the season with a very impressive 5 chicks ringed. We also ringed our first 3Js of the year, these are birds that have hatched this year. We always like seeing the first juveniles of the year because it shows that it isn't all doom and gloom and that some birds breed successfully and we were treated to 3 juvenile Robins and a juvenile Greenfinch. MP/SW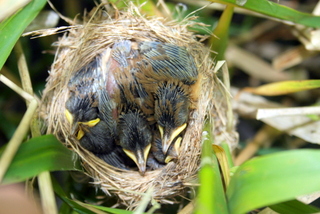 Reed Warbler 4 (12), Sedge Warbler 1 (4) , Blackcap 1 (3), Whitethroat 1 (5), Willow Warbler 1 (1), Chiffchaff (1), Greenfinch 7 (3), Bullfinch 3 ,Chaffinch 1, Goldfinch 1, Blackbird 3 (4), Song Thrush 4 (1), Dunnock 0 (5), Robin 3, Wren 2 (2), Great Tit 1 (1)
Work and checking nest boxes have somewhat taken over life recently and I haven't had time to update the page. I am monitoring 123 pairs of Tree Sparrows in nest boxes ringing over 150 Tree Sparrow nestlings to date. There have been an awful lot of failures but in the past week the success rate has picked up.
21st May 2013 - Singapore
Passerine ringing at Sungei Buloh, Singapore.
During my trip to Singapore and Malaysia, I had the privilege yesterday of meeting David Li Zuo Wei and his colleagues at the Sungei Buloh reserve. David is a Senior Conservation Officer with the Singapore National Parks Service and a renowned expert on Asian migrating waterbirds after working for Wetlands International.
At this time of year the extensive mangrove-lined creeks and mudflats at Sungei Buloh are relatively quiet with only resident species, such as Pied Fantail, Copper-throated Sunbird, White-bellied Sea-Eagle, Dollarbird and Black-naped Orioles, staying to breed. In the winter and during migration, however, this site is extremely important for thousands of waders and it is great to see this area being protected given the rapid development of the Singapore Island and the Johor area of Malaysia across the strait.
Despite the lack of migrating species David runs a modest passerine ringing session once a week and I was invited to join them for a short session which was curtailed by a massive thunderstorm that resulted in us quickly closing the nets for the day. It was certainly hard work doing the net rounds in the oppressive 32° heat and near-100% humidity while trying not to step on any Spitting Cobras hiding in the leaf litter.
As we only had a few nets and breeding birds were largely staying-put in the heat we didn't catch many birds although I did manage to ring species such as Laced Woodpecker, Collared Kingfisher, Zebra Dove and Yellow-vented Bulbul. As always it's interesting to discuss ageing of new species and having a whole family of Laced Woodpeckers (a male, a female and two first-year birds) in the hand meant we could compare the different age-deciding criteria. Together we came up with a foolproof method looking at eye-colour, ear-covert streaking, greater-covert colouration and the arrangement of white spots on the primary feathers to distinguish the first-year birds from the adults.
Like on the ringing expedition to Kartong in Gambia earlier this year problems arise when using BTO ageing codes for equatorial/tropical species which begin breeding in November and December and, therefore, cannot have age 3 or 5 codes although these birds clearly exhibit juvenile/first-year traits. David and I had a long discussion about this and is thinking of using the Australian system which is independent of the calendar year and might work better for these resident-breeding species.
Thanks to David and his team and I hope I can join them again during the migration period to see the reserve filled with winter visitors. OF
21st May 2013 - Marlborough Downs nest recording
I haven't been out checking nest boxes for four days because of too much time spent at work. Four of us swept like a wave across the Marlborough and Pewsey Downs spending 9 hours doing a massive check of the Tree Sparrow nest box project, monitoring our owl boxes and looking for any nests that we can along the way.
We didn't ring any Tree Sparrows but we did monitor 51 active nests but they are all about three weeks late. We also monitored the following nests: Great Tit (1), Blue Tit (3), Pied Wagtail, Carrion Crow (2), Linnet (2), Chaffinch (1), Stock Dove (3), Swallow (3), Little Owl 2, Kestrel (1).
We ringed a brood of 4 Carrion Crows, 2 Stock Doves and best of all a Lapwing chick that Jack did very well to spot amongst a stunted crop. MP/JN/SW/PA
18th May 2013 - Nightingale Wood
For the time of year and the number of birds around this morning's catch was truly appalling with just 19 new and 13 retraps. The only redeeming event of the session was catching the local Cuckoo in the pre-dawn gloom with the help of a decoy, the second for our group this year. All the female birds we catch are showing signs that breeding is well under way and one of the Whitethroats caught was carrying and egg. On the way out of the wood we checked our nest boxes and found a brood of four Jackdaws to ring, our first pulli of the year. GD/PD
Cuckoo 1, Wren 1(2), Dunnock 1(2), Blackbird (1), Reed Warbler 2(1), Whitethroat 4(2), Blackcap 3(1), Chiffchaff 1, Goldcrest 1, Blue Tit (1), Great Tit (2), Jackdaw 4, Bullfinch 1(1)
Spot the difference............. Bob the decoy plus a special friend
16th May 2013 - Salisbury Plain (centre)
As the weather last weekend was far too windy for ringing and this weekend look like it could be a bit wet we decided to try and get a mid-week bonus session in to catch the last of the migrants before everything settles down to breed.
We arrived to the chorus of multiple Nightingales, Grasshopper Warblers and Quail. The distant sound of small arms gunfire and army flares lighting up the pre-dawn darkness only added to the atmosphere created by the rolling mist and frosty conditions. The session had to be a short one as the army wanted us off the ranges by 0830 so that they could fire their big whiz-bang artillery rounds into the opposite hillside. Due to the time limit we only had about half the usual nets up plus 3 nets in an area of scrub we had never been in before and it was these nets the caught the majority of the birds.
The first net round produced yet another 2 new Grasshopper Warblers and a retrap from a few weeks ago. This species must have had a very good winter as they are on Salisbury Plain and my other sites in numbers I've not seen before and this is now already the best year total ever.
Also in the first round was a rather nice male Whinchat. Although they breed on the Plain they are rarely found in the nets. This was the first I've caught since a bird in 2010 that Norway Nigel grabbed.
A control Garden Warbler added a bit of excitement as did 2 Reed Warblers late on.
Not a massive catch for the group totals but really just glad we could get out. GD/PD/OF
Dunnock (2), Robin 1(2), Whinchat 1, Blackbird (4), Song Thrush 1(3), Grasshopper Warbler 2(1), Reed Warbler 2, Lesser Whitethroat (2), Whitethroat 6(8), Garden Warbler 1(2), Blackcap (2), Chiffchaff (2), Willow Warbler 2(2), Blue Tit 1(2), Bullfinch (2)
11th May - Nest Checking
As it was too windy for mist netting we chose to monitor nests today so why not start with high nests in a rookery just for excitement? We left a few of the highest nests due to the wind but still managed to get to 14 nests and ring 16 nestlings, leaving a few for next week if we get round to it. A quick trip home to swap the super long ladder for a normal ladder and then we embarked on our nest recording safari of the Marlborough and Pewsey Downs. The crops are still too low for Yellow Wagtails and Corn Buntings to breed but we did see a Yellow Wagtail carrying nest material. In all, we monitored 47 active Tree Sparrow nests and saw our first newly hatched nestlings of the year. We also monitored nests of Stock Dove, Blue Tit, Great Tit, Carrion Crow, Woodpigeon and best of all another pair of Little Owls using our specially designed boxes copied from the team in Lincolnshire who developed the successful design. MP/JN/PA
Nestlings ringed: Rook 16, Stock Dove 4
9th May 2013 - Totals up to the end of April
Group totals for new captures up to the end of April. It's pretty much what we would expect for the time of year with some nice species caught even if there's nothing exceptional.
If we get a half decent breeding season you can expect to see the totals for Tree Sparrow go over 1000 as all the pulli are ringed as part of the Wiltshire Tree Sparrow Recovery Project. It looks like there could be some interesting nesting species lined up this year as well, but sadly we missed our chance with our Raven's as the nesting tree proved too difficult to climb.
From now on, as well as Tree Sparrow's, its time to concentrate on our ringing group projects on monitoring nesting Willow Tit's in the few woodlands they still survive in and Nightingale's on Salisbury Plain.
| | | | | |
| --- | --- | --- | --- | --- |
| Sparrowhawk | 1 | | Blackcap | 99 |
| Water Rail | 1 | | Chiffchaff | 23 |
| Jack Snipe | 5 | | Willow Warbler | 79 |
| Snipe | 16 | | Goldcrest | 20 |
| Wood Pigeon | 16 | | Firecrest | 2 |
| Collared Dove | 3 | | Long-tailed Tit | 53 |
| Little Owl | 2 | | Marsh Tit | 2 |
| Kingfisher | 1 | | Willow Tit | 2 |
| Green Woodpecker | 1 | | Coal Tit | 93 |
| Great Spotted Woodpecker | 12 | | Blue Tit | 216 |
| Skylark | 6 | | Great Tit | 137 |
| Tree Pipit | 1 | | Nuthatch | 3 |
| Meadow Pipit | 12 | | Treecreeper | 5 |
| Pied Wagtail | 13 | | Jackdaw | 3 |
| Grey Wagtail | 1 | | Jay | 7 |
| Wren | 23 | | Magpie | 1 |
| Dunnock | 80 | | Starling | 9 |
| Robin | 63 | | House Sparrow | 24 |
| Redstart | 2 | | Tree Sparrow | 61 |
| Blackbird | 83 | | Chaffinch | 345 |
| Fieldfare | 7 | | Brambling | 11 |
| Mistle Thrush | 1 | | Greenfinch | 95 |
| Song Thrush | 10 | | Goldfinch | 163 |
| Redwing | 16 | | Siskin | 31 |
| Grasshopper Warbler | 13 | | Linnet | 226 |
| Sedge Warbler | 15 | | Lesser Redpoll | 130 |
| Reed Warbler | 3 | | Bullfinch | 33 |
| Lesser Whitethroat | 4 | | Yellowhammer | 298 |
| Whitethroat | 29 | | Reed Bunting | 83 |
| Garden Warbler | 1 | | Corn Bunting | 16 |
| | | | | |
| | | | TOTAL | 2720 |
6th May 2013 - Swindon STW
I went to Swindon STW yesterday morning to set some nets in readiness for this morning but spent most of the time watching two male Cuckoos chasing each other around. We had a large team today of Simon, Paul, Lucy and Steve and we met at 445. We quickly set a single net with the female 'bubble' call playing, it is essential to get this set up in the dark. We put up the rest of the nets and on first check of the Cuckoo net, there it was right in the middle shelf, a fabulous male Cuckoo. We were all absolutely delighted because it is the first we have ringed for about 8 years and they have been really scarce in recent years.
It was a glorious calm sunny day and it soon became obvious that migrants had gone straight over us as we were left with resident birds and returning warblers. With the vegetation starting to really green up, reeds beginning to emerge and several species of butterfly on the wing including gorgeous Orange Tips it really was a joy to be out.
Many of the resident female birds had obvious brood patches so at last the breeding season is seriously underway. We only ringed 24 birds and processed 41 retraps but we did capture a control Sedge Warbler.
MP/SW/PA/SB/LO
Cuckoo 1, Reed Warbler 1 (1), Sedge Warbler 3 (5), Blackcap 2 (1), Whitethroat 3 (4), Lesser Whitethroat 1, Willow Warbler 1 (1), Chiffchaff 1, Dunnock 3 (9), Robin 1 (1), Wren 1 (5), Blackbird 2 (8), Greenfinch 1, Bullfinch 2, Goldfinch 1, Reed Bunting (2), Blue Tit (2), Song Thrush (1), Long Tailed Tit (1)
A touch of May Magic.....
Information about WOS
Wiltshire Ornithological Society was formed on November 30th, 1974, and has grown in recent years to more than 500 members.
Our mission is to encourage and pursue the study, recording and conservation of birds in Wiltshire
Portraits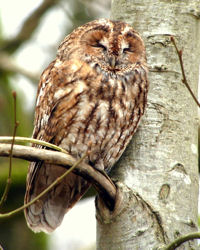 Latest News

CWP Coordinated Gull Roost Count The last coordinated count of gull roosts in the CWP was undertaken in winter 2005/06. In conjunction with the BTO Winter Gull Roost Count in 2003/2004 and a series o...

A new Atlas section has been added to the web site. This shows distribution and abundance maps for most of the birds that can be found in Wiltshire. To access the Atlas, select Atlas from the menu i...