28th April - Swindon STW
Due to our good efforts last night it was a relatively late start this morning, meeting at Swindon STW at 515. Just about the first bird heard was a reeling Grasshopper Warbler. The sky was grey and overcast but flat calm and after the fall at Portland yesterday we fancied our chances of a bit of an influx of migrants and so it proved as on the first round our nets had plenty of warblers in the bottom shelves including a remarkable 3 Grasshopper Warblers, a site record so lets hope that some stay to breed like they did last year. A Garden Warbler was the first for the year and is quite an early date considering that everything else is so late. Star bird of the day however was a Spanish ringed Sedge Warbler which made everyone's day. We were all also delighted to hear that most welcome of summer sounds in the form of a Cuckoo that sadly did not grace our nets, and is now a site rarity. The temperature dropped and it became decidedly cold and birds stopped moving so we took nets down at about 11am when it started warming up and we caught a few more warblers in the last few nets. A few Swallows hawked over the lagoons and it would be great if they stayed to breed like they have for the past few years.
3 Reed Buntings retrapped followed the same pattern as last week, with every capture being in the breeding season further justifying the view that they winter elsewhere; the oldest being four years old. The day also saw the first Reed Warblers of the year including an old friend back for its third year and a Whitethroat back for its fourth year.
All in all, another excellent day of Spring migration with 56 ringed and 49 retrapped. MP,JN,PA,SW
Grasshopper Warbler 4, Sedge Warbler 14 (2), Reed Warbler 2 (1), Garden Warbler 1, Blackcap 5 (2), Whitethroat 7 (4), Willow Warbler 4, Chiffchaff 0 (1), Reed Bunting 2 (5), Chaffinch 3 (1), Lesser Redpoll 2 (1), Greenfinch 4 (2), Bullfinch 1 (3), Linnet 1, Blackbird 2 (2), Dunnock 0 (2), Robin 0 (2), Song Thrush 0 (1), Wren 0 (2), Long Tailed Tit 0 (2), Blue Tit 1 (5), Great Tit 3 (10), Great Spotted Woodpecker 0 (1)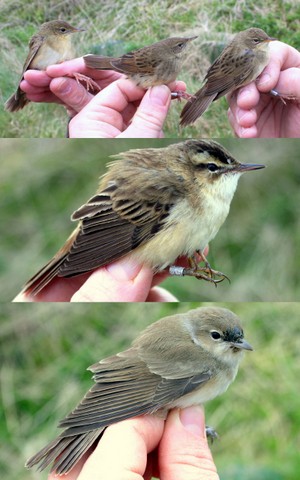 Wake up Jack.......ringing tick!