North Wilts Group
12th March 2013 - Recent Recoveries
Some nice recoveries in the latest batch from the BTO including one from Portugal. See the recoveries and controls page for more details;
Reed Bunting - Brimpton Gravel Pirs, Berks to Nightingale Wood
Robin - Westdown to East Stour, Dorset
Chiffchaff - Nightingale Wood to Forninhos, Portugal
Blackcap - Westown to Icklesham, East Sussex
Blackcap - Nightingale Wood to Ripon, North Yorkshire
2nd March 2013 - Nightingale Wood
First session out since getting back from the BTO ringing expedition to The Gambia. We were joined by Louise who enjoyed her Wood Pigeon, an unusual mist net catch for this site. Total catch was quite low with 31 new and 33 retraps. GD/PD
Wood Pigeon 1, Wren 1, Dunnock 1(3), Robin (4), Blackbird 2, Redwing 1, Long-tailed Tit 4(1), Blue Tit 5(10), Great Tit 1 (6), Chaffinch 6(4), Greenfinch 1, Bullfinch 2(3), Reed Bunting 6(1).
Gambia BTO Ringing Expedition
February - THE GAMBIA
Another successful ringing expedition to Kartong in The Gambia with over 1200 birds ringed including some 150 Western Palearctics caught including good numbers of Reed & Sedge Warbler's and lots of common waders. Too many highlights to include them all but below are photos of a Black Egret, White-crested Helmetshrike, Sengal Thick-knee, Purple Glossy Starling, Common Wattle-eye and Matt with an American Golden Plover, the first of this species to be ringed in Africa.

Information about WOS
Wiltshire Ornithological Society was formed on November 30th, 1974, and has grown in recent years to more than 500 members.
Our mission is to encourage and pursue the study, recording and conservation of birds in Wiltshire
Portraits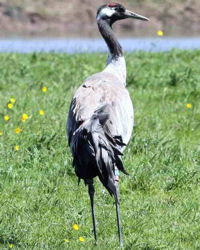 Latest News

A new Atlas section has been added to the web site. This shows distrib...

The two peregrine chicks being raised on Salisbury Cathedral have fled...