North Wilts Group
28th May 2018 - Salisbury Plain CES session 3
Nets were set under clear skies and the first net round with the rising sun saw a Spotted Flycatcher as the first bird of the morning caught, an unusual spring catch for this site. By the time the second net round started thick fog had rolled in and stayed the rest of the morning.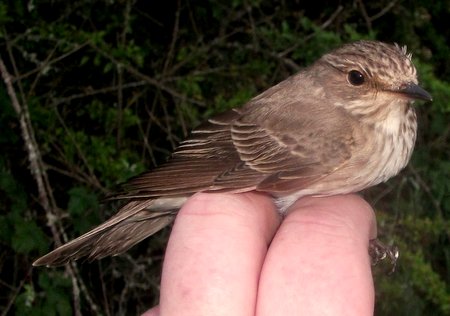 A suprise catch in the second net round was a female Nightingale with an advanced brood patch in the territory where a male had been singing for several weeks. Hopefully the reason the male has been quiet the last 2 visits is because this is his mate and there's no further reason to sing seeing that he's the only male left at this site.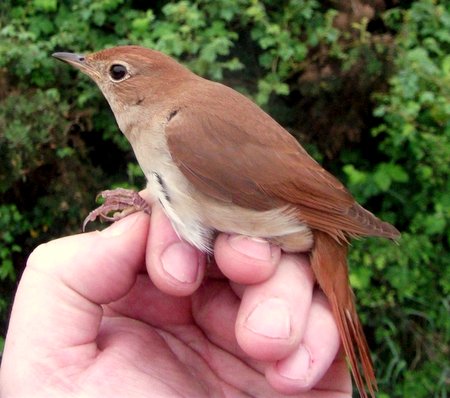 The rest of the catch was fairly run of the mill stuff except for one male Whitethroat that had originally been ringed on 26th August 2013 but had not been retrapped until today. This bird was ringed as a juvenile and so had made 10 trips migrating across the Sahara and in doing so will have travelled at least 45,000km.
The total catch was fractionally better than CES3 last year with 21 new and 43 retraps.
Wren (2), Dunnock (2), Robin (1), Nightingale (1), Blackbird (3), Song Thrush 2(1), Lesser Whitethroat 1(2), Whitethroat 7(10), Garden Warbler 1(5), Blackcap 5(10), Chiffchaff 1(1), Willow Warbler (1), Goldcrest (2), Spotted Flycatcher 1, Blue Tit (1), Great Tit 2, Bullfinch 1(1)