North Wilts Group
8th June 2018 - Salisbury Plain CES session 4
As it's now well into June the early daylight means we are currently leaving Swindon at 0300 to drive the 50 minute journey to get to the site with enough time to get all 14 nets up in time.
On arrival we could hear a Grasshopper Warbler singing from a location away from where any have been this year but as it was on the live artillery firing side of the fence we weren't able to go for it this morning. Best of all a male Nightjar was churring from close to the location where a pair has bred for the last two years so hopefully it's a returning bird rather than just a late migrant.
Catching was steady if a little slow. Warbler numbers are usually exceptionally high on this site but this year numbers of Chiffchaff, Willow Warbler Whitethroat and Blackcap are through the floor. Garden Warbler numbers appear to be stable and if anything, Lesser Whitethroat's have increased this year.
A few 3J's are now starting to be caught, including 2 Lesser Whitethroat's as the first young warblers of the year as well as a family of Linnet and a bit of numbers padding with a large family party of 14 Long-tailed Tit's. The first brood of Swallow pulli were also ringed from the artillery observation bunkers.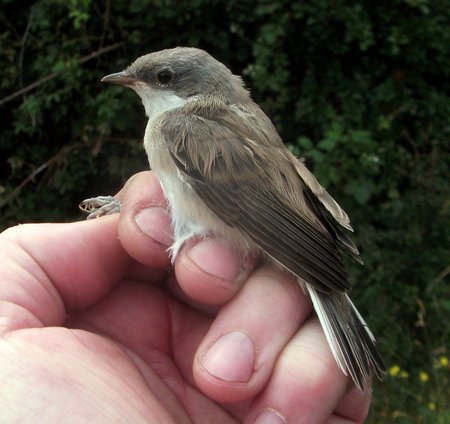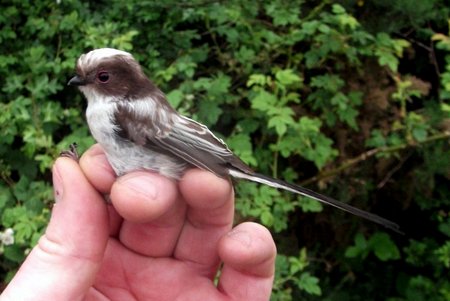 Totals; 47 new, 19 retraps
Swallow 5 pulli, Wren 3(1), Dunnock 2, Robin 2(1), Blackbird 1(1), Lesser Whitethroat 2(1), Whitethroat 1(2) , Garden Warbler 2(5), Blackcap 3(3), Willow Warbler 2(3), Goldcrest (2), Loing Tailed tit 14, Chaffinch 1, Linnet 6, Bullfinch 2, Yellowhammer 1