North Wilts Group
23rd June 2018 - Salisbury Plain CES session 5
This was the last possible day we could have done the CES 5 visit since all the previos 10 days were un-ringable due to strong winds. Bird welfare is the most important thing and putting nets up in 20mph justs is dangerous to the birds and damages nets. I've heard the excuse 'my nets are all sheltered' too many times from some quarters and I'd rather miss a session rather than end up with net casualties.
With today being so close to mid-summer's longest day even leaving Swindon at 0250 meant that it was bright enough not to need a head torch when putting the last 12 of our 17 nets up. We had been warned that there was quite a large fire on the main artillery range and it was lucky that the extensive smoke cloud was moving very slowly less than half a mile from us otherwise it would have been an unpleasant morning.
Catching was very steady for the first couple of hours and then as susal dropped of once it started to warm up. We ringed juveniles of all the common warbler species although only 1 Whitethroat (the most common bird species here) compared to 12 Garden Warbler and 20 Blackcap. Numbers were boosted considerably with a large tit floack which added us 25 new Great Tit's but only 1 Blue Tit. The total catch was 101 new and 26 retraps, up from just 80 captures from the same session last year.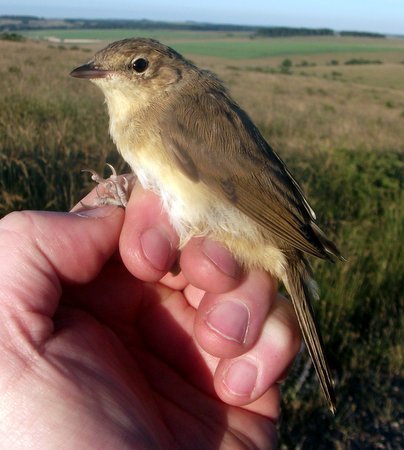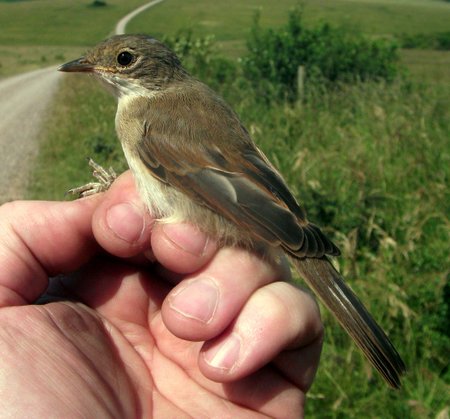 We finished off the morning with some Swallow pulli from the artillery bunkers and strimmed a couple of bonus nets at the bottom of the valley which usually catches us around 50 Whinchat from July to September.
Swallow 1 + 4 pulli, Wren 7(1), Dunnock 4, Robin 6(1), Blackbird 1(1), Song Thrush 1, Lesser Whitethroat 3, Whitethroat 1(4), Garden Warbler 12(2), Blackcap 20(7), Chiffchaff 6(3), Willow Warbler 4(2), Goldcrest 3(1), Blue Tit 1, Great Tit 25, Linnet 2, Bullfinch (3), Yellowhammer (1)