North Wilts Group
7th July 2018 - Salisbury Plain CES session 7
Arriving onsite at 0345 was quite an experience. The fires on the artillery range had intensified somethat over the last few days since the last visit and although still some 2.5km from our ringing site the flames and red glow from the were clearly visible and even at our distance the constant crackle sound was very loud.
While putting up the nets the local male Nightjar started up very close to us and then a second bird flew over us. We rushed to get the net up and get out of the way. By the time we got back to the net after getting the rest up both birds has found their way in. They turned out to be an adult female and a last years male. This is the third consecutive year that we have had birds here in the breeding season and have caught a mixture of adults and fledged young in the past so we were surprised that both birds were new.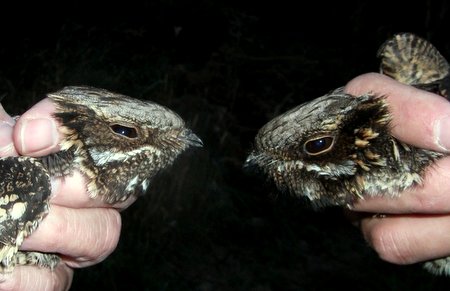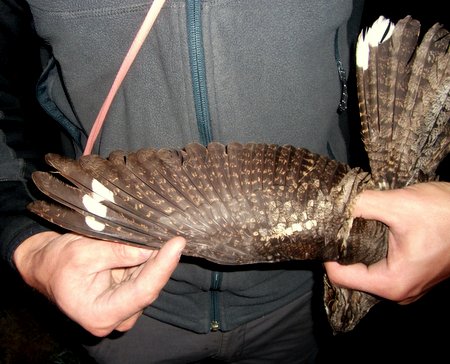 The first net round saw us get another 3 Whinchat from the Chat Valley net, one of which was a retrap from 2016 and is the first returning retrap we have ever caught.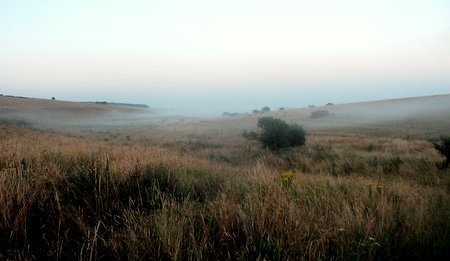 The morning was steady rather than spectacular with good numbers of 3J warblers as well as another freshly fledged Redstart and an adult Grasshopper Warbler. Blackcap numbers have picked up considerably in the last 2 visits as have Whitethroat but Willow Warbler numbers are still extremely low.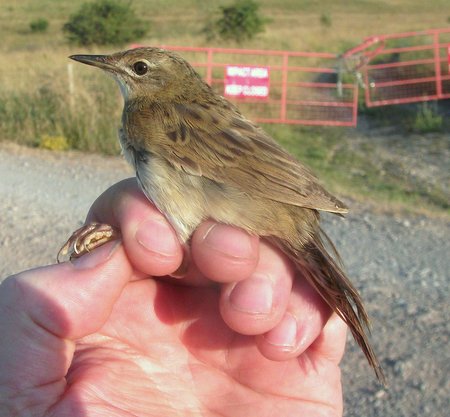 By the time we took the nets down it was roasting hot and the fire had crept a little further to the east but still well north of us and hopefully it wil stay that way.
76 new 28 retrap
Nightjar 2, Wren 5(1), Dunnock 3(1), Robin 2(1), Redstart 1, Whinchat 2(1), Blackcbird 1(1), Grasshopper Warbler 1, Lesser Whitethroat 1, Whitethroat 14(2), Garden Warbler 8(3), Blackcap 27(12), Chiffchaff 3(2), Willow Warbler 3(3), Goldcrest (1), Great Tit 2, Yellowhammer 1