North Wilts Group
1st August 2018 - Salisbury Plain CES session 9
The morning started in annoying fashion with a shelf-string on an old net I'd cut down to a 3-shelf for the Chat Valley net snapping 3 times. By the time I'd got the spare up in its place my early start was somewhat wasted and I'd still got the 14 CES nets to get up.
Once all the nets were up, still well before 0500, a quick tour of the nets showed that there had been a good Sedge Warbler movement overnight. Good numbers of Willow Warblers were around for the first time this year and once the morning had warmed up and Whitethroats started to move about it proved to be the best day we've had for them in a long time. Chat numbers were dissapointing as we only caught one Whinchat so it looks like the massive fires across Salisbury Plain last month have killed off the majority of the locally bred birds, porbably while they were still in the nest.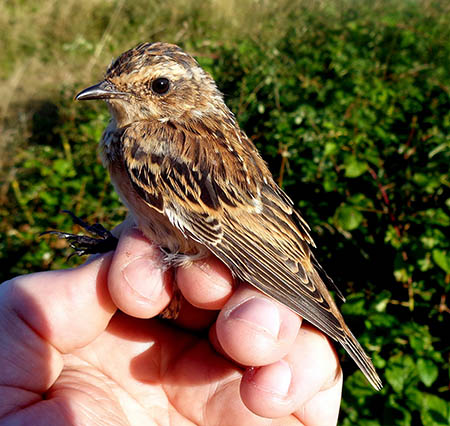 A Grasshopper Warbler made a half-hearted attemp at singing but managed to avoid the nearby net although we did catch a moulting adult female Redstart later in the morning as the only real oddity of the day.
The highlight however was the capture of an adult female Balckcap with an ICONA MADRID ring, the first foreign ringed bird we've had since the Norway Brambling last November.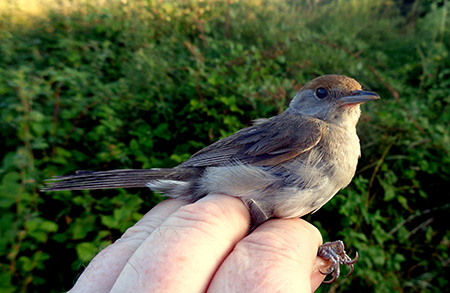 Quite a busy morning with only the 3 of us, 150 new, 14 retraps.
Wren 8(4), Robin 3, Whinchat 1, Redstart 1, Blackbird2, Song Thrush 1, Sedge Warbler 21, Reed Warbler 6, Lesser Whitethroat 1, Whitethroat 49(1), Garden Warbler 6(2), Blackcap 25(5), Willow Warbler 16(1), Chiffchaff 2, Goldcrest (1), Goldfinch 2, Bullfinch 4, Linnet 1, Yellowhammer 1