Blakehill Farm, Sunday, 25th October 2015
With the day forecast to be flat calm and overcast we went ahead with a planned session at Blakehill Farm. I was joined by my trainees Jonny Cooper and Daniela Diveney. The central plateau is currently playing host to a large number of cattle, including a stunning Limousin bull, so we decided to set nets along the hedgerow on the perimeter road to the east of the site rather than rely on the good nature of a bull in a field full of cows. It was a cold start to the morning, with a pretty heavy ground frost for this time of year, We set 9 x 18m and 1 x 12m nets in 4 rides and played lures for Redwing, Reed Bunting, Linnet and Meadow Pipit. The lures were all successful, although we only caught one Linnet. Daniela took this cracking Redwing photograph: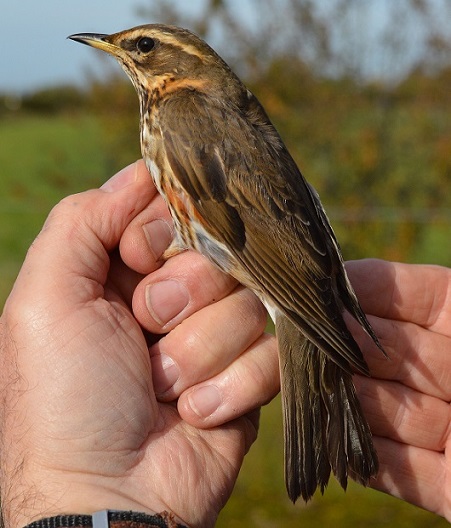 There were many highlights of the session: a good catch of Redwing in open country and not at a roost; the best catch of Reed Bunting so far at the site; a good number of Goldcrests and a late captured Chiffchaff, neither species particularly associated with open countryside but in or adjacent to woodlands. The real highlights from a ringing perspective were controlled Reed Bunting and Great Tit. Controls are birds ringed elsewhere and caught on your patch and provide information on the movements of the birds. Both were on UK rings, so interesting but not exciting (as they would be if the rings were continental). *The controls have been identified as birds ringed at Waterhay this year: the Reed Bunting on the 4th October and the Great Tit on the 11th July. Thanks to John Wells for the information.
The list for the day was, New (Retrap): Blue Tit 1(1); Great Tit 2(2); Long-tailed Tit 18; Wren 3; Dunnock 4; Meadow Pipit 3; Robin 4; Redwing 12; Chiffchaff 1; Goldcrest 4; Goldfinch 20(1); Linnet 1; Reed Bunting 8(1). Totals: 81 new from 13 species and 5 retraps from 4 species.
As well as the birds caught we had good views of Fieldfare (at least 20 flying about), Raven, a Kestrel being harried by a Carrion Crow, plus hundreds of Goldfinch out on the central plateau. ST / JC/ DD