4th December 2016 - Marlborough STW
Because the team focussed their efforts for the important conservation ringing of yesterday we only had a small team for today which is a bit of a shame because we all love ringing this site because we ring in a nice warm building and we can use the kitchen and have fresh tea and coffee and bacon sandwiches. I was joined by Gary, and Simon made a rare excursion away from Swindon STW. It was very calm which is important for this open site and we set the two-shelf nets between the filter beds and two normal nets by a couple of feeders.
In previous weeks I have been seeing good numbers of wagtails and pipits and I fancied our chances of catching quite a lot of birds and just after dawn wagtails and pipits came swirling down to match my expectations. We caught plenty of wagtails, giving us a great chance to compare the differences between the UK race of Pied Wagtail and the continental White Wagtail. This site is good for Grey Wagtails and today we did very well indeed catching 14 that included one ringed two years ago and then another one (pictured) that is just shy of 7 years old and is 51 days short of the national longevity record for the species.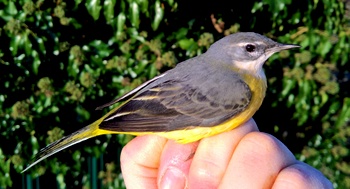 Meadow Pipits seemed to be going in from every direction and we caught one that we originally ringed in 2013 and one from last year. Unusually for this site, we didn't catch many Goldcrests today but we did retrap one that was ringed in 2014, a two year old Goldcrest is quite a rare bird. We only have a couple of small feeders here but they always seem to catch a lot of birds and Blue Tits especially came in waves. Normally we try not to catch Blue Tits but they do seem to survive well at this site and we retrapped three that were originally ringed in 2013.
This was a really great session and Gary is really improving at extracting which is a great step forward and we all agreed afterwards that though we were busy we were never actually hurried and it was a great training session. MP, SW, GH
Pied Wagtail 17, White Wagtail 6, Grey Wagtail 12 (2), Meadow Pipit 46 (2), Chiffchaff 3, Goldcrest 3 (1), House Sparrow 4, Chaffinch 2, Bullfinch 1, Dunnock 4, Robin 12 (1), Wren 6, Song Thrush 1, Blue Tit 44 (6), Coal Tit 1 (1), Great Tit 18, Long Tailed Tit 1, Nuthatch 1