5th May - Salisbury Plain CES session 1
A totally cloudless night meant that any chance of catching lots of migrants wasn't going to happen. While putting up the nets we could hear Cuckoo, a single Nightingale (the only bird left of this sadly declining population) and a Grasshopper Warbler.
First net round produced a couple of Lesser Whitethroats, always a nice bird here and 4 Garden Warblers newly arrived since our last visit 2 weekends ago. What followed next was a bit of a first, the first Dartford Warbler for the site and the first new species I've ringed in the country for a good few years. It was a nice adult male and although this site has a lot of gorse, it's mainly hawthorn scrub on chalk downland so it's unlikely to be breeding and probably just a prospecting bird.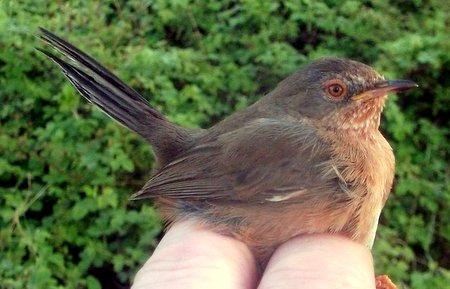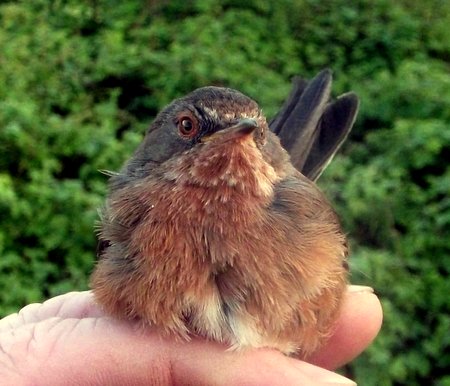 Whitethroat numbers on site are very high with around 80 noted but as their territories are so small, sometimes just a single gorse bush, we only caught 10. The number of resident birds on site remains worringly low but we did catch some local Linnet, Yellowhammer and Goldfinch.
With the early morning mist quickly burning of it soon became very warm and all bird movement ceased.
The morning ended with 38 new, 21 retraps.
Dartford Warbler 1, Grasshopper Warbler, Garden Warbler 5(2), Blackcap 3, Lesser Whitethroat 2(1), Whitethroat 8(2), Willow Warbler 5(4), Chiffchaff 4(3), Goldfinch 2, Linnet 2, Yellowhammer 2, Song Thrush 2, Robin (2), Wren (1), Long Tailed Tit (1) Blackbird (3)