Lower Moor Farm: Saturday, 29th June 2017, CES 6
Jonny Cooper, Andrew Bray and myself carried out CES 6 on Saturday. We had planned to do it on Wednesday but the rain put paid to that. I would complain, but my pond and garden needs the rain badly. When I first put the ringing schedule together, I scheduled several sessions at Lower Moor Farm on a Saturday, so that all of my trainees could become involved in the CES. However, at our first Saturday session we had a particularly unpleasant interaction with a couple walking their dog. The female of the pair has regularly made her disdain for bird ringing obvious, very loudly and unpleasantly and with no interest in understanding why we do it. This last time she was with her husband, which resulted in me being threatened with violence (twice) by him so, as the BTO frowns upon ringers responding in kind, and insists we remain polite, we reluctantly rescheduled all of the sessions back to midweek, to minimise the risk of a repeat. I didn't blog about it at the time but, as it has negatively impacted upon the opportunities for my trainees, and it highlights that there is still a lot of ignorance about ringing in the wider world, it shouldn't be ignored.
It was a smaller catch than in the equivalent session last year. The difference in number was almost entirely down to our catching a big brood of Blackbirds in that session and not doing so this year. However, the make up of the catch this year was very different from last year with Chiffchaff being the dominant species this year, compared with Blackcap, Willow Warbler and the aforementioned Blackbirds last year.
The list for the session was: Great Tit 3; Wren 5; Dunnock 2(1); Robin 5(1); Blackbird (1); Blackcap 3(2); Garden Warbler 2; Whitethroat (1); Lesser Whitethroat (1); Chiffchaff 17(1); Willow Warbler 1; Goldcrest 1; Bullfinch 1. Totals: 40 ringed from 10 species, eight retrapped from seven species, making 48 ringed from 13 species.
Again, there was a good number of juvenile birds, primarily the Chiffchaffs, with 15 juveniles, Robin (6); Wren (4); Great Tit (3); Blackcap, Garden Warbler and Dunnock with two each and Willow Warbler with one. Whilst it is definitely a better year already for juvenile birds, it has clearly not all been plain sailing. One of the juvenile Great Tits had a huge fault bar: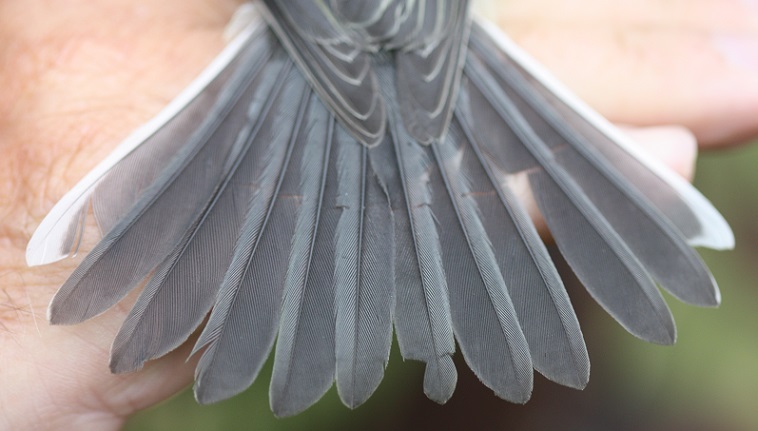 It won't be long before those feathers break away. Funnily enough, the highlight of the session was mammalian. I had just closed up the nets in the Heronry ride and as I was returning to the ringing station saw Jonny fixated on the stream that divides Wiltshire from Gloucestershire. He pointed out that there was a Water Shrew busily foraging on the stream edge. We had excellent views through binoculars for a few minutes. Unfortunately, I tried to get a photograph and, on the first click of the camera, it made a run up the bank and out of sight. It was a very satisfying few minutes but I had to apologise to Jonny for ruining the occasion. ST/JC/AB