Webb's Wood: Wednesday, 11th January 2017
We had hoped to have a session at Blakehill Farm on Wednesday, but the weather forecast was for strong winds gusting to over 30mph, so I changed the venue to Webb's Wood. I was joined for the session by Jonny and Ellie. I wasn't expecting there to be a large catch: I have been out of the country working and unable to top up the feeding stations for a couple of weeks. In the event, we had a reasonable catch and, in some ways, a very decent one. The list was: Great Spotted Woodpecker 1; Blue Tit 6(5); Great Tit 6(3); Coal Tit 1(1); Marsh Tit 1(3); Robin 3; Redwing 1; Goldcrest 2; Lesser Redpoll 3. Totals: 24 birds ringed from nine species; 12 birds retrapped from four species, making 36 birds processed from nine species.
It is always good to catch Lesser Redpoll in the Forest, but the stars of the day were the Marsh Tits. After last year's good showing of them, 19 ringed and a total of 30 individual birds processed in the Forest, we had our best ever catch of them in Webb's Wood. One bird was ringed on the first session in Webb's Wood, in February 2013. It was subsequently caught in the Firs in October 2016 and then recaptured back in Webb's Wood on this occasion. Although the Firs is adjacent to Webb's Wood, the distance between the two capture sites is over 700m. For a bird that is exceedingly sedentary, this represents quite an unusual movement.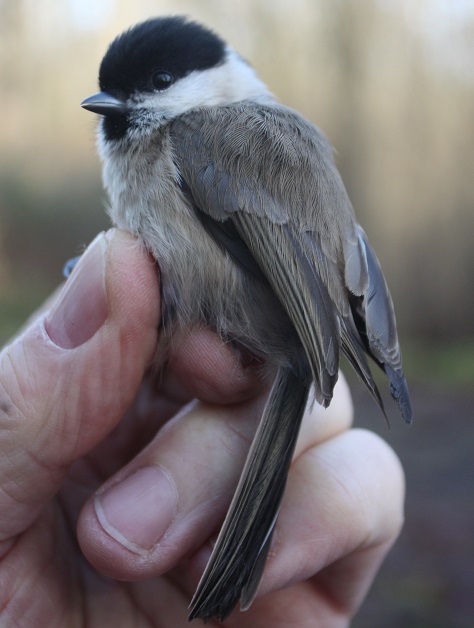 ST/JC/EJ