Various: 12th to 15th April 2017
Neil, Charlie and I had a session at Ravensroost Woods on Wednesday. It is still quite quiet there, which is another way of saying we had quite a light catch. There were good numbers of Chiffchaff on site and singing. In addition we noted three Willow Warblers singing in the coppice area (and caught two of them). Blackcaps have arrived but not yet in great numbers and no sign yet of Garden Warbler (although we did get Robin Griffith's pulse rate up by playing Garden Warbler song along one of the rides - I play Garden Warbler because Blackcaps are aggressive towards them, so I can, metaphorically, catch two birds with one stone. Robin and his team were doing one of their regular surveys of the wood.).
We caught a new Marsh Tit, which was interesting because we caught it in ride R38 and then retrapped it an hour-and-a-half later in R35. It was a female, with its brood patch just beginning to de-feather. I can't help thinking that it is probably prospecting for a mate. There were already several Marsh Tits calling in the coppice, at least three territories, perhaps they already have mates, which is why she continued to move through the wood.
The list for the session was: Blue Tit 4(3); Great Tit 1; Marsh Tit 1; Long-tailed Tit 1; Dunnock (1); Robin 1; Song Thrush 1(1); Blackcap 3(1): Chiffchaff 4; Willow Warbler 2; Goldcrest (1); Bullfinch 1. Totals: 19 birds ringed from 10 species; seven birds retrapped from five species, making 26 birds processed from 12 species. ST/CS/NS
Tedworth House has been home to a breeding pair of Ravens for at least seven years. Given the continuing improvement in the population of inland Ravens, I am interested to find out just where the young of this pair have been getting to. I have discussed how we might approach it with a number of people. To cut a long story short, earlier this week Rob Hayden contacted me to say that he had a tree-climber who would be available and happy to climb the tree on Good Friday, to check on the Raven chicks and, if suitable, lower them down for ringing. I cleared the operation with the management at Tedworth and we arranged to meet at 10:00. The climber, Paul (typically British - I barely got his first name, let alone his surname) and Rob arrived bang on time and started the set up. They both brought their families with them: the children had a fantastic time playing on the Tough Mudder Trim Trail and in the woods but were there like a shot to see the Raven chicks.
It took an hour-and-a-half for Paul to reach the nest. The adults continued to feed the young right up until Paul reached the crown of the tree. There was a brood of four, all very healthy and with their primary and secondary feathers at the medium stage. Each was carefully put into a large bag and the four were lowered to the ground where we quickly ringed the birds, measured their wings, took a couple of record photographs, packaged them back into their bags and returned them to Paul. They were out of the nest for less than 10 minutes, none the worse for their little excursion. The parents were back and feeding them again within another 10 minutes: they weren't going to starve in that short space of time: each bird was well over 1kg in weight (I need to get some bigger scales). The parents are clearly doing a great job this year, after a nest failure last year. You can see the position of the nest circled in red at the top of the tree photograph below. Paul's position in the photograph to the right is the extended red oval in the tree photo. That was about one-third of the way up. The estimated height of the nest (based on Paul's climbing rope being 45m) is 38m. Rather him than me.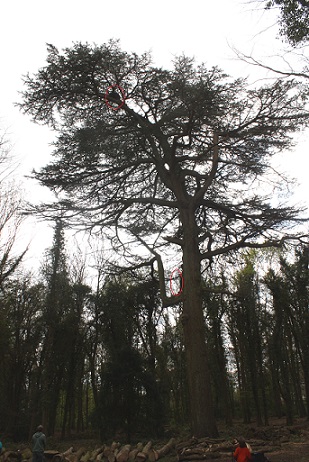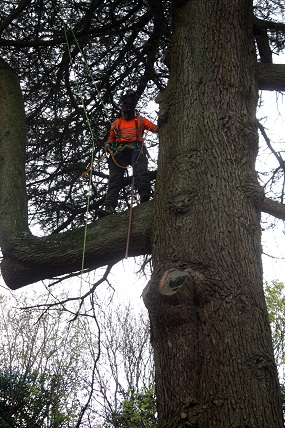 As you can see from the photographs below, the youngsters were beginning to take on the character of their parents. The sounds they made were wonderful, mini-adult calls. The noise they made when the parents came in to feed them was very loud.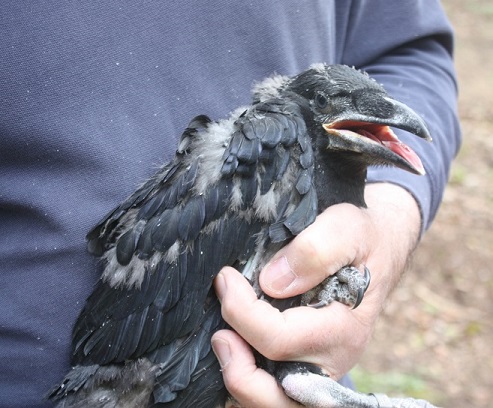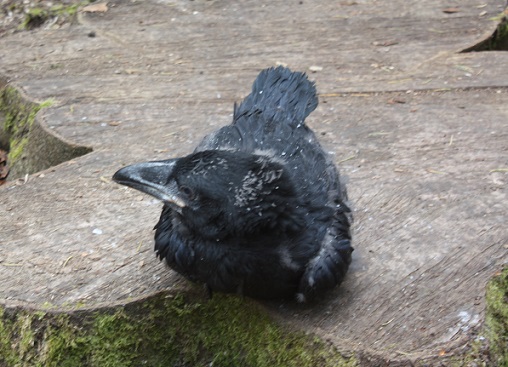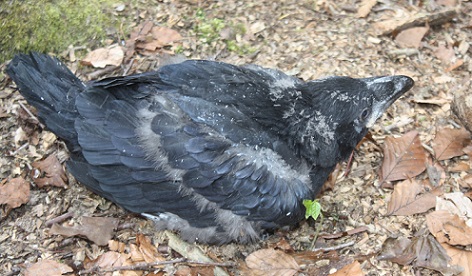 We finished the session by having a chat with the woodworking team and showing them the photographs. They were really enthusiastic, as the guys always are at Tedworth. I then went down to the House to show them "their" Ravens. They loved it. ST/RH/AH
Saturday was scheduled for Webb's Wood. Unfortunately, the deer stalker arrived 10 minutes before we did. Not being happy to share the wood with the shooters (whilst appreciating the job they have to do - until we reintroduce Wolves and Lynx) I decided to change venue just up the road to the Firs. As I just had David Williams with me today, and he is very early in his ringing career and not yet extracting birds, I only set six nets down the central glade and we got a correspondingly small catch. This enabled me to focus on helping David to develop his skills. Today I got him to extract his first bird: a Blackcap. The list for the day was: Blue Tit (2); Blackcap 4(1); Song Thrush 1; Chiffchaff (1); Wren 2(1). Totals: seven birds ringed from three species; five birds retrapped from four species, making 12 birds processed from five species.
There were a couple of interesting recaptures. We retrapped Blue Tits ringed last year S580646 and S580647, i.e. consecutive numbers, in the same net within a couple of feet of each other. The former was an adult male in breeding condition, the latter a second year female with a well-developed brood patch. I would hazard a guess that they are a breeding pair. We also recovered ring numbers JJP142 and JJP143 but, as the first was a Wren and the second a Chiffchaff, that was a total coincidence.
Bob Markham was on site, doing the first of his Breeding Bird Survey walks for the BTO. We were helping him identify which were real birds and which were our lures. He was pretty enthusiastic about the new paths / glades being developed at the bottom of the wood. Next time I have a full team in the Firs, we will be putting up a lot more net, to test out how busy those glades might be. I had a fantastic ten minutes watching a male Lesser Spotted Woodpecker in the trees just behind our ringing station. Hehad been calling all morning but, when I managed to catch where he was, I watched his fabulous antics: as agile as a Titmouse, gleaning insects of leaves; scurrying up the trunk of a tree like a Treecreeper and just generally being extremely active and vocal, but stopping continually to give great views. With Great Spotted Woodpecker drumming elsewhere in the wood and a Yaffle calling from both sides of the wood, it was a lovely woodpecker morning. ST/DW